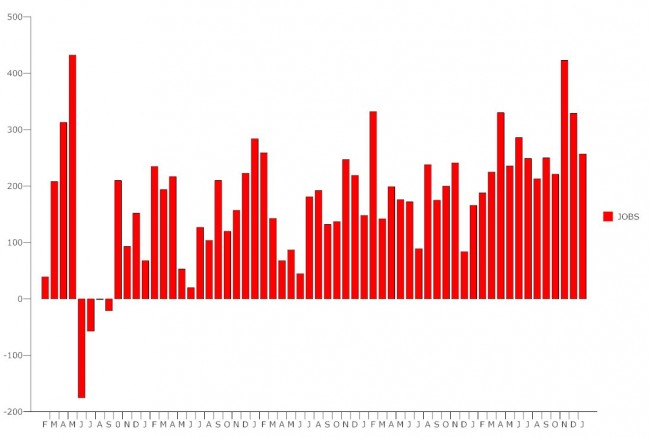 The U.S. economy added 257,000 jobs in January, continuing a job-creation pace not seen since 1999, when the economy added 3.18 million jobs overall, barely more than the 3.12 million added in 2014. November and December job creation was revised upward by 147,000 jobs, with November ending at 423,000 new jobs, the best single-month gain since February 1996, under Bill Clinton, when the economy added 431,000 jobs.
Job creation for all of 2014 was revised upward by 166,000.
The unemployment rate in January ticked up to 5.7 percent, from 5.6 percent, but it did so only because of a surge in people joining the labor force–703,000 in January alone. That's a good sign as it suggests confidence in the economy, with many workers who'd given up previously now deciding to give job-searching another try, though in December, an almost equal number had dropped out of the labor force. The labor force participation rate ticked up two decimal points, to 62.9 percent. The participation rate has been falling since the Great Recession, when it hovered above 66 percent for several years. It appears to have stopped its decline, but it isn't expected to rise significantly over the next decade as baby boomers retire in droves, swelling the ranks of the non-working population.
Flagler County is an example of the phenomenon: largely a retirement community, the labor force participation rate locally–that is, the proportion of people 16 and over who are in the labor force–is under 45 percent, while the labor force overall represents just 35 percent of the local population. In other words, nearly 65,000 residents of Flagler County are under 16, retired, have dropped out of the labor force altogether, or choose not to be in the labor force (like stay-at-home parents, for example).
But wages in the nation continue to lag. While average hourly earnings went up by 12 cents in January, a strong showing, the increase merely erased a decline of 5 cents in December, and continues a trend that has not produce significant wage increases to overcome the cost of inflation: over the year, wages went up just 2.2 percent.
The number of people employed part time for economic reasons (sometimes referred to as involuntary part-time workers) was essentially unchanged in January at 6.8 million. These individuals would have preferred full-time employment and were working part time because their hours had been cut back or because they were unable to find a full-time job. When the involuntary part-time workers and discouraged workers are considered among the unemployment and under-employment numbers, that alternative unemployment rate (also known as U-6) stands at 11.3 percent. But the U-6 rate, too, has shown strong improvement, dropping from 13.5 percent a year ago. In Florida, it remains at 12.8 percent, among the higher rates in the states.
Some highlights: Employment in retail trade rose by 46,000 in January, construction added 39,000, health care 38,000, financial activities 26,000, manufacturing 22,000, professional and technical services 33,000, food services and bars 35,000.
Among the major worker groups, the unemployment rate for teenagers increased to 18.8 percent, while the jobless rates for adult men (5.3 percent), adult women (5.1 percent), whites (4.9 percent), blacks (10.3 percent), Asians (4.0 percent), and Hispanics (6.7 percent) showed little or no change.
Historically–and improbably–Jimmy Carter's presidency remains the only one to have seen single-year job creation approach 4 million: it exceeded it in 1978, and fell short in 1977, the two best year on record for annual job creation in the nation's history, exceeding even the two years immediately after the nation's entry in World War II, when the economy added about 3.6 million jobs in 1942 and 1943. But the labor force back then was significantly smaller, so the proportion of the gain was far larger. The Obama years have a way to go before approaching the Clinton or Reagan years in total job creation, though neither Reagan nor Clinton contended with a recession as deep as the one Obama inherited.