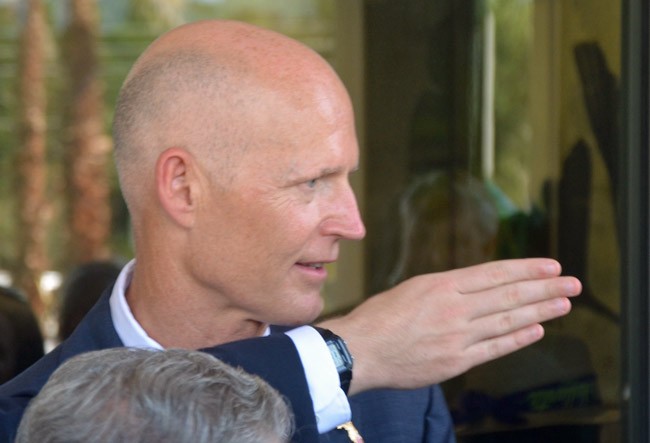 Gov. Rick Scott wants to close Florida's borders to additional refugees from Syria in the wake of Friday's terrorist assault on Paris in which at least one of the attackers held a Syrian passport.
Scott advised U.S. House Speaker Paul Ryan and U.S. Senate Majority Leader Mitch McConnell in a letter Monday that the Florida Department of Children and Families, which receives federal funds, won't assist efforts to relocate the up to 425 Syrian refugees destined to be resettled in Florida. "Following the terrorist attacks by ISIS in Paris that killed over 120 people and wounded more than 350," Scott wrote, "and the news that at least one of the terror attack suspects gained access to France by posing as a Syrian refugee, our state agency will not support the requests we have received."
The Paris attacks, however, were masterminded by a 27-year-old Belgian who's fought with ISIS, Abdelhamid Abaaoud, according to French President Francois Hollande, who said the attacks were "planned in Syria, organized in Belgium, perpetrated on our soil with French complicity."
As the move doesn't preclude federal officials from resettling Syrian refugees by working with local social-service agencies, Scott also asked in the letter for congressional leaders to prevent funding for such relocations to Florida or anywhere else within the U.S.
"As the federal elected body that exercises oversight and authorizes federal spending, please take any action available through the powers of the United States Congress to prevent federal allocations toward the relocation of Syrian refugees without extensive examination into how this would affect our homeland security," Scott wrote.
Civil liberties groups almost immediately denounced Scott's move to close Florida's borders. The Council on American-Islamic Relations Florida, the state's largest Muslim civil-liberties and advocacy organization, issued a release condemning "Scott's divisive statement" to not support the resettlement of Syrian refugees in Florida. "In these moments of pain and escalated fear, we should be able to look to our elected officials to guide the healing process and refrain from harmful rhetoric," CAIR Florida said in a release. "Gov. Scott's un-American statement is in fact playing into terrorists' goal to turn the world against refugees who are fleeing their violence."
Appearing on former Reagan administration official Bill Bennett's radio show Monday, Ryan said he is looking for the "best legislative option we have" and has directed lawmakers to come up with recommendations to determine how to ensure terrorists won't be able to mix with actual refugees.
"Look, we've always been a generous nation taking in refugees," Ryan said. "But this is a unique situation. This is a situation where you have single men coming over, which is not women and children."
Scott's letter came as Republican presidential candidates questioned the nation's Syrian refugee policy, governors in a number of other states announced they wouldn't accept more Syrian refugees, and Florida U.S. Senate candidate Ron DeSantis quickly moved to infuse the refugee issue into next year's Senate race.
"We have to err on the side of protecting the American people and we cannot run the risk of bringing terrorists into the United States," DeSantis, a Republican from Northeast Florida, said in a release.
Also, state Sen. Don Gaetz, R-Niceville, and his son, state Rep. Matt Gaetz, R- Fort Walton Beach, offered support to Scott for any border-closing legislation.
The Gaetzes wrote in a letter that the terrorist attacks "in France underscore a stark reality — that no one anywhere is entirely safe from the murderous reach of ISIS and radical Islam. The president of France has called these attacks by ISIS against a civilian population 'an act of war.' European governments have closed or may close their borders. The increasing likelihood that mass migration of Syrian refugees may be infiltrated with terrorists makes it necessary that extraordinary vigilance be exercised before accepting this unplanned resettlement."
The Gaetzes added that Florida has in the past "done its share" regarding refugees, but the "current circumstance is far more different and far more dangerous than any other time when we have been asked to open our borders and communities."
Coordinated attacks by Islamic State, or ISIS, terrorists killed 129 people Friday in Paris and left hundreds injured.
An estimated 4 million people have left Syria due to its ongoing civil war, with many traveling to Europe. In September, U.S. Secretary of State John Kerry pledged the United States would take in 15,000 Syrian refugees in the current fiscal year and another 85,000 the following fiscal year.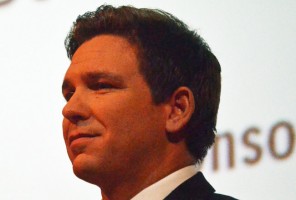 Florida has already received a little more than 100 refugees, according to the U.S. State Department's Bureau of Population, Refugees and Migration.
Scott is not alone in seeking to block Syrian refugees from his state. Governors in Arizona, Arkansas, Alabama, Illinois, Indiana, Louisiana, Massachusetts, Mississippi, North Carolina, New Hampshire, Ohio and Wisconsin have also announced they will refuse to accept any more Syrians.
Former Florida Gov. Jeb Bush, who is running for president, said Sunday that U.S. aid should focus on Christians fleeing persecution in Syria.
"I think we need to do thorough screening and take in a limited number," Bush said while appearing on the CNN "State of the Union" show. "There are a lot of Christians in Syria that have no place now. They'll be either executed or imprisoned, either by (President Bashar al-Assad) or by ISIS. We should focus our efforts as it relates to the refugees for the Christians that are being slaughtered."
U.S. Sen. Marco Rubio, also running for president and also appearing on a Sunday news show, ABC's "This Week with George Stephanopoulos," said that the U.S. "won't be able to take more refugees."
"It's not that we don't want to," Rubio said. "It's that we can't."
CAIR Florida said Scott's rhetoric legitimizes discriminatory actions against the Muslim-American community. "Even before Gov. Scott's statement, CAIR Florida saw an increase in hate incidents towards the Florida Muslim community in the aftermath of the tragic Paris attacks," the release said. Meanwhile, the American Civil Liberties Union of Florida said Scott is blaming refugees for the violence they are escaping. "Not only is the settlement of refugees an obligation of the U.S. State Department, not state governors, but the U.S. refugee system is extremely rigorous, involving multiple background checks and vetting by the Department of Homeland Security," ACLU of Florida Executive Director Howard Simon said in a release. "By claiming in the wake of the tragedy in Paris that this vetting process is suddenly insufficient for Florida, Governor Scott is punishing refugees for the horrible attacks perpetrated by the kinds of terrorists they are trying to escape."
–News Service of Florida