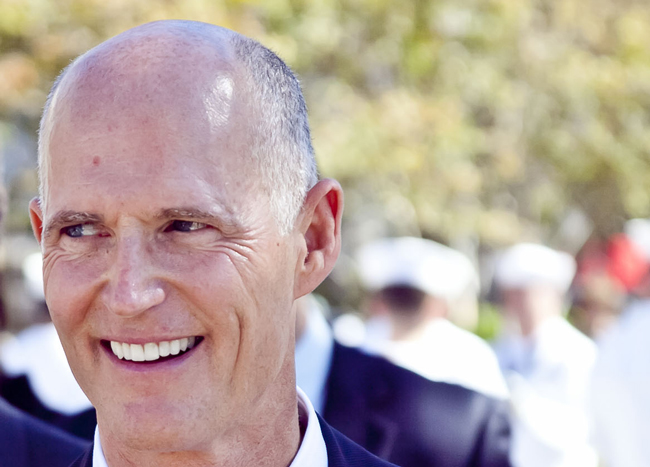 By Rhonda Swan
On Wednesday, Florida's "education" governor announced that he'll be asking the Legislature to allocate $480 million to fund $2,500 pay raises for every full-time public classroom teacher.
"I can think of no better investment for our state," he said at a press conference, "than investing in those teachers who work on the frontline of Florida's future every day by teaching our children."

The governor was singing a very different tune two years ago when he signed a law forcing teachers and other government employees to contribute 3 percent of their salaries to the state's pension plan. That measure amounted to a pay cut for Florida teachers who earn $10,000 a year less than the national average.
Scott told reporters that back then the state was broke and he did what he had to do.
Today, it's on the upswing so "we need to double down on our investment in education."
Translation: He wants to get re-elected in 2014. He's not popular. So he's trying to win votes by any means necessary.
Asked by a reporter if this was an election ploy, Scott returned immediately to his talking points about Florida's improving economy and the impact of education.
No one disputes that an excellent education system is important for the state's economy. Why does Scott seem to recognize that only when his political future is on the line?
Public Policy Polling released a poll last week that shows Scott's approval rating is just 33 percent, worse than the 37 percent who approved of him in November. Even Republicans aren't feeling good about the governor with less than half – 49 percent – approving of him.
As Scott's approval numbers drop, former Gov. Charlie Crist's go up.
The Republican turned Independent turned Democrat is all but certain to challenge Scott for the governor's mansion next year.
And the PPP poll shows that he'd whip Scott like he owes him money.
Democrats approve of Crist 70 percent to 16 percent. More than half of Democratic primary voters – 52 percent – say want the silver haired party switcher to be their candidate for governor next year.
Crist, who ticked off the GOP when he hugged President Barack Obama for having the audacity to approve a stimulus that helped keep Florida from falling off its own fiscal cliff – and kept thousands of teachers, firefighters and cops employed – would even get 29 percent of Republican votes.
No wonder Scott is running scared.
He hasn't exactly been the poster governor for working-class Floridians, 168,000 of whom are public classroom teachers.
The first piece of legislation that he signed into law – enthusiastically – was the merit pay bill that ties teacher salaries to student test scores and eliminates tenure for new hires.
"Teachers across the state are supportive," he told Fox News, "and it's going to change education."
Actually, teachers across the state were up in arms. And they remember all too well that Crist vetoed the same bill the year before.
Add to Scott's list of sins the fact that he slashed education by $1.3 billion his first year in office.
His approval ratings tanked, so he went on a so-called listening tour. That prompted him to restore $1 billion of what he cut. He called it an increase in funding, despite the $300 million net loss.
At least this year's bribery attempt would result in a net gain. Average teacher salary in Florida is $45,723. That means they lost, on average, about $1,372 in pay with Scott's pension-reform law. So his proposed $2,500 raise would amount to an actual pay hike of about $1,148.
It's better than nothing. But is it enough to make teachers forget that Scott was their enemy before he suddenly was their new best friend?
Doubt it.
Scott's policies since he took office have favored private and charter schools over traditional public schools, and he's treated teachers like stepchildren.
He has shown teachers and all Floridians who he really is. Believe the man who's governed the past two years, not the man who will be campaigning for the next two.

Rhonda Swan is an editorial writer for The Palm Beach Post and author of "Dancing to the Rhythm of My Soul: A Sister's Guide for Transforming Madness into Gladness" (Conscious Mind Press). She can be reached by email here.