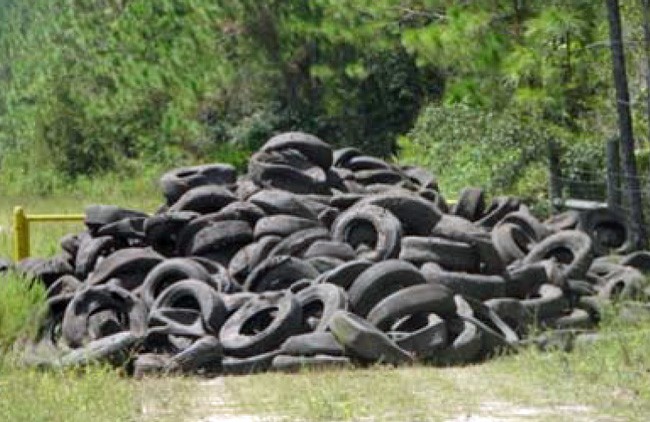 Sometime between sunset on Aug. 30 and sunup on Aug. 31, individuals the sheriff's office referred to as "person(s) unknown," but who may more accurately referred to as trash cowards–or cowardly trash–dumped 18 to 19 tons of used tires off North Old Kings Road, a mile north of Matanzas Woods Parkway, south of the Princess Place Preserve. That's 37,000 pounds of trash.
The Flagler County Sheriff's Office and the Florida Fish and Wildlife Conservation Commission's Law Enforcement Division are investigating the illegal dumping. They believe the suspects used a large trailer to unload the tires at one time–in itself a crime as even the transportation of 25 or more tires is regulated by the Department of Environmental Protection: no one may carry tires in those quantities without a permit.
"I observed what appeared to be possibly 300 or more tires that were dump on the county right of way approximately 200 yards south of the
intersection of Old Kings Road and Aspen Way. All the tires were covered in what appeared to be dried mud," the deputy investigating the matter wrote in the incident report. "Due to the weather conditions in this area over the last several days, we determined that the tires were dumped during the early morning hours of September 1, 2015. This is because the tires were dry and there was no standing water inside of them. There had been large amounts of rain in this area over the weekend."
Next to the tires was a case of empty Budweiser Select 55 with 18 bottles. Unlike the tires, the cardboard case was extremely wet. Some of the bottles had mold growing inside of them. "It appeared that they had been there longer than the tires were," the deputy concluded.
FWC officer Scott Dack reviewed video from the cameras located at the North US 1 weigh station for evidence of a truck carrying these tires but met with negative results.
The dumping off Old Kings Road, because it exceeds 500 pounds, is a third-degree felony.
Flagler County government cleaned up the tires and hauled them to a landfill in Volusia County at a cost of about $4,600. "Flagler County has a Recycling and Household Hazardous Waste Collection Facility, so it is a shame that someone chose to dump these tires here," Flagler County Administrator Craig Coffey said.
Illegal tire dumping is so frequent that the Department of Environmental Protection notes it in one of its rules: "Collectors are advised that it has been the experience of the Department that local law enforcement officers frequently prosecute persons who illegally dispose of waste tires" under Florida law. Flagler County has five collector sites, including Bunnell government.
The Household Hazardous Waste Collection Facility is located at 1700 S. Old Kings Road, Flagler Beach. Its hours of operation are 7 a.m. to 3:30 p.m. Monday through Friday. For more information, go to www.flaglercounty.org, or call 386-517-2075.
Anyone with information about this crime is asked to contact Deputy Steve Williams at (386) 313-4911, or FWC Officer Eric Mead at 888-404-FWCC. Callers can also remain anonymous by calling Crime Stoppers at 888-277-8477. Tipsters ma be eli ible for a reward of u. to $1,000.