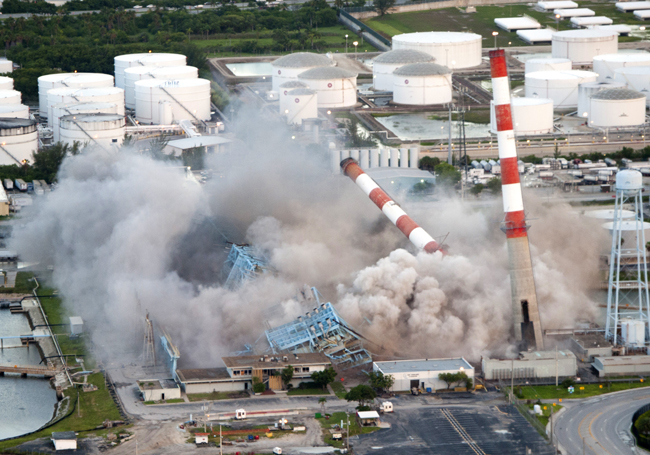 Florida Power & Light, which provides electricity to almost all private and commercial customers in Flagler County, on Tuesday reported net profits of $1.35 billion for 2013, an 8.9 percent increase over 2012. The company, a subsidiary of NextEra Energy, posted fourth-quarter profits of $248 million, or $0.57 per share, a slight decline from the $256 million profit it posted in the same quarter a year ago.
Late last year, the Florida Public Service Commission approved a 5 percent increase in FPL's utility bills.
The company attributed the fourth-quarter decline primarily to transition costs associated with Project Momentum, the corporate-wide initiative to improve productivity. But power usage per customer increased 1 percent compared to the fourth quarter of 2012.
The main driver of FPL's full-year 2013 earnings growth, the company said in a release, was the investments in clean and efficient power generation and other infrastructure projects that helped improve the company's customer value proposition. The company has been shifting power generation to natural gas, which is both cheaper and cleaner than coal. A major project along those lines is a $3.6 billion natural gas pipeline that would extend through 12 counties and 218 miles in Central and South Florida, delivering fuel to FPL plants in the region.
The Public Service Commission recently approved FPL's new natural gas transportation contracts with Sabal Trail Transmission and NextEra Energy's wholly owned subsidiary, Florida Southeast Connection. Contingent upon receiving necessary Federal Energy Regulatory Commission approvals, the company expects construction of the proposed interstate pipeline system to begin in 2016 and for operations to start in mid-2017.
FPL's fossil fleet set a new record for its fuel efficiency in 2013, the company said, bringing its system-wide fuel usage rate down to 7,657 British thermal units (BTU) per kilowatt hour, which is 23 percent better than the average fuel usage rate for the fossil industry. Since 2001, FPL's fuel efficiency for its fossil fleet has improved by 21 percent, resulting in more than half a billion dollars in savings for customers in 2013. The savings have not translated in lower power bills, however: they have merely slowed the rate at which power bills increase.
FPL said it averaged approximately 80,000 more customers during the fourth quarter of 2013 than in the comparable prior-year quarter, the largest increase in customer count since late 2007. The numbers suggest that stagnating population in Florida, following the housing crash, is no longer an issue, with new residents moving into the state again.
These improved customer metrics are consistent with improving Florida economic indicators that the company tracks. According to the Florida Department of Economic Opportunity, the state's seasonally-adjusted unemployment rate in December 2013 was 6.2 percent, down 1.7 percentage points from a year earlier, and down 5.2 percentage points from the state's highest-ever rate of 11.4 percent in March 2010. The number of jobs in Florida was up by 192,900 compared to a year earlier, and December 2013 was the 41st consecutive month with positive job growth in Florida following more than three years of job losses.
The 12-month average of low-usage accounts fell to 8.2 percent, the lowest level since December 2007, while the number of inactive accounts reached its lowest level since 2005.
Over the course of 2013, FPL invested approximately $2.9 billion in the company. FPL's modernized $970 million Cape Canaveral facility in Brevard County entered service in April 2013 ahead of schedule and approximately $100 million under budget. The plant replaced facility that burned residual oil, which produced high sulfur emissions, with a natural gas facility that, according to FPL, can generate enough electricity to power about 250,000 homes and businesses using 33 percent less fuel per megawatt compared with the original plant.
The $1.3 billion modernization of the Riviera Beach facility in Palm Beach County is on budget and slightly ahead of schedule with an in-service date expected in the second quarter of 2014. The Port Everglades plant was decommissioned in July 2013, and construction of a modernized facility is under way with an expected in-service date by mid-2016. During the operating lifetimes of these three new plants, the company estimates that customers will save more than $1 billion in fuel and other costs, relative to avoided high-cost generation or purchased power.
Also in 2013, the company successfully completed extended "power uprates" of its two nuclear facilities in Florida. Power uprates means that nuclear power plants can generate more power than previously. They can do so with permission from the federal Nuclear Regulatory Commission. The upgrade added more than 500 megawatts (MW) of clean, zero-emission generation to the FPL fleet. But the company's nuclear power investments are also fueled by a continued surcharge on FPL customers' bills for nuclear power improvements or construction that have yet to be either approved or begun. A 2006 law enables companies such as FPL and Progress Energy to charge customers upfront for such construction, which may never take place. There is a movement afoot in the Florida Legislature to scrub the 2006 law. But such efforts have been unsuccessful in the past.
Also in 2013, the company continued to improve the electric grid through its Energy Smart Florida program, including completing the installation of approximately 4.5 million smart meters across its service territory, including virtually all of FPL meters in Flagler County.
In the fourth quarter, the Florida Public Service Commission approved FPL's plan to accelerate its existing storm hardening program. The company expects to make incremental investments of approximately $400 million from 2013 through 2016 to continue strengthening its infrastructure against tropical storms and hurricanes.