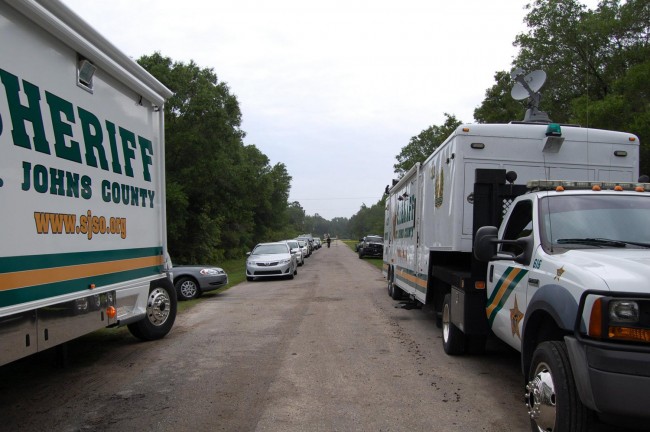 Before 5 Friday morning, a passerby located a still-smoldering vehicle in the area of the 9200 block of County Road 13 South, near Cowpen Branch Rd in St. Johns County, near Flagler Estates. The older model vehicle was burned completely when authorities got there. A human body was found in the trunk, incinerated.
"Foul play is expected in this case," the St. Johns County Sheriff's Office reports.
It is the second time in six weeks that human remains have been found in or in the area of Flagler Estates. The remains of Barbara Parchem, a 67-year-old waitress who went missing from her Vermont Heights on April 5, were found on the Flagler County side of Flagler Estates on April 30. Flagler Estates is a remote 2,700-acre subdivision with a few houses on the St. Johns County side and no houses on the Flagler side.
Due to the suspicious circumstances of the vehicles location, fire condition and other factors discovered at the time, the area surrounding the vehicle was processed as a crime scene even before the remains were found in the trunk, the St. Johns sheriff's office reported. Investigators covered and towed the vehicle to a processing facility, dissimulating it from television and other cameras to protect certain clues, where the vehicle was opened for further investigation.
Medical Examiner Predrag Bulic examined the remains and confirmed they were human. Cdr. Charles Mulligan, a spokesman for the St. Johns Sheriff's Office, said the identity of the victim, the sex of the victim and the car and make the victim was found in have not been released.
There are unconfirmed reports that the victim was from Flagler County. Mulligan said that's not information the St. Johns Sheriff's Office has released. Detectives, the medical examiner and arson investigators are still working the case.
"The detectives were working with some information and it was leading us beyond our borders," Mulligan said, but he did not say to which county.
The location of the vehicle containing the victim is "not a great distance from Flagler County," Mulligan said. Parchem's remains were found a very small distance south of the St. Johns-Flagler County line, but that case was being investigated chiefly by St. Johns County.
Early Monday morning, Lt. Bob Weber, the Flagler County Sheriff's spokesman, said he had no information on the case, but would inquire further.