When:
August 29, 2019 @ 2:00 pm – 2:30 pm
2019-08-29T14:00:00-04:00
2019-08-29T14:30:00-04:00
Where:
17 Old Moody Boulevard, Palm Coast.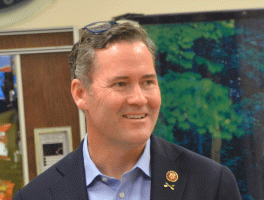 U.S. Rep. Mike Waltz, whose district includes all of Flagler, meets with officials from KALS, a global advanced tactical fuels response team headquartered at the Flagler County Airport, at Flagler County Airport, 17 Old Moody Boulevard in Palm Coast. Waltz and company officials will discuss emergency fuel and aviation disaster recovery services, public policies on prepositioned equipment, coordination among federal, state and local entities, and infrastructure reliability for first responders. The meeting will be highlighted by a 2 p.m. demonstration showcasing an air transportable fuel "blivet," a manner of transporting fuel in large drums. (See the image below.)
KALS is a current Department of Homeland Security prime contractor to provide emergency fuel support during disasters and has responded to the two most recent major hurricanes to affect the state of Florida – Hurricanes Irma and Michael. The company provides all types of fuel including aviation, gas, and diesel.