When:
April 28, 2020 @ 1:30 pm – 2:30 pm
2020-04-28T13:30:00-04:00
2020-04-28T14:30:00-04:00
Where:
Flagler County courthouse, 1769 E Moody Blvd, Building #1.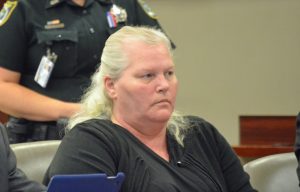 Dorothy Singer Murder Case: Dorothy Singer, the 55-year-old former West Flagler resident accused of murdering her husband, Charles, by shooting him five times and burying his body in their property's backyard, is scheduled for docket sounding, the last step before trial, before Circuit Judge Terence Perkins in Courtroom 401 at the Flagler County Courthouse at 1:30 p.m. A jury found Singer guilty of the murder in a May 2018 trial, and Circuit Judge Dennis Craig sentenced her to life in prison without parole. But the Fifth District Court of Appeal reversed part of the ruling because Craig had too hastily denied the defense a motion to delay the original trioal so it could study relatively new DNA evidence of Charles Singer's blood found on the couple's bedroom headboard. That's why Dorothy Singer is getting a new trial.