When:
October 20, 2019 @ 1:00 pm – 2:00 pm
2019-10-20T13:00:00-04:00
2019-10-20T14:00:00-04:00
Where:
Flagler County Art League, 160 Cypress Point Parkway, Suite A-208, Palm Coast.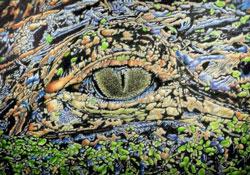 The Colored Pencil Society of America DC 117 St. Augustine meets at 1 p.m. at the Flagler County Art League, 160 Cypress Point Parkway, Suite A-208, Palm Coast. Nationally recognized artist, Bill Shoemaker, CPSA, will conduct a demonstration using an Icarus Board. Bill is a local artist known for his beautiful wildlife art. He has introduced many artists to the Fine Art medium of Color Pencil through classes and private lessons. Time will be allowed for participants to practice or use for their artwork. The public is welcome.
At the time DC-117 was established in 2005, it was designated as "St. Augustine" as the city is a central point on the First Coast. However, our meetings are held in Palm Coast and our members attend from a wide area ~ Jacksonville to New Smyrna Beach and west to Gainesville. Our Chapter, founded by Bill Shoemaker and Hanneke Jevons, started with a number of colored pencil enthusiasts and their desire to share and nurture their love of colored pencil as a fine art. Anyone who is interested is welcomed at our meetings – no experience necessary! Many people get started in this medium after going to one meeting or show. They are fascinated with the vast possibilities of colored pencil. Our Chapter also sponsors workshops with nationally-known artists to help us learn new techniques and refine our skills. We welcome all interested artists to attend a meeting where we share our talents and colored pencil art information.