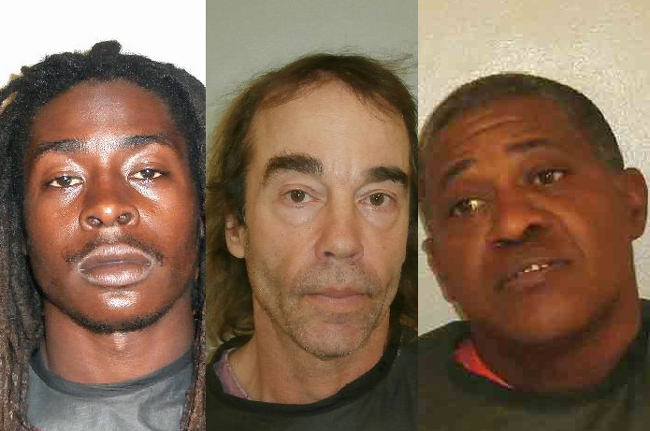 Three separate and unrelated traffic stops for minor infractions over the weekend led to three arrests on cocaine possession charge, an indication, according to the Sheriff's Office, of a noticeable rise in the drug's circulation.
"They are seeing an increase," Bob Weber, the sheriff's spokesman, said, referring to the office's drug investigators. Crack cocaine is selling from anywhere from $80 to $100 per gram locally. One possible reason for the increase: the crackdown on prescription drugs. "Since the Prescription Drug Monitoring Program (PDMP) went into effect over a year ago it has become harder for people to doctor shop as in the past," Weber said.
The three incidents unfolded on successive days over the weekend.
On Friday, Brandon Travis Jones, a 24-year-old resident of Pritchard Lane in Palm Coast, was driving east on State Road 100 when a Flagler County Sheriff's deputy spotted his expired tag. The deputy pulled Jones over. Jones was smoking a Newport cigarette, according to the deputy's report. When Jones handed the deputy his driver's license, the deputy called in a K-9 unit. The deputy, according to the report, "had reason to believe that Jones was involved in illegal activity based on his actions" from the moment the deputy had activated the cruiser's emergency lights. Jones had "failed to stop the vehicle in a timely manner while drifting in and out of his lane," the report notes, actions "consistent with concealing something in the vehicle."
As additional deputies arrived at the scene and Jones was issued a warning for his expired tag, he was asked for, and gave, consent for his 1996 Chevrolet to be searched. A deputy "immediately observed an off-white colored rock-like substance on the driver's seat where Jones was sitting," the report states. Th pack of Newports contained another rock, alongside a clear plastic bad with two more, larger rocks.
As Jones was being arrested, he told deputies that he had pot in his pocket. The rocks tested positive for cocaine. Jones was charged with marijuana possession, a misdemeanor, and cocaine possession with intent to sell, a felony. Jones has since been released after posting $2,500 bond.
The next evening, a deputy was running a speed trap at Mahogany Blvd and Elder Street in Bunnell when he clocked a silver Volkswagen speeding at 71 in a 35. The driver, 54-year-old Christopher Campbell, of Lancewood Street in Bunnell, pulled over on Lancewood Street. The deputy asked him for his paperwork. As he did so, the deputy could smell a strong odor of burnt pot emanating from the car. He called in additional units.
Because of the smell, a deputy told Campbell that a probable-cause search would be carried out in the vehicle. Campbell said there were no narcotics in the Volkswagen, and that he alone drove the car. But as Campbell stood by and a deputy opened the center console in the car, he found a container, about half the size of a cigarette pack, with green leafy stuff inside and two off-white rocks that later tested positive for marijuana and crack cocaine. The marijuana weighed 0.2 grams, the cocaine 0.7 grams. The rest of the search produced no more "contraband," as arrest report described it.
Campbell was arrested and charged with cocaine possession and marijuana possession. His car, like Jones's, was towed by John's Towing. Campbell remained in jail on $1,500 bond Tuesday.
The third incident took place early Sunday morning, just after 1 a.m. It also began as a traffic stop—of a bicyclist. A sheriff's deputy noticed the cyclist riding east on East Booe Street in Bunnell. Isaac Michael Brown, a 48-year-old resident of Espanola Road in Bunnell, was riding on the handlebar (which is illegal), and had no headlights or taillights. John Hayden, who's been arrested a half dozen times on a variety of charges in the last several years, was pedaling. The deputy activated his cruiser's emergency lights and stopped the cyclist near Cherry Street.
As the deputy spoke to the two men, "Brown immediately began acting nervously and stating that he had done nothing wrong and that police were profiling," the deputy reported in his arrest report. Brown remained agitated as additional units arrived at the scene, and as a deputy spoke to Hayden, Brown "continuously looked down at his left pocket," the report states. Told repeatedly to kept his hands out of his pocket or else he'd be handcuffed, Brown quickly reached into a pocket and "dropped" two small "chalk like cubes on the ground," the report states, "directly in front of" him. The deputy reported that the cubes appeared to be crack cocaine.
Brown was handcuffed. The 0.1 gram of the substance tested positive for cocaine.
Hayden was not arrested. On his way to the jail, Brown accused police of arresting him while letting Hayden go free because Hayden is white. Brown has been arrested only a few more times than Hayden, including on several previous cocaine possession charges. Brown complained of not feeling well and was taken to Florida Hospital Flagler, where he complained that police had injured his shoulder. An X-ray showed his shoulder to be uninjured.
Brown was booked on a cocaine possession charge and resisting arrest without violence. He has since been released on $1,500 bond.