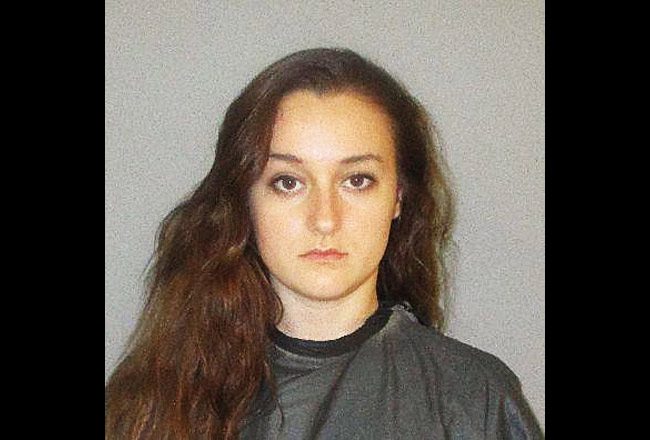 It was supposedly about a cat.
But for Kaitlin McBride, an 18-year-old resident of 12 Zerington Court in Palm Coast who'd just finished delivering pizzas for Five Star Pizza, the morning ended with her in jail facing a felony charge of home-invasion robbery and two misdemeanor charges.
She had previously dated Maxwell Celentano, a 21-year-old renter at a house on Senseney Path in Palm Coast. They had broken up. Celentano was dating someone else, Cassandra Courchesne, 20.
For whatever reason, McBride this morning (Feb. 25) around 3 a.m. decided to go to Celentano's house, ostensibly to reclaim her cat. As she would later tell Flagler County Sheriff's deputies, she noticed that the garage door to Celentano's house was open, so was the door into the residence. Previously, she claimed to deputies, when Celentano's door was open, it meant "welcome in." She noted Celentano had previously told her she could come over to claim belongings any time. She says she thought Celentano was inside partying.
Celentano, in fact, was asleep with Courchesne and the cat, Blaze, in Celentano's bedroom. Celentano told deputies that McBride attacked him and his girlfriend, punching her and threatening her with a knife. Courchesne (who asked that her name be included in this account) said McBride allegedly punched her five or six times on the bed, then got off her and took out a switchblade and held it to her throat.
When Celentano's girlfriend called 911–by then the landlord at the house, a 24-year-old man, had also asked McBride too leave–McBride allegedly grabbed the cat and a Black Ops2 video game, and fled in a white Chevrolet Cavalier.
Within moments, deputies had picked out the car driving north from the Seminole Woods area at Ulaturn Trail, onto Seminole Woods Boulevard. McBride was stopped at Seminole Woods and State Road 100.
McBride was immediately handcuffed. The cat, the video game and a knife were in the car. When she was asked if she had any weapons on her person, she said no. She was patted down. She told deputies that she had gone to Celentano's house to get her cat and that she had at one point sought a restraining order against Celentano, but had been denied. She claimed to deputies he had been violent with her in the past, but did not explain why, having sought a restraining order, she had gone to his house alone at 3 a.m. to retrieve a cat. When deputies asked her if she and Celentano were in a relationship, she said it was "complicated."
McBride said she initially knocked on the door of Celentano's house then went in through the garage, claiming she had "noticed the cat" inside, according to her arrest report (the cat was, according to Celentano, sleeping in his bedroom.) She insisted she had not gone into the house uninvited.
She acknowledged yelling at Celentano after she found him in bed with another woman, as he had previously told her that he loved her, but she denied having a knife or assaulting anyone–only to then acknowledge that she had the knife on her, for protection against Celentano. She said it was the same knife she used as a "chef," and had gotten injured with it at another time (she had a small cut). She also acknowledged "whipping" her knife out when she felt threatened by Celentano, and pushing Courchesne when she had pushed her, but not attacking her.
McBride, who's attended Flagler Palm Coast High School, was arrested at 4:50 this morning and was booked at the Flagler County jail at 6:30, where she's been held so far without bond.
A home-invasion robbery in which a weapon is used, whether a firearm or a knife or other weapons, is a first-degree felony under Florida law, exposing the defendant to up to 30 years in prison. Frequently, however, the charge is downgraded in plea agreements.