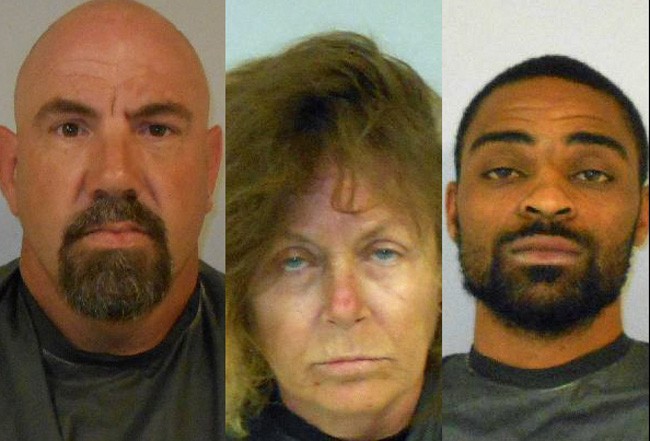 The Flagler County jail population is at one of its highest levels in the last four years, reaching 160 by this weekend. The jail has an authorized capacity of 132. Only twice in the last four years—for a brief period in November 2011 and a three-month period last summer—has the jail population been this high, or higher. A rash of unrelated assaults and domestic violence cases has contributed to the larger population.
On Saturday (May 9), a confrontation near a Red Box movie rental unit on State Road 100 in Palm Coast led to the jailing of Ernest Singleton, 31, of Madison Green Circle in Palm Coast, on an assault charge after getting into an argument with Robert Price, a 29-year-old Palm Coast resident who was in line for a movie.
Price was with a 35-year-old woman. Words were exchanged. According to Price, Singleton then threatened to run him and the woman over, then mimicked a gun with his hand and threatened to shoot him. Singleton, according to his arrest report, then backed his car rapidly and placed it behind Price's, got out of the car and went to his trunk. Price claims Singleton was holding something behind his back while continuing to threaten to shoot him.
Neither the woman Price was with nor another witness at the scene were able to tell police what, if anything, Singleton had been holding, though the witness told police that he saw Singleton remove from the trunk what appeared to be an "automatic pistol and held it behind his back and walked a few steps toward" Price.
Singleton was arrested. A search of his vehicle produced no weapons, nor did a search of the area where the confrontation had taken place. Singleton was released on $500 bond.

In an unrelated incident on Friday (May 8), Frederick Hyatt, 55, a resident of Cottonwood Court in Palm Coast and a repeat offender, was charged with felony battery with a prior conviction and jailed on May 10.
Last August Hyatt was convicted on battery charges in Volusia County. The May 8 incident took place at dawn when, according to the 46-year-old victim, Hyatt held her against the bathroom wall by the neck, aggressively pushed her chest with his other hand and made as if he would strike her with his fist. The alleged incident unfolded when the victim—his girlfriend—didn't want him to use her car because he has no driver's license. He was going to his job in Lake Mary. She eventually gave him the keys so he would leave because, she told police, she was in fear of Hyatt.
Hyatt was jailed two days later on the felony battery charge, with a $2,500 bond, and a violation of probation charge, which has no bond. He remained at the jail on Wednesday.

On May 9, 53-year-old Annette Walters-Whitney was arrested on a charge of battery on a person 65 or older after allegedly abusing her 76-year-old mother, Henrietta Walters, at their Flagler Beach home.
Walters told police that, as she wheeled herself into her living room on her motorized wheelchair, her daughter was there, drinking alcohol, and allegedly insulted her by saying, "go back into your bedroom bitch before I put you in a nursing home." Walters claims her daughter then threw the contents of her drink on Walters. The daughter would later concede that she threw the cup as well, but claimed that her mother had started it by throwing water on her first. Walters-Whitney  said she had video of the incident, but she didn't know how to operate the camera on which the video was taken, and police were not able to locate the video in question.
Walters-Whitney appeared "extremely intoxicated" to police at the scene, according to her arrest report. A witness at the scene, also drunk, according to police, said it was both women's fault. Walters told police the abuse has been ongoing—and a report of elderly abuse was documented by Walters's care provider and investigated by both Flagler Beach police and the Department of Children and Families.
Walters-Whitney has an extensive arrest record in Flagler County. She's been booked at the county jail a dozen times on charges of battery on a law enforcement officer, resisting arrest with violence (a third0-dsegree felony for which she was found guilty), battery (guilty), probation violation,  domestic battery (charges dropped), driving on a suspended license (guilty), marijuana possession (guilty), and abuse of 911, among other charges. She posted bail on $1,500 bond and was released.

This last incident doesn't involve an arrest, but a Palm Coast address that keeps being at the center of law enforcement matters.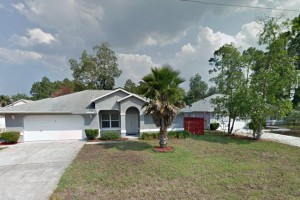 It's the house at 19 Burning Wick Place, occupied by Suzanne A. Paulsen, 46, and others. The house is owned by a couple in Bellmore, N.Y., according to property appraiser records. In April the house was at the center of bizarre incidents, including a shooting termed accidental. The victim was Dylan Alves, 18. Paulsen told police that Alves had "found" a gun and accidentally shot himself in the leg, above the knee. Days earlier, police responded to the same address after reports of a fight in the yard, where nearly two dozen people had gathered–allegedly to watch two men fight over a girl.
The latest incident, which took place Saturday, is no less bizarre.
The victim was Christopher Penwell, a 34-year-old resident of Bayside Drive in Palm Coast. Flagler County Sheriff's deputies spoke to him while he was getting treatment at Florida Hospital Flagler for getting struck in the face by a baseball bat. Penwell told police that the previous evening, he was watching a movie with Paulsen at his Bayside Drive house when, sometime after midnight, the two of them went to the Burning Wick Place house to let out the dogs.
Penwell said that after he got out of the vehicle, he heard what sounded like a branch break. He looked behind him. He then "saw the flash of what looked like a metal bat as it smashed into the left side of his face," according to the incident report. Penwell fell then felt something strike him on the other side of the head. He claims he "saw a black male, wearing black clothes run to the backseat of a white vehicle and drive away."
Speaking to deputies, Paulsen, who had driven Penwell to the hospital, said she "saw a car driving slow in her cul-de-sac but didn't think anything about it," according to the incident report. She said "a black male jumped out of the black vehicle and he hit Penwell in the face with a metal looking bat." She tried to run around her vehicle to assist Penwell but slipped in the swale and fell.
Paulsen also told police that her son David stated that her son David was in a fight with some gang members the previous Saturday. She thinks the attack was meant for David, as retaliation.