Daniel Nickonovitz, a 38-year-old Bunnell resident and felon with a violent past, was facing another felony charge since June and the possibility of several years in prison for making death threats against the in-law taking care of his children, including a threat to skin his father-in-law and wear his skin "as a layer."
On Monday, in what Circuit Judge Matthew Foxman described as "a dramatically reduced charge and sentence," Nickonovitz pleaded guilty to a second-degree misdemeanor instead and avoided prison. Adjudication was withheld, and he was sentenced to six months' probation. He must get a mental health and substance abuse evaluation and follow through on recommended treatment, and stay away from his in-laws, who have injunctions in place that extend to his sending them electronic messages: the death threats had been made by text. The judge also reduced his fines and costs of supervision to a civil judgment.
Nickonovitz was not free to go after the sentence, however. He had appeared shackled hand and foot and in his orange Flagler County jail garb: his bond on the original aggravated stalking charge had been revoked because two weeks ago he was arrested on a drunk driving charge, and a charge of driving on a suspended license. Those second-degree misdemeanors are still pending, and Nickonovitz will remain in jail on no bond.
The original charge of aggravated stalking was filed in late June when Nickonovitz's in-laws, who are in their mid-50s and have custody of his 10-year-old son and 8-year-old daughter, called Flagler County Sheriff's deputies about texts they had been receiving from Nickonovitz after texting him about child support he owed. After being told that he'd have to start paying the child support, Nickonovitz got upset, according to his arrest report, and texted to his mother-in-law: "What gets me off is finding middle aged white men and slicing off their skin so that I can wear it as a layer."
She stopped communicating with him at that point, but Nickonovitz went on to post threats on his Facebook page: "If I had been in a different situation this morning and in the same room with my wife's father, I would have killed him. Literally killed him." Minutes later, he added another post about the $1,050-a-month he owes in child support, threatening his father-in-law, whom he named, to "take it out of your legs," and adding: "You're fucking dead!!!!!!!"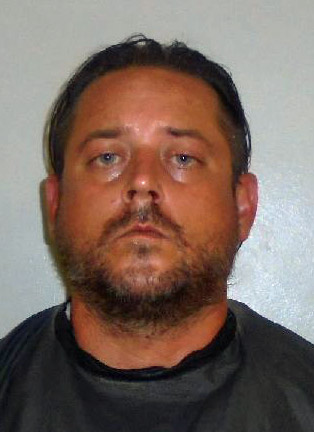 Nickonovitz, the arrest report states, owns several firearms even though in 2005, Flagler County court records indicate, he was found guilty of felony battery, a third-degree felony. He pleaded guilty and was sentenced to two years of community control—or house arrest—and two years' probation, which was ended in September 2009. Convicted felons are barred from owning firearms under Florida law.
Nickonovitz subsequently removed the threatening posts from his Facebook page, on which he intersperses images of his young children with obscene memes from such places as "Rude, Crude and Socially Unacceptable." An August 29 image of his daughter with a horse is followed by an Aug. 31 meme of "My two moods: 1. Hello 2. I'll fucking stab you." Nickonovitz also describes himself as "Führer at National Socialist Party."
He was arrested on June 26 at his Mondex address at 5607 Cypress Avenue, posted bail on $2,500 bond, then was rearrested on Aug. 29, in the Mondex, also known as Daytona North, when a cop saw him weaving on an all-terrain vehicle on  Lancewood Street. He told a cop he'd had three beers. His breath samples registered .288 and .275 blood alcohol levels. The legal limit in Florida is .08. In September 2014, Nickonovitz's license had been suspended six months over a drunk driving conviction. It was revoked for 180 in October that same year, according to his latest arrest report, and was subsequently suspended several times over failures to pay traffic fines.
Four days after his DUI arrest, he was again arrested on a contempt of court charge, revoking his bond.
Death threats had also figured in his felony arrest in 2005. At the time, at the same Cypress Avenue address, he'd been drinking, according to his arrest report, and had gotten into an argument with his girlfriend, struck her in back of the head with a three-foot candle-holder, then chased her to a bathroom, where she'd locked herself up, and threatened to kill her. She then heard Nickonovitz load one of his weapons. Police and officials from the Department of Children and Families arrived and repeatedly ordered him out of the house, finally getting him to comply. Authorities found a .22 caliber rifle with a scope and a clip containing 10 rounds, with several .22-caliber rounds in Daniel Nickonovitz's pocket. A 20-gauge shotgun was also taken in as evidence. The victim was hospitalized.
In 2014, he was charged with domestic battery. The charge was dropped. He faced a battery charge in 2004. That charge was dropped.