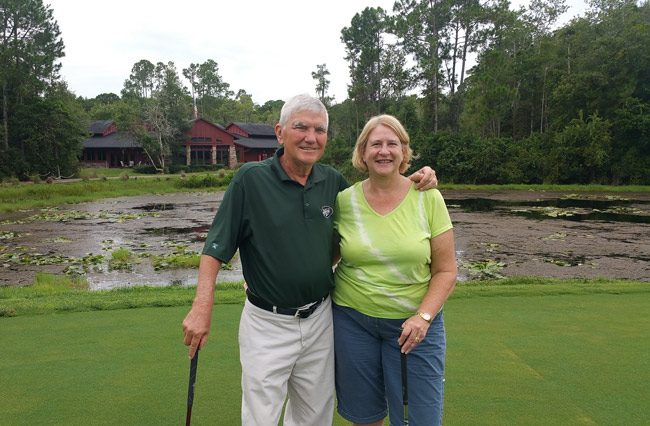 Successfully running a golf course these days is almost as risky as crab-fishing in the Bering Sea. But Palm Coast's Doug Brown and Janice Reid are giving it a try.
They bought the property alternately known as Cypress Course or Cypress Knoll in early summer, just weeks after the course in Palm Coast's E Section closed, renamed it Cypress Knoll Golf and County Club, and are now set to open it on Sept. 10. Brown and Reid live on the golf course.
"After a summer of hard work improving the grounds, we are ready to welcome our Flagler County neighbors," Brown said. "My father bought the property that I eventually built my house on in 1972, and I didn't want the course to fall into disrepair like what happened with the Matanzas course."
He was referring to one of the several troubled golf courses in the region: the Matanzas course has long been in disuse. Palm Coast's Palm Harbor Golf Club is still operating, but only at a loss, thanks to taxpayer subsidies. That course is owned by Palm Coast government. The year's loss is expected to exceed $300,000.
There was a buy offer for Cypress Knoll on the table that would have expired had Reid and Brown not decided to rapidly buy the property. They've retained the five-person grounds crew and plan on adding approximately 20 new jobs. In addition to staff, they have had seven people, mostly Cypress Knoll residents, volunteer to improve the grounds. They will reopen with the back nine becoming front nine. "The first golfers out on September 10th will hold the course record…at least for a few minutes," Brown said.
There are 260 homes on the course. Staff and volunteers walked around to most of the residents handing out flyers for the grand re-opening and September 11 concert and wine challenge. They plan on reopening the restaurant, and a Par 3 Pitch and Putt will be installed in the future.
The public is invited to the course and country club on September 10 from 7:30 a.m. to 6:30 p.m. Those interested in booking a tee time that day can call the course to book. The driving range will be open until 7 p.m.
The Sept. 11 ticketed concert and World Wine Challenge starts at 3 p.m. Entertainer Spook Handy will perform his "Remembering Pete Seeger" concert. "Spook" has performed with Pete Seeger over 50 times and his songs have been used in theater and film productions, and have reached number six on the international folk radio charts. The World Wine Challenge is an NCAA bracket style wine taste-off and a fun way to sample wines from around the U.S. Tickets are $30 and on sale at the clubhouse. They include the concert, wine tasting and snacks.
Cypress Knoll Golf & Country Club is located at 53 Easthampton Blvd. in Palm Coast. The course is an 18-hole signature course designed by Gary Player. It is a semi-private course, open to the public. The course can be reached at 386-437-5807 or online at http://www.cypressknollgolfcourse.com/ or https://www.facebook.com/CypressKnollGolfCountryClub/.