Wednesday Briefing: More Early Voting, Hosseini's ICI Homes Lands in Town Center, Cops Like SUVs, Messing With Muslims
FlaglerLive | August 24, 2016
Today: Mostly cloudy in the morning then becoming partly cloudy. Chance of showers and slight chance of thunderstorms. Highs in the upper 80s. Northeast winds 10 to 15 mph. Chance of rain 40 percent. Tonight: Partly cloudy with a 20 percent chance of showers. Lows in the upper 70s. Northeast winds 10 to 15 mph. Details here.
Today's fire danger is moderate. Flagler County's Drought Index is at 451.
Today's tides: at the beaches, at the Intracoastal Waterway.
Today's document from the National Archives.
The OED's Word of the Day: rim ram ruff, phr. and n..
The Live Community Calendar
Today's jail bookings.
Today's Briefing: Quick Links


"These are the types of moment where to be quite honest with you I don't really enjoy my job. I really don't. Everyone in the room needs to prepare themselves for disappointment for what I'm about to do. You know, one of the things that I've had to deal with in my entire career has for whatever reason gravitated towards violent offenses. It just continues to be the same, year after year, of senselessness. There's no purpose to the events that are driving us here today. And we have wonderful human beings in this room who are dragged here to deal with the human misery that's been created by a senseless act. And I'm so sorry for that. And I would share with you, Mr. Haire, I appreciate you being respectful in what you've said, and I heard you. But at the same time I can't have violence out there in a way that could endanger innocent civilians, even if it was just two guys kind of working it out, if you know what I mean. That being said, I can't throw away a human being. And Mr. Roberts you have a life worth leading. But at the same time you got this close to killing somebody, and I don't know what you did to him for a lifetime, but I'm not going to treat you as a youthful offender or a juvenile."
–Flagler County Circuit Judge Matthew Foxman in Tuesday's sentencing of Zaire Roberts.
Note: all government meetings noticed below are free and open to the public unless otherwise indicated. Many can be heard or seen live through each agency's website.
Ongoing Early Voting in Flagler County for a slew of local, state and federal offices leading up to the Aug. 30 primary. Early voting is mandated from Aug. 20 through Aug. 27, but county supervisors of election have the discretion to begin sooner. Flagler's is among 24 counties choosing to do so. Though it is a primary, numerous races appear on the ballot in which all registered voters are eligible to cast a ballot, regardless of party affiliation, including for Palm Coast City Council (if you're a Palm Coast resident), for judges, for school board and for Supervisor of Elections. Early voting hours are 10 a.m. to 6 p.m. every day through Saturday, August 27, at the following locations:
1. Flagler County Public Library
At the corner of Belle Terre and Palm Coast Parkway.
2500 Palm Coast Parkway N.W. Palm Coast
View this location on a map
2. Palm Coast Community Center
At the corner of Clubhouse Drive and Palm Coast Parkway.
305 Palm Coast Parkway NE Palm Coast
View this location on a map
3. Supervisor of Elections Office
Located in the Government Services Building.
1769 E. Moody Boulevard, Building 2, Suite 101 Bunnell
View this location on a map
All the information you need is at the Supervisor of Elections' website.
The Flagler County Economic Opportunity Council meets at 9 a.m. in board chambers at the Government Services Building. The meeting will be followed by a workshop. No agenda was posted online for the workshop, which takes place in a separate room (the finance conference room) and is not broadcast, as is the case with the meeting.
Curriculum Night at Belle Terre Elementary for kindergarteners and Voluntary Pre-Kindergarten (VPK), 5 p.m. in various classrooms.


Updated jail bookings and day and night shift incident summary reports are available here.

Zaire Roberts, 17, Gets 7 Years in Prison in Shooting of Phillip Haire in Palm Coast Last Summer

For Bunnell's Tucker, Sharp Loss on Firehouse Consolidation Signals Return to Minority

ICI Homes Puts Town Center Residential Parcels Under Contract

"Opt Out" Movement in the Balance as Judge Weighs Whether Tests Can Decide 3rd Grade Promotion

[paywall-protected] Volusia-Flagler gas prices spike

Al Jones, Former County Commissioner and Breakfast Club Impresario, Dies at 87

Devil's Gambit: Sacrificing All Else to Ensure Trump Picks for the Supreme Court

Live Brief: Publix Campaign Politics


In Florida and in State Government:
Note: Some proceedings below can be followed live on the Florida Channel.

The Florida A&M University Board of Trustees will meet after a session of the trustees' Special Committee on Presidential Evaluation. Both meetings are expected to include discussion of an evaluation of President Elmira Mangum. (Committee meeting at 8 a.m., full board at 9:30 a.m., Florida A&M University, Grand Ballroom, Tallahassee.)
Behavioral health: The state Agency for Health Care Administration will hold two meetings about behavioral-health services in the Medicaid program. Participants are expected to include officials from managed-care plans and behavioral health providers. (8:30 a.m. and 1 p.m., Central Florida Behavioral Hospital, 6601 Central Florida Parkway, Orlando.)
Medicaid: The Medical Care Advisory Committee, which works on issues in the Medicaid program, will meet after holding subcommittee meetings. (Subcommittees at 1 p.m., committee at 2 p.m., Agency for Health Care Administration, 2727 Mahan Dr., Tallahassee.)
–Compiled by the News Service of Florida and FlaglerLive


In Coming Days in Palm Coast, Flagler and the Occasional Beyond:
♦ Aug. 28: Families Faith Fun Festival at St.Thomas Episcopal Church from 1 to 5 p.m. with free food, family-oriented games, lots of prizes, and raffle drawings. All invited, whether members of the church or not. See the website at stthomaspalmcoast.com.


♦ Sept. 7: The Flagler Youth Orchestra holds its open house for all new or prospective students who'd like to join the county's largest (and free) music program. The open house is at the Indian Trails Middle School cafeteria at 5:30 p.m. Any Flagler student, including homes chooled students, in grades 3-12, are eligible to enroll (must be 8 years old by Sept. 1, 2016.) Students may elect to play violin, viola, cello or doublebass. One-hour classes are held at Indian Trails Middle School Mondays and Wednesdays, from 3 to 6 p.m., with students enrolled in the hour block appropriate to their skill level and schedule. The first class for first-time students is Sept. 19. (Auditions for returning students start on Aug. 22, the first class for returning students is Aug. 31.)
♦ Sept. 8: Meeting of the Flagler school district's Strategic Plan Steering Committee, 5:30 to 7 p.m., Third Floor main conference or training room 3, Government Services Building, Bunnell. Open to the public. The public may also take the ongoing survey to help the steering committee.
♦ Sept. 10: African Art: Ancient Egypt to the Contemporary World, a pair of presentations by Bertrand Green, former chairman of African American studies at Lehman College, City University of New York. The first session is from 10 a.m. to noon, the second session from 2 to 4 p.m., at the Hilton Garden Inn, Palm Coast. $20 for PCAF members, $25 for general admission. Call 386/225-4394 or email pcaf@cfl.rr.com to reserve your seat.
♦ Sept. 17-18: Staged Reading of Neil Simon's "Chapter Two," at the Flagler Auditorium's Black Box Theatre, directed by Bruce Heighley, a volunteer production to benefit the auditorium's the Arts in Education Scholarship Fund and Temple Beth Shalom. Performance times are 7 p.m. on Sept. 17, 2 p.m. on Sept. 18. Tickets: $29 for adults, $18 for students. Call the Flagler Auditorium, 437-7547, for tickets, or go to flaglerauditorium.org.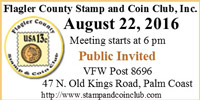 ♦ Sept. 26: The Flagler County Stamp and Coin Club meets at 6 p.m. at the VFW Post 8696, 47 N. Old Kings Road, Palm Coast. The public is welcome.
♦ Feb. 6: The great violinist Itzhak Perlman opens the 2017 season of the Amelia Island Chamber Music Festival with a 7:30 p.m. performance at First Baptist Church, 1600 South 8th Street in Fernandina Beach. Tickets here.


This week I had the most disturbing train ride of my life – and it changed my perspective on Black Lives Matter https://t.co/9O3NWu2LmE

— Independent Voices (@IndyVoices) August 23, 2016
N.Y. police regularly violated rules on probing Muslim groups: watchdog https://t.co/jBEqFujiXj

— Reuters Top News (@Reuters) August 23, 2016
[Feature] Going Big: SUVs for Patrol: Many law enforcement… https://t.co/KC260aY4HR #Article #Archive #Police pic.twitter.com/8HXbduIIRA

— POLICE Magazine (@PoliceMag) August 23, 2016
NEW: Emails threaten to shadow Clinton through Election Day https://t.co/yeFm2NkxPN pic.twitter.com/3HBk5h0xb8

— The Hill (@thehill) August 23, 2016
An entire town is relocating because of global warming https://t.co/SlMbYiVAys

— The Independent (@Independent) August 23, 2016
On private federal prisons, a victory for independent journalism https://t.co/KC0ZKcx8BZ

— Solitary Watch (@solitarywatch) August 23, 2016


Fact-Checking the Knaves:



Palm Coast Construction and Development Progress Reports
The following is an update of ongoing permitting, construction and development projects in Palm Coast, through August 11 (the city administration's full week in review is here):
<![if !IE]><![endif]>


Road and Interstate Construction:


Bach Partita BWV 831 in B minor, Céline Frisch, Harpsichord
Previous Codas: