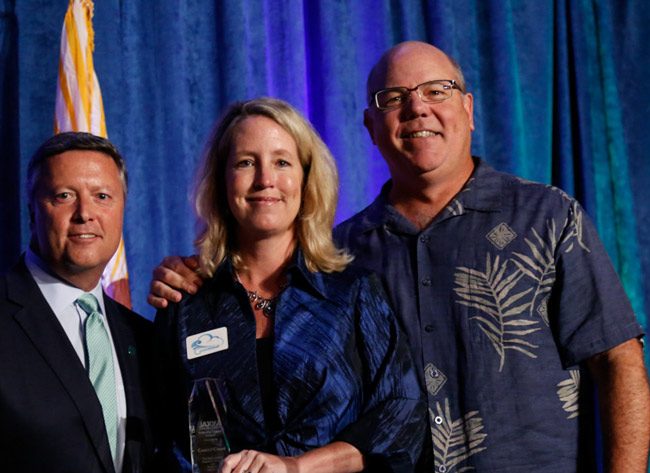 Coastal Cloud, a Flagler County-based technology company, was awarded the second quarter JAXUSA Industry Leader Award on June 6, the company announced today. The award was presented to Coastal Cloud co-founders Tim and Sara Hale during a lunch at the Hyatt Regency Jacksonville Riverfront.
The JAXUSA Partnership Industry Leader award is presented to a company that shows outstanding growth and community involvement. The award winner is selected by the JAXUSA senior leadership team and is based on criteria including continued growth in the region, innovative work and a commitment to the community it serves.
Barely three years old, Coastal Cloud has shown that technology companies can flourish in northeast Florida and Flagler County. The company's culture is encapsulated by its slogan, "Live at the Beach – Work in the Cloud." Coastal Cloud employs a "hub and spoke" model to serve its customers. Half of its consulting and development employees are concentrated in the company's SaaS (Software as a Service) Solution Center, or "hub," in Northeast Florida. Other employees or contractors ("spokes") can be found near Coastal Cloud's clients, providing a local presence from Boston to D.C., Denver and as far away as Hawaii.