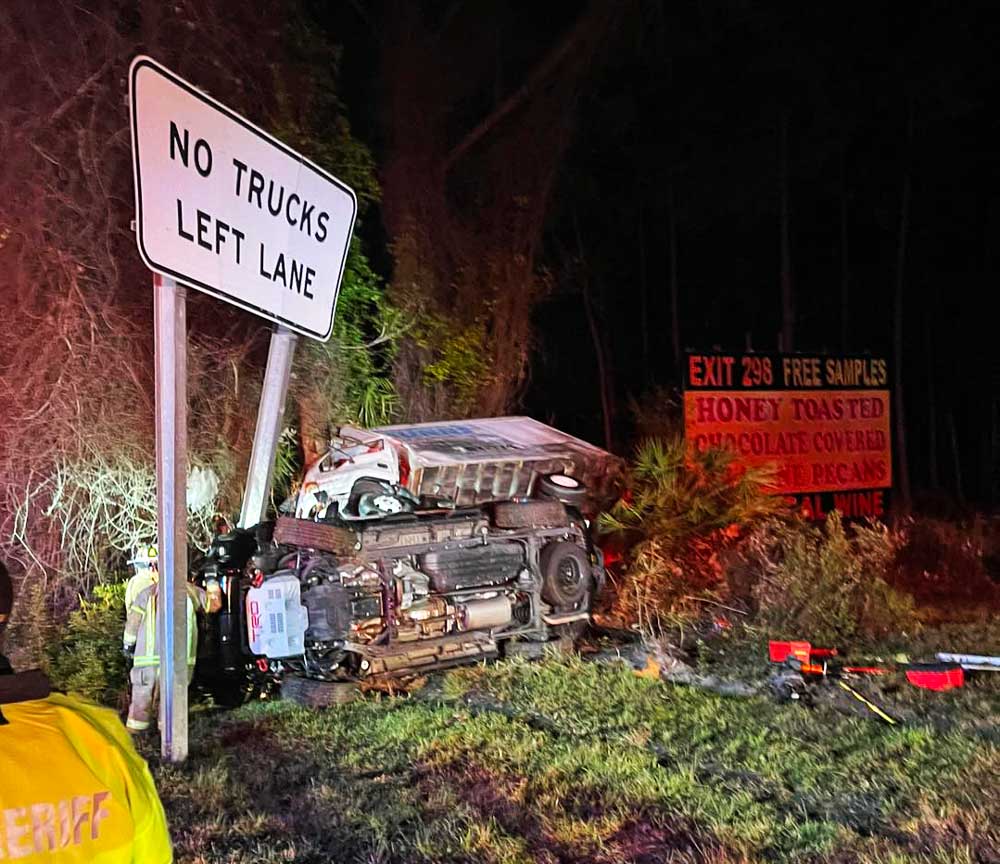 A 48-year-old man driving a box truck was killed Friday evening (Feb. 17) when his truck collided with an SUV and rolled into the woods along I-95 about a mile north of the Palm Coast Parkway interchange.
The victim was at the wheel of the truck, with one passenger aboard, a 55-year-old man who sustained minor injuries. Both are from Puerto Rico, according to a Florida Highway Patrol report.




One of the three occupants of the Toyota 4Runner SUV, a 29-year-old man, sustained minor injuries. The other occupants of the SUV, a man and a woman, both 49, were not injured. All three occupants are from Jacksonville.
The crash took place moments before 9 p.m. According to the FHP report and witnesses, the box truck and the SUV were traveling north. The box truck was in the center lane, the SUV was in the outside lane, parallel to the box truck. "For unknown reasons at this time," the report states, the truck "suddenly changed lanes," its right side colliding with the right rear of the SUV.
The collision caused both vehicles to veer east into the right grassy shoulder, where they overturned, the truck ending up on top of the SUV and entrapping the SUV's occupants for a time. The SUV occupants were able to "self-extricate," according to the Palm Coast Fire Department.
Flagler County Fire Rescue and the Palm Coast Fire Department responded as did the Flagler County Sheriff's Office and the Palm Coast Fire Police. An emergency helicopter was briefly placed on stand-by.
"Arriving crews immediately began the vehicle stabilization process in which the passenger and driver of the box truck were extricated," the fire department reported. "One was transported as a Trauma Alert by Rescue; the other occupant was pronounced deceased on scene." A trauma alert generally is directed to Halifax hospital in Daytona Beach. The crash caused delays on I-95 northbound lanes.




The victim was pronounced at around 9:40 p.m. FHP reported that he was not wearing a seat belt. FHP, in keeping with its misinterpretation of Marsy's Law, did not release the victim's name.
Rescuers battled thick brush and woods to get to the entrapped victims in the truck. The crash resulted in the second fatality on Flagler County roads in a week and the third this year.
Units involved were the Palm Coast Fire Department's Engine 21, Engine 22, Battalion 24 and the Fire Police, and Flagler County Fire Rescue's Rescue 21, Rescue 22 and Engine 92.