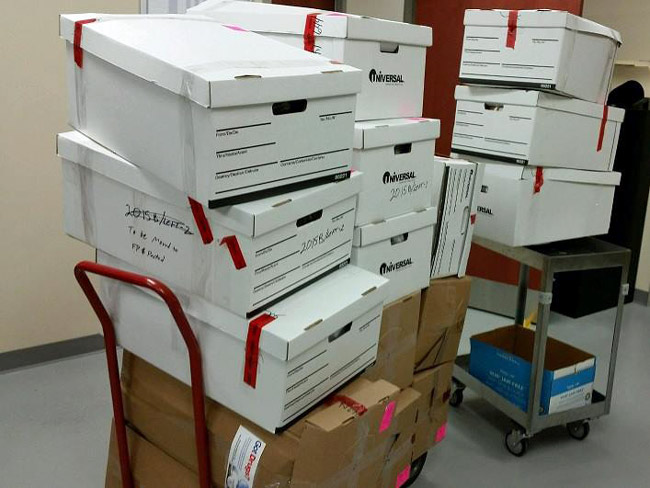 Today: Partly cloudy in the morning then becoming mostly cloudy. A 50 percent chance of showers and thunderstorms. Highs in the upper 80s. Southwest winds 10 to 15 mph.Tonight: Partly cloudy with slight chance of showers and thunderstorms in the evening…then mostly cloudy with chance of showers and thunderstorms after midnight. Lows around 70. Southwest winds 5 to 10 mph. Chance of rain 40 percent. Details here.
Today's fire danger is moderate. Flagler County's Drought Index is at 338.
Today's tides: at the beaches, at the Intracoastal Waterway.
Today's document from the National Archives.
The OED's Word of the Day: Harrington, n..
The Live Community Calendar
Today's jail bookings.
Today's Briefing: Quick Links


"Then there was Kendal's preschool graduation. Vanetta wanted somehow to find money to buy him a new pair of shoes for the big day. She wanted him to feel special, accomplished. In the inner city, much was made of early milestones. Later ones might never come."
–From "Evicted: Poverty and Profit in the American City," by Matthew Desmond (Crown, 2016).
Note: all government meetings noticed below are free and open to the public unless otherwise indicated. Many can be heard or seen live through each agency's website.
This is teacher appreciation week.

The Flagler County School Board meets in workshop at 4:30 and in a regular meeting at 6 p.m. in board chambers at the Government Services Building in Bunnell. The workshop includes discussions on school board attorney Kristy Gavin's contract, a discussion of a grant submission for $500,000 for a $1 million renovation project at the Flagler Auditorium (see the grant proposal here), and a discussion of a new football-helmet system that alerts coaches of multiple impacts to a player's head. The alert system is a development prompted by research that shows football's dangerous degenerative effects on players from repeated head trauma. The regular meeting will feature a presentation on the Future Problem Solvers by School Board member Andy Dance and a presentation on the Flagler Youth Orchestra by Program Director Cheryl Tristam, along with a performance by 29 string players from the 350-member orchestra. The board is expected to approve the new health insurance premium plan for its employees: costs are expected to remain flat.
The Palm Coast City Council meets at 6:30 p.m. at City Hall in Town Center. On of its proclamations will recognize Teens in Flight Day (which is Tuesday). The council will approve its new set of priorities as well as the year's paving schedule for various streets in the city.
Open auditions for the 2016 Spotlight on Flagler County Youth Talent Show from 5 to 7 p.m. for students in grades K-12, at the Flagler County Youth Center, on the campus of Flagler Palm Coast High School. If you can sing, dance, play an instrument, or have any special talent, plan to audition. For information, email Cheryl Massaro or contact her by phone at 386/437-7540×5101. The talent show is on June 7 at the Flagler Auditorium.


Updated jail bookings and day and night shift incident summary reports are available here.
County Floats Consolidation of Fire Services And Finally Agree to Meet With Palm Coast: It was not an easy-going meeting. Right from the start of this afternoon's 90-minute Flagler County Commission workshop addressing ambulance service in Palm Coast—which the county provides—county commissioners, the county administrator and the county fire chief were questioning why they were having to go through today's exercise to start with.
Its Elections Equipment "Old Enough to Vote," County Approves $545,000 For New Machines: Monday morning, the Flagler County Commission approved a $545,000 spending plan to buy the new equipment and have it in place for the November 2018 municipal elections in Bunnell and Flagler Beach (assuming the Legislature doesn't try again to require that those elections coincide with general election schedules, as it did this year, a plan Bunnell opposed). The amount is considerably lower than an estimate closer to $800,000 a few years ago, Lenhart said.
Flagler Firefighter Among Targets of Car Thieves and Burglars in Palm Coast's R and P's: By Monday morning, the sheriff's office had been inundated with reports of burglaries and car thefts from the R and P Sections.
Jacksonville Symphony Plays to Palm Coast Arts Foundation Overture, 12 Years in Making: So here it all was, a sea of listeners who, many of them, had been used to watching these concerts on the borrowed grounds of Palm Coast's Central Park not far off until last year. Sunday evening's performance was the first time that the Palm Coast Arts Foundation was on land it could call its own.
Speculation of Donald Trump-Rick Scott Ticket Increases As Governor Tours Nation: Trump himself encouraged the rumors when, in an interview with The New York Times for a story published this weekend about a possible vice presidential selection, "he briefly praised three governors as possible contenders," including Scott. The other two names Trump listed were New Jersey Gov. Chris Christie, one of the first major Republicans to endorse Trump, and Ohio Gov. John Kasich, who's still running for president.
Citing Disrespect, Flagler Beach Emphatically Tells A1A Group To Stick Its Signs Elsewhere: he commission, in a 5-0 vote, decided to inform state transportation officials that they are opposed to any of the eight large "directional" signs the A1A committee—a volunteer scenic organization—started planting in Flagler Beach last month, without formal approval or input from the city, and to the opposition of an overwhelming number of residents.


In Florida and in State Government:
Note: Most proceedings below can be followed live on the Florida Channel.

Legislative scorecards: Americans for Prosperity-Florida will hold a news conference to release a "scorecard" about how lawmakers voted on issues. (9:30 a.m., Florida Press Center, 336 East College Ave., Tallahassee.)
–Compiled by the News Service of Florida and FlaglerLive


In Coming Days in Palm Coast and Flagler:
Click on the links for more details:
♦ May 4: The Flagler County Republican Club meets from 6 to 7:30 p.m. at the Palm Coast Community Center, 305 Palm Coast Pkwy NE, featuring the Flagler County Supervisor of Elections Forum, with the three candidates for office–incumbent Kaiti Lenhart and challengers Kimble Medley and Aubrey Seay–participating in a timed question and answer session. Open to all registered Republicans and their guests of whatever party or no-party affiliation. For more information, email Wes Priest here.
♦ May 5: The Flagler Chamber of Commerce's Common Ground Breakfast features Dr. Mark Martindale, University of Florida biology professor and director for the Whitney Laboratory of Marine Bioscience. He will talk about "the Benefits of Having a Marine Laboratory and Higher Education in Your Backyard." Hilton Garden Inn, 7:45 to 9:30 a.m. Cost for Chamber members is $20 with advance registration or $30 the day of the event. Guests may attend for $30 with advance registration or $40 the day of the event. Reservations are due May 2 by 5 p.m. To register, email Jaclyn here.
♦ May 5: Bunnell holds its annual Day of Prayer celebration. members of the local pastoral community will be joining together in this ecumenical event at the Edward Johnson Park, 401 East Court Street (behind the Flagler Playhouse). Following the presentation of colors by a local honor guard, there will be live inspirational music and prayers given by guest pastors from the local community. The Master of Ceremonies will be Bishop Phillip King and the Keynote Speaker will be Pastor Kevin Laurent from First Baptist Church of Palm Coast. Clerics of all faiths have been invited. For more information, contact City Commissioner John Rogers, who chairs the program, at 931-1410 or Dan Davis, city manager, at 437-7500 Ext. 2303.
♦ May 5: The Palm Coast utility and public works union meets with Palm Coast's management team in another bargaining session over a contract. The meeting is scheduled for 4 p.m. in the community wing at City Hall. It is open to the public.
♦ May 6-8: "Sex, Drugs, Rock n Roll," the Eric Bogosian play, is staged at City Repertory Theatre in Palm Coast, 160 Cypress Point Parkway in Palm Coast. Praised as both a writer and a performer, Bogosian originally wrote SDR&R as one of his half-dozen acclaimed one-man shows, and performed the show successfully off-Broadway in 1990. The New York Times called it his "funniest and scariest" work yet. As you might expect from City's Producer-Director John Sbordone, who rarely does what you expect, the City production splits the show among 5 performers: Jonathan Haglund, Ron Long, Jim Fellows, Evelyn Lynn, and Sbordone himself. This company of artists become an angry lawyer, an in-recovery rock star, a high-powered businessman, and more, each character in some way related to one or more of the title vices. Performed at City Repertory on Friday and Saturday, May 6 and 7 at 7:30 p.m. and at 2 p.m. on Sunday May 8. This is the last show of the season for CRT. Tickets are $20. Book easily here.
♦ May 6: Pastor Charles Silano of Open Door Ministries and Grace Tabernacle Ministries, and a former convict, is the keynote speaker at the 25th graduation ceremony of Flagler County Drug Court at 3 p.m. in Courtroom 101 at the county courthouse.
♦ May 7: Arbor Day in Palm Coast's Central Park. The Arbor Day 5K Root Run/Walk, begins at 8 a.m. Register here. At the main event, themed "Feed a Mouth, Get a Tree, Grow a Community," attendees can exchange canned food or pet food items for a free three-gallon native hardwood tree (one tree per household, while quantities last). The Native Butterfly Release will be at 11 a.m. at center stage. Other fun activities are planned for all ages. A free paper-shredding service, so bring your old documents for professional shredding! Plan to take advantage of this hands-free, uncomplicated process as totes will be wheeled to your car to help unload your paper and bring it to a chute that dumps all of it into a shredder. Free admission and parking. Contact Palm Coast Urban Forester Carol Mini at 386/986-3722 for more information.
♦ May 10: Pegine Echevarria, a motivational speaker, headlines the Flagler Chamber of Commerce's "Fearless and Focused Women in Business" lunch at the Hilton Garden Inn, 55 Town Center Parkway in Palm Coast. Echevarria, according to a chamber release, "is CEO of Team Pegine, a think tank, training and consulting, event management firm that specializes in leadership, team building, inclusion engagement and situational training." The chamber took over the lunch series that was previously hosted by Palm Coast's Business Assistance Center. Registration 11:30 to 11:45 a.m., $35 for chamber members with advance registration and payment, $40 the day of the event. Guests: $40 with advance registration and payment, $45 the day of the event. Reservations are due by May 5 by 5 p.m. Please call to reserve your seat or with questions, 386/437.0106.
♦ May 11: The Public Safety Coordinating Council meets at 8:45 a.m. at the Emergency Operations Center in Bunnell. The meeting will feature a discussion on the decriminalization of pot, with potential guests including the mayors, police chiefs and city managers from around the county.
♦ May 11: Palm Coast City Manager Jim Landon is the guest speaker at the free Lunch N' Lecture at the Palm Coast Community Center, 11 a.m. to 12:30 p.m. The presentation, "Preparing for the Future, Improving our Past," will include plenty of time for questions, so take the time to pre-register by calling the Parks and Recreation Department at 386-986-2323. Attendance includes a free lunch, if you reserve in advance. (space is limited).


♦ June 4: Flagler County's Democratic Executive Committee holds a potluck picnic at Hershel King Park at 1000 Grady Prather Jr. Cove in Palm Coast starting at noon, with honorary guest James Canfield, first mayor of Palm Coast. Plenty of children's activities, a dunk tank, ice cream truck, and a chance to meet Democratic candidates. Free admission includes hot dogs, baked beans and coleslaw.
♦ June 7: A 1:30 p.m. hearing is scheduled in the case of Anna Pehota, accused of second-degree murder in the shooting death of her husband on Sept. 23, 2015, in the Hammock. Her trial was scheduled for April 18, but her attorney, Ray Warren, was granted a delay so he could explore Pehota's memory issues, which could play a deciding role in the handling of her case. The results of that inquiry are to be the subject of this hearing.
Survey Request: The River to Sea Transportation Planning Organization (TPO), which includes Palm Coast, is seeking input from residents of Palm Coast as it plans transportation improvements for the Metropolitan Planning Area (MPA) that includes Volusia County and portions of Flagler County. The TPO has launched a "Tell the TPO" campaign to survey people who live or work in Volusia and/or Flagler counties, as well as visitors. The 11-question survey can be accessed here. All responses received by May 31, 2016, will be placed in a drawing for a chance to win a free iPad Mini.


The race looks like it's breaking Trump's way. His ratings surging, Cruz plummeting among Republicans, per Gallup pic.twitter.com/4eBi6M5tGz

— Nate Cohn (@Nate_Cohn) May 2, 2016
Found: 3 Earth-sized planets orbiting a dim, red sun. "This is only the beginning." https://t.co/VMqaOtztfu pic.twitter.com/uChynJUqad

— Los Angeles Times (@latimes) May 3, 2016
Three years on since my dad was murdered by an Islamophobic terrorist, Muslim lives are still at risk in the UK https://t.co/lQ2w3JM6X5

— Independent Voices (@IndyVoices) May 2, 2016
Gov. Rick Scott's spat with a heckler led to our most clicked-on fact-checks in April https://t.co/3qADf6d2Bh pic.twitter.com/7JyhY4l8EM

— PolitiFact Florida (@PolitiFactFL) May 2, 2016
A jellyfish so surreal that it looks unreal is discovered near the Mariana Trench https://t.co/OJkT4D7Swq pic.twitter.com/DqhE6EwXbH

— Scientific American (@sciam) April 28, 2016
Leicester City win football's Premier League for the first time in their 132 year historyhttps://t.co/Kin1O3TxnX pic.twitter.com/XZvDWVoKqm

— BBC Breaking News (@BBCBreaking) May 2, 2016


Fact-Checking the Knaves:


Palm Coast Construction and Development Progress Reports
The following is an update of ongoing permitting, construction and development projects in Palm Coast, through April 27:
<![if !IE]><![endif]>


Florida Agricultural Museum Summer Camps: Become a junior farmer at the Florida Agricultural Museum this summer! Junior farmers will learn about farm life, forestry, and Florida history. Participate in arts & crafts, farm animal care, Florida fauna/flora education, fun and games. Sessions are all 10 a.m. to 4 p.m., $175 per session and are as follows:
1st) June 7-9
2nd) June 14-16
3rd) June 21-23
4th) June 28-30
5th) July 5-7
6th) July 12-14


Road and Interstate Construction:
Moody Boat Launch to close April 6 through May 20 for improvements: Flagler County's Moody Boat Launch will be closed April 6 through May 20 for improvements. "The scheduled upgrade will enhance the launch's usability in a number of ways," said Heidi Petito, Director of General Services. "The new system provides for ADA (Americans with Disabilities Act) compliance, minimizes docking difficulties caused by fluctuating tides, and new lighting will promote boater safety and security." The closure includes the Moody Boat Launch– located at 825 Moody Lane in Flagler Beach– the parking area, restroom, and dockage on the Matanzas River. It does not affect Betty Steflik Preserve and boardwalk. The scope of work includes dredging 1,650 yards of silt from the launch basin, thus improving navigability. The adjacent wooden docks will be replaced with an aluminum floating dock and gangway system. Additionally, the existing restroom will be replaced with an ADA compliant facility. Moody Boat Launch provides public access to the Intracoastal on the east shore, just south of SR100. The closest alternative boat launches are located at Herschel King Park on the west side of the river at 1000 Grady Prather Jr. Cove, Palm Coast, and Bing's Landing on the east shore at 5862 N. Oceanshore Blvd. in Palm Coast.


Georg Christoph Wagenseil (1715-1777): Concerto for Alto Trombone
Previous Codas: