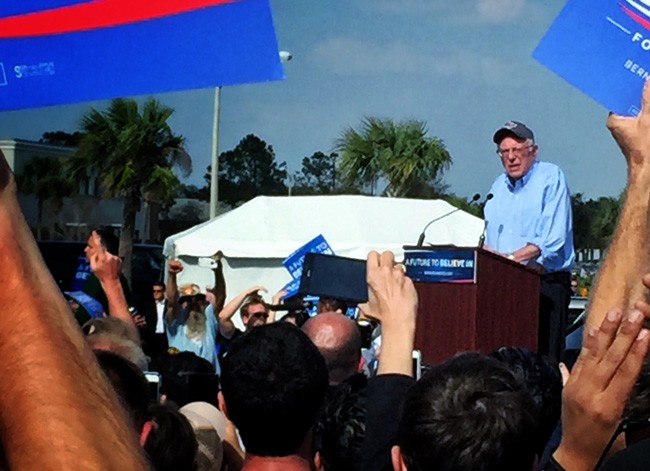 I should note right off that even though I'm for Bernie Sanders–he had me at Jewish–I'm saying so without a voice at the polls March 15, as Florida is one of those closed-primary states that thinks nothing of shutting out a third of the electorate. I shouldn't have to play games with my independence to exercise my rights. But American democracy rightly understood has always been a jigger of exclusion.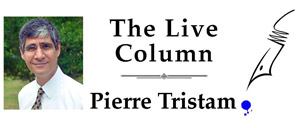 I'm also noting my Sanders allegiance mostly as I would to a priest in the confessional, to seek absolution for having once been a Clinton man. Also, to save time and seek advance absolution for again becoming a Clinton man later this year, because there's unfortunately no question that Hillary Clinton will beat Sanders.
And absent some mass shift in the psyche of the American people that only Fox Mulder could explain, she will trounce whichever exhibit makes it out of the Republican burlesque we've been witnessing. The Republicans have already self-destructed. The next eight months are about managing the salvage yard and trying to keep the Senate Republican, assuming there'll be such a thing as a Republican Party as we've known it. So the question isn't whether Clinton will win, but by what margin. If she wins by less than double digits, Canada or Mexico (or Greenland, assuming its ice doesn't melt before the mortgage is paid off) will still look more attractive than America's increasingly nazified electorate.
I don't consider Clinton a crook, as the pulp narrators have it, or the murderer of Benghazi–anymore than Reagan was the mass-murderer of Beirut or Bush the mass-murderer of Lower Manhattan and Arlington, Iraq, Afghanistan, Pakistan and so on. But she is a Clinton, and Clintons are sleazy. For a while I thought she'd escape it. She was the first First Lady since Eleanor to be more than a flower pot in her husband's frames (the death of Nancy Reagan reminded us what a fashion show she was in comparison), and her liberalism at one time seemed more Bernie than Bill. But when she couldn't fight her husband anymore, she joined him. She's always had a thing for secrecy. Her stint as Secretary of State was unremarkable. That she would boast of her friendship with Henry Kissinger suggests her moral compass is disturbingly similar to a plunger. And she's been little short of Monica Lewinsky to Goldman Sachs while trading on her blue dresses for the Clinton Foundation. Nothing criminal, but sheer sleaze. And poor Chelsea, she's not only the daughter of sleaze, she upped and married the son of a sleaze.
Sanders has issues. For starters, his age is a problem. He'll be 75 by Election Day, five years older than Reagan when he was elected. Sanders doesn't seem like the nodding-off type, but four years is a long time on the lee side of life. Of course, Clinton is not far behind, and better age than the sort of juvenilia we've had from the GOP's younger (and older) set. Methuselean streak aside, Sanders is basically a straight-shooting Donald Trump minus the narcissism, the vulgarity, the bigotry, the vigilantism, the bad hair. Sanders also has 35 years of government experience (mayor, House member, U.S. Senator), to Trump's zero, Cruz's three and Rubio's no-shows. A socialist? Please. Every Floridian gorging on Medicare, Social Security, the mortgage-interest deduction and every tax credit under the sun is more of a socialist than Sanders has yet to be.
What scares his detractors are his tax plan, which would restore more responsible rates on the rich after three decades of borrowing our wealth (though his 52 percent top marginal rate on the wealthiest 0.01 percent is puny compared to the 90 percent rate under Eisenhower, or the 70 percent rate that prevailed on incomes as "low" as $107,000 through 1980. Sanders's leaving the rate unchanged for anyone earning less than $250,000 seems awfully generous). Also scary to the insurance oligarchs is his Medicare-for-all health care plan. I don't dispute that the plan is "puppies and rainbows," as Ezra Klein put it. It's unspecific, it's unrealistic and it's more costly than he says. But it's also how tax cuts and wars and selling off the nation to business have been handled for the past 35 years. At least Sanders's puppies and rainbows have the right priorities. If we can spend $2 trillion on losing wars, we can certainly spend $1 trillion on curing a private-insurance scheme that amounts to the single-costliest fraud on the American public. I'd rather pay my health costs in fair taxes than in tubercular premiums and punishing deductibles.
Submission to convention means liberals should vote Clinton and be done with it. But I'm tired of political realism. It's another form of sleaze. Sanders can't win. But it's not just about the win. There's meaning in margins. Sanders voters remind us that having a conscience in government isn't yet a lost cause. Clinton's conscience could use the memo.


Pierre Tristam is FlaglerLive's editor. Reach him by email here or follow him @PierreTristam. A version of this piece aired on WNZF.