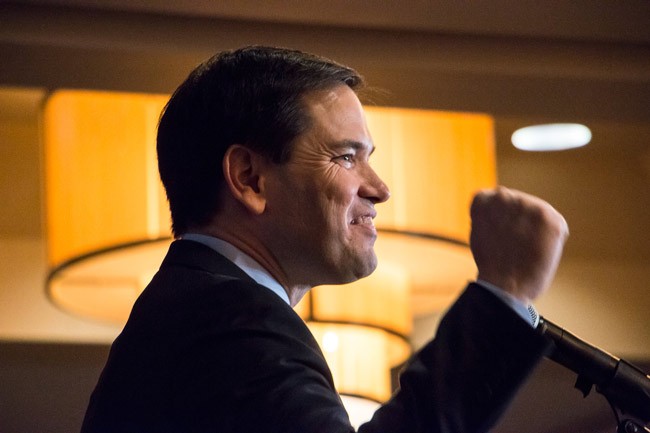 There is little of Marco Rubio left in the Republican presidential primaries, where he's won just one state and one Caribbean territory. And with six days until the March 15 election–and early voting well on its way–Florida, Rubio's home state and last hope, is shaping up to be his Waterloo.
The latest Qunnipiac University poll, widely considered to be the broadest and most accurate poll taken in Florida, shows Donald Trump ahead of Rubio by a 45-22 margin, with Ted Cruz at 18 percent and Ohio's John Kasich at 8 percent. The poll was released this morning, based on surveys of 657 likely Florida Republican primary voters between March 2 and March 7. Early voting in Flagler and much of Florida began Saturday (March 5). The poll has a margin of error of plus or minus 3.5 percent.
Two other polls issued Wednesday on the Florida contest show Rubio losing by double-digits: A CNN poll has Trump beating him 40-24, and a University of North Florida poll has Trump ahead, 35.5 to 23.8.
Rubio loses in every category of voter: once the darling of Florida tea party faithfuls–he was elected to the U.S. Senate on a tea party wave in 2011–he garners just 9 percent of their support in the Quinnipiac poll. He does better with white born-again evangelicals (22 percent) and does best with moderate to liberal Republicans, who give him 24 percent support. Trump in comparison gets 48 percent of the tea party vote, 57 percent of the "somewhat conservative" vote and 39 percent of evangelicals.
In a February 25 poll, Trump was leading Rubio 44-28, indicating that Rubio's onslaught of Trump-like criticism and insults in the past two weeks has helped to damage his standing further and possibly deal a fatal blow to his political viability in the future. Worse for establishment Republicans who saw Florida as a firewall against the Trump machine: the strategy, resting as it did on a strong Rubio showing, will be particularly ruinous as the winner of Florida's primary gets to take all of the state's 99 delegates. That would enable Trump to vault well ahead of second-place Cruz, who so far has managed to keep the battle competitive. He is within roughly 100 delegates of Trump's total of 446, with 1,237 needed to win.
"The effort within the Republican Party to stop Donald Trump from winning the presidential nomination appears unlikely to stop him from taking Florida's delegate-rich winner-take-all primary. But that effort might have a better chance of success in Ohio where Gov. John Kasich is giving 'The Donald' a tougher run for his money," said Peter Brown, assistant director of the Quinnipiac University Poll.
The poll shows Kasich well ahead of Trump in Ohio, with 38 percent to Trump's 32–not much of a margin, though Ohio, too, is a winner-take-all state, so Kasich can deny Trump 66 delegates. Illinois, Missouri and North Carolina are also voting next Tuesday. Illinois is winner-take-all, Missouri and North Carolina are proportional states. Trump is running well ahead in North Carolina and Illinois. There are no polls for Missouri, according to Real Clear Politics, the hub of all polls.
"Kasich, who has been the governor for five years, has one of the highest job approval ratings of any governor in the nine states surveyed by Quinnipiac University," Brown said. (Gov. Rick Scott, in comparison, is among the lowest-liked governors in the nation, with his approval rating hovering around 40 percent, though his name has been floated as a possible vice presidential nominee on the Trump ticket.)
In Florida, 6 percent of voters remain undecided and 19 percent of those who name a candidate say they might change their mind.
In early voting so far in Flagler County, some 5,000 voters have mailed in absentee ballots, and as of the end of the day Tuesday, 4,657 have cast early-voting ballots, for a turnout of about 18 percent out of the county's 53,500 registered Republicans and Democrats. Florida is a closed-primary state, so independents may not vote in the primary.