Tuesday Briefing: Discover the Vince Carter Sanctuary, Goodbye Killer Whale Shows (Finally)
FlaglerLive | November 10, 2015
Today: high in low-80s, low in upper 50s. Details here.
Today's fire danger is moderate. Flagler County's Drought Index is at 262.
Today's tides: at the beaches, at the Intracoastal Waterway.
Today's document from the National Archives.
The OED's Word of the Day: meshuga, adj. and n..
The Live Community Calendar
Today's jail bookings.
Today's Briefing: Quick Links

Note: all government meetings noticed below are free and open to the public unless otherwise indicated. Many can be heard or seen live through each agency's website.
The Flagler County Affordable Housing Advisory Committee meets at 8:30 a.m. in the Financial Services Conference Room, third floor of the Government Services in Bunnell, to review grant application requests and review bids for the repair to houses covered by affordable housing grants. The agenda is here.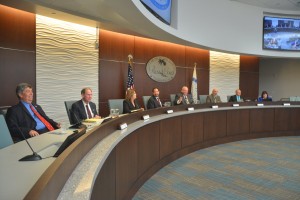 The Palm Coast City Council holds its first workshop meeting at its new city hall chambers at 9 a.m. It will discuss approval of the school year's $281,000 contract with the sheriff's office to cover one school resource deputy. The new contract is similar to previous ones with one exception: it removes references to gangs and "gang intelligence" gathering by resource deputies.
The St. Johns River Water Management District Governing Board meets after holding committee meetings. (Committees start at 9 a.m., district headquarters, 4049 Reid St., Palatka.)
Bunnell Elementary holds a Veterans Day commemoration at 9:30 a.m. in the school's gym.
The Stewart-Marchman-Act Foundation hosts an open house from 5 to 7 p.m. to give residents a chance learn exactly what the Vince Carter Sanctuary is and what it does for the Flagler County community. The evening will include a presentation about all the services Stewart-Marchman-Act Behavioral Healthcare provides for residents. The event also offers hors d'oeuvres prepared by the WARM Culinary Team and the unveiling of an inspirational photography exhibit, Positive Exposure, provided through Daytona State College.

County's Closest Likeness to Homeless Shelter Scales Back Services and Access to Grounds: The church is removing locker-type boxes for the homeless to keep their possessions in, closing the courtyard to the homeless, and closing access to the bathroom—which volunteers have been stocking and cleaning—except for Wednesdays and Sunday morning. That may mean that the homeless, who have congregated in and around the church for years, may now be more visible in the community at large.
Deputies' Dispatching System Edging Back to Life, But Some Sheriff's Data May Be Lost: While CAD has been restored, some third-party interfaces with CADS remain offline, including connections from the field to law enforcement databases deputies use to run background checks.
Bunnell Thanks Its Surprisingly Departing Manager Then Hurries to Shop For One Before Christmas: Williams, who gave no explanation for his departure other than that he felt he'd done all he could do, said he'll stay on the job until Jan. 4. The commission declined to hire an interim manager. The move to hurry into the hiring process was prompted by Commissioner John Rogers, who said the commission had little time to find a replacement because of coming holidays, and so should get busy doing so.
Court Uphold 45-Year Sentence for Inmate Convicted of Rape and Robbery When 15: The ruling by the 1st District Court of Appeals came five years after the U.S. Supreme Court, in a case known as Graham v. Florida, banned life sentences without a "meaningful opportunity" for release for juveniles convicted of non-homicide crimes.
Shots Fired: The Daytona Beach News-Journal on Sunday published a 10-page special report, "Shots Fired," investigating and analyzing the murky, often intractable world of police-involved shootings in Florida, where, at best, individual departments will often investigate themselves, while no state or federal agency tracks the shootings. Police shot at least 249 people in 2013 and 2014, the paper reports, with 162 of those fatal. The report explores the "troubling trend" of black men accounting for 40 percent of the victims of police shootings, even though they make up just 7.7 percent of the population. It also explores the risks to the mentally ill, the extremely slow pace of investigation of police shootings, and police agencies' resistance to civilian review boards. The investigation reveals to what extent police agencies will go to scuttle news organizations' attempts to document such shootings, manipulating the state's public records laws, charging unreasonable fees or simply not responding to requests (and thus breaking the law). And it provides an officer-involved shootings database. The special report is the work of Frank Fernandez, formerly a reporter in Flagler, Skyler Swisher, who left the News-Journal last week, and Dinah Voyles Pulver, a 24-year veteran of the paper. The special report is all available online.

Note: Most proceedings below can be followed live on the Florida Channel.

Gov. Rick Scott and the Florida Cabinet meet in Palm Beach County. The meeting could include discussion about the site-selection process for veterans' nursing homes and a proposed land acquisition for the University of Central Florida. (8:30 a.m., Florida Atlantic University, John D. MacArthur Campus, Student Resource Building, 5353 Parkside Dr., Jupiter.)
A "graduation" ceremony will be held for a program in which Wakulla Correctional Institution inmates provide obedience training to shelter dogs that are being treated for heart worms. "Graduating" dogs are housebroken, spayed and neutered and up to date on shots. (9 a.m., Wakulla Work Camp, Visiting Park, 110 Melaleuca Dr., Crawfordville.)
The Commission on Healthcare and Hospital Funding, created this year by Gov. Rick Scott to look at issues in the health-care industry, will meet in Southwest Florida. (10 a.m., Florida Gulf Coast University, WGCU television studio, 10501 FGCU Blvd. South, Fort Myers.)
The Florida Supreme Court will hear arguments about a proposed congressional redistricting plan. Leon County Circuit Judge Terry Lewis recommended the plan after a long-running battle about whether the Legislature violated the anti-gerrymandering "Fair Districts" standards in drawing current congressional districts. (2 p.m.)
Campaign finance reports due: State political candidates and committees face a Tuesday deadline for filing reports that show campaign-finance activity through Oct. 31.
–Compiled by the News Service of Florida and FlaglerLive

In Coming Days in Palm Coast and Flagler:
Click on the links for more details:

Click on the link for more details.
Rotary Club of Flagler Beach Seeks Volunteers to Pack 10,000 meals again for Stop Hunger Now
Stewart Marchman-Act Foundation Launches Bouquets of Hope Campaign for Thanksgiving
Preferred Management Services adds Two Associations to their management portfolio
Palm Coast Data Hires Andrea Kenney as VP of Sales, Memberships and Associations
David I. Alfin graduates from Florida Realtors Eighth Annual Leadership Academy
Rotary Club of Flagler Beach Seeks Volunteers to Pack 10,000 meals again for Stop Hunger Now: The Rotary Clubs of Flagler Beach, Flagler County and Palm Coast along with the Interact Clubs of Matanzas and Flagler Palm Coast High Schools invites anyone interested in volunteering to package 10,000 meals with the Stop Hunger Now program to join us on Sunday, November 15 at the Flagler Beach United Methodist Church, 1520 Daytona Avenue in Flagler Beach. The event will be held from 1-4pm. Stop Hunger Now meals are highly nutritious, dehydrated meals comprised of rice, soy, vegetables, flavoring and 21 essential vitamins and minerals. Each package provides a reasonable serving for six and each serving costs approximately .29 cents to make. The Stop Hunger Now program partners with Rotarians all over the world to provide these nutritional meals where they are needed. "I love Stop Hunger Now rice a lot…I can't have enough of this rice. When my parents send me to school without anything to eat, they don't worry because they know I will eat at school. I pray every day for the people who send the rice," said Jean Kendy, a 2nd grade student from Cite Soleil School in Haiti. The funding for this project will be from the Rotary Clubs, the Interact Clubs and donations from the community. For those that cannot attend the event, they can donate on line www.flaglerbeachrotary.org. There will also be a food and frozen turkey drive. The Rotary Club of Flagler Beach through their service project, Project Share, will provide Thanksgiving meals to 75 families. Attendees are asked to bring a donation of non-perishable food and a frozen turkey for local families. This is a Rotary Days event. Rotary International President Gary C.K. Huang launched Rotary Days to urge all Rotary members to 'Light Up Rotary' by organizing a Rotary Day in 2014-15. The concept is simple: hold a fun, informal event in the community to introduce the public to your club and Rotary. Children are invited to participate and videos will be shown so attendees can see what Rotary is doing around the world and in our local community. "You will be uplifted and touched when you experience how two hours and 10,000 meals can change lives," said Rotary Club of Flagler Beach President Kim Carney. For more information please contact: Kim Carney at 386.846.5493, or info@flaglerbeachrotary.org.

Here's another way candidates copy Donald Trump: Shameless fibbing https://t.co/f3e4lGO7Om

— Washington Post (@washingtonpost) November 10, 2015
Millions of us could be under water if sea levels keep rising https://t.co/aYfwdWJxJv #wftv

— WFTV Eyewitness News (@WFTV) November 10, 2015
SeaWorld announces plan to phase out killer whale show by 2017: https://t.co/P95mxvGdLf pic.twitter.com/z6ZglJy1QV

— Good Morning America (@GMA) November 10, 2015
"Populist anger at the billionaire donor class is a storm cloud about to burst." https://t.co/AAxV0tYust pic.twitter.com/kPEYasTdIX

— The Hill (@thehill) November 10, 2015
This map reveals something you may not know about foreign aid spending https://t.co/Gly65zTgvv pic.twitter.com/5OULLCWSPW

— i100 (@thei100) November 10, 2015


Palm Coast Construction and Development Progress Reports
The following is an update of ongoing construction and development projects in Palm Coast, through Oct. 30:
Palm Coast Parkway Six-Laning is 97 percent done: Final lift of paving has begun. Median work is completed. Landscaping irrigation is ongoing. Performed a substantial inspection on the Utility portion with as-built and created
punch list for Contractor.
Holland Park, 36 percent done: Dewatering of retention pond ceased when excavation and forming of pond completed. Six concrete stormwater mitered end sections poured. 20 cubic yards of concrete sidewalks poured. Installation of water main continued. Removal of unsuitable material from the jobsite. Electrical trenching and conduit installation continues.
Palm Coast City Hall at Town Center, 99 percent done: Building's grand opening is on Tuesday, Nov. 3.
County's I-95 Interchange Matanzas Woods Reclaim Water, 76 percent done: Retention ponds are being excavated and fill continues for
the ramps.
Palm Harbor Parkway Roadway Extension, 28 percent done: Clearing and underground stormwater work continues. Reconstruction of Old Kings Rd and Matanzas Road to have occur this past weekend.
North Old Kings Road Extension to Matanzas Woods Parkway, 17 percent done: Fill dirt has been brought in and road was raised to grade.
Island Walk Shopping Center Phase 1, 93 percent done: Water mains behind the Island Doctor and Bealls have been chlorinated for 2nd day bacteriological samples.
Old Kings Road Force Main 50 percent done:: Contractor is working on Force main at the entrance north of spray field.

Road and Interstate Construction:

Charles O'Brien: Scottish Scenes: Moorland, performed by Warren Mailley-Smith