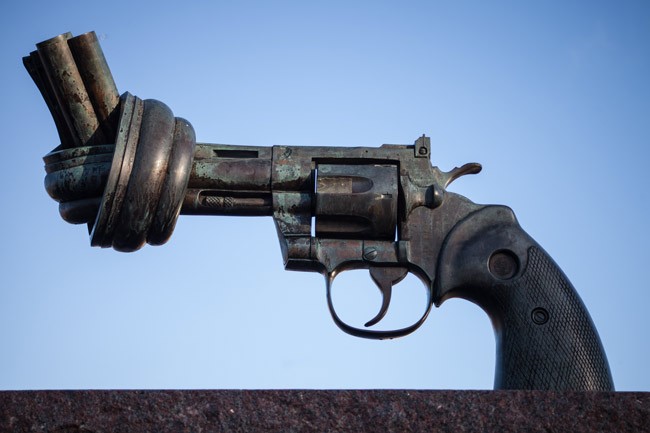 By Julie Delegal
Rights, even those guaranteed by the constitution, are never absolute.
Free speech rights don't protect us from committing libel or slander, for example. They don't protect us from yelling "fire" in a crowded theater. But so far, no one is challenging the NRA for its abuse of the First Amendment: spreading misinformation about guns in America.
The biggest deception that NRA-brainwashed America has swallowed hook, line and sinker is that having more guns around makes us safer. This past Monday, on WJCT's "First Coast Connect" radio show, Jacksonville lawyer and NRA spokesman Cord Byrd spread that mendacity yet again.
But science tells us the opposite of what Byrd and the NRA are saying.
More permissive gun laws directly correlate with higher instances of violent crime. Don't take my word for it. Read Christopher Ingraham's article  about the Stanford study in the The Washington Post:
"The totality of the evidence based on educated judgments about the best statistical models suggests that right-to-carry laws are associated with substantially higher rates" of aggravated assault, robbery, rape and murder, Stanford law professor John Donohue said in an interview with the Stanford Report.
The Stanford study sounds the death knell on the now-discredited Lott and Mustard study from 1997 – the one that NRA shills would like to keep peddling. The new study belies the standard NRA shtick: "If those people had only been armed, they would have been able to take down the shooter at (fill in the blank.)"
In case you're having trouble filling in the blank, your choices are growing. The NRA is talking about movie-goers in Aurora, Colorado; late-night studiers in the Florida State University library; elementary schoolchildren and their teachers in Newtown, Connecticut; community college students in Oregon; the Emmanuel African Methodist Episcopal church in Charleston, South Carolina; and the list goes on and on.
"Silly victims," the NRA all but says out loud. "Why didn't they take their guns to church? Or to first grade?  Or to the movies?"
Byrd, who bills his legal practice as "Florida Gun Lawyer" on his website online, twists these tragedies into a stump speech for gun advocates. His thesis? People died in these places because they were "gun-free zones."
The NRA's solution? Ban gun-free zones.
---
Ben Carson's latest insult: blame victims of the Holocaust for not having guns.
---
Think about that for a minute. Ban gun-free zones. The logical extension of banning gun-free zones is permitting arms everywhere. Who needs civility? Mutual respect? Conflict resolution skills?
Will the Wal-Mart cashier do an actual price check at the cash register when the argumentative customer is packing heat?  Or will she simply take the gun-toter's word for it?
What if neighbors disagree with one another at a public forum, like a no-longer-gun-free planning commission meeting? Will an individual think twice about testifying against the speaker who has a gun strapped to his hip?
Perhaps the statement that best encapsulates the blame-the-victims-not-gun-owners hysteria is GOP candidate Ben Carson's latest inanity. Carson insinuated in an interview that Jews were at fault for Hitler's holocaust. MSNBC recounts his words:
"[N]ot only the Jews, but the entire populace" in Germany could have prevented or lessened the extermination of the Jews if Adolf Hitler hadn't blocked their access to guns.
"There are many countries where that has occurred where they disarm the populace before they impose their tyrannical rule," Carson said.

The problem, Carson is saying, isn't tyrants or genocidal maniacs who want to extinguish entire peoples. The problem, he's saying, is that people are choosing to live civilized lives.
How dare we teach our children to peacefully resolve conflict! How dare we meet, pray, share ideas, shop, study and learn our alphabet in the absence of bulletproof armor!
Byrd's radio spot was a lead-in to a panel discussion at the University of North Florida about the Legislature's proposal to allow students to carry concealed weapons on campus.
It's a move that even staunch, life-long conservatives oppose.
Former Republican Mayor John Delaney, now UNF president, says letting college students carry concealed weapons on campus is a bad idea. His counterpart in Tallahassee agrees: Florida State University President John Thrasher is perhaps the most formidable Republican in state history, having been state party chairman and state senator, and having helped achieve total GOP legislative domination while serving those roles.
In addition to science about frontal-lobe development in college-age young adults, anti-campus-carry advocates like Thrasher and Delaney ought to be calling out the dishonesty of people like Byrd.
More guns do not lead to less crime; more guns lead to more crime. We should expect better from Delaney and Thrasher – the heads of academic institutions – than permitting NRA zealots from lying about the science on guns.
It's quite enough that NRA campaign dollars have all but killed gun-safety studies. But that's a whole 'nother rabbit hole.



Julie Delegal, a University of Florida alumna, is a contributor for Folio Weekly, Jacksonville's alternative weekly, and writes for the family business, Delegal Law Offices. She lives in Jacksonville.