Monday Briefing: Flagler Youth Orchestra Open House, Ismael Rios Trial, 3 Flagler Schools Move Michelle Obama
FlaglerLive | September 14, 2015
Today: high in mid-80s, low in mid-70s. Details here.
Today's fire danger is low. Flagler County's Drought Index is at 194.
Today's document from the National Archives.
The OED's Word of the Day: multiloquence, n..
The Live Community Calendar
Today's jail bookings.
Today's Briefing: Quick Links


Note: all government meetings noticed below are free and open to the public unless otherwise indicated. Many can be heard or seen live through each agency's website.
Arts In Education Week continues in Flagler County. Click here for details.
The Flagler County Emergency Medical Services advisory board meets 9:30 a.m. at the Emergency Operations Center's executive conference room. The board will review Palm Coast's request for renewal of the Certificate of Public Convenience and Necessity, issued by the county, for the Palm Coast Fire Department to provide EMS Advanced Life Support services.
The Flagler County Land Acquisition Committee meeting, scheduled for 3:30 p.m., was cancelled yet again.
The Flagler County Library Board of Trustees meets at 4:30 p.m. in the Doug Cisney Room of the main library in Palm Coast, on Palm Coast Parkway.
Flagler Beach Mayor Linda Provencher hosts a town hall meeting in the city hall commission chambers from 5 to 6 p.m.
Flagler Youth Orchestra Open House and Orientation at Indian Trails Middle School cafeteria from 5:30 to 7 p.m. tonight. Flagler public, private, charter and home-schooled students, 3rd grade and older, may sign up to play violin, viola, cello, or double bass at no cost. Beginner, intermediate and advanced musicians are welcome. Limited instrument scholarships are available. Attend the  orientation to learn more about the program and instrument rentals and sales from local music stores. You can enroll online here. For further information, call (386) 503-3808 or email cheryl@flagleryouthorchestra.org.
The Bunnell City Commission holds its first of two public hearings to adopt its next budget and tax rate. The meeting is scheduled for 6:30 p.m. at Bunnell City Hall, 201 West Moody Boulevard, City Commission Chambers. It will be followed by the commission's regular meeting at 7 p.m. Commissioners will consider a proposal to refloor the Bunnell Police Department building (the old coquina city hall) and will consider preparing a grant to the Tourist Development Council to underwrite the city's annual Christmas event.
Flagler Restaurant Week continues: From fine dining to beach burgers, twenty participating restaurants will feature special and discounted menu items from September 11 to 18. During this time, diners can explore some of the county's newest restaurants, revisit their old favorites, and try somewhere new in the quest to become the ultimate #FlaglerFoodie. Restaurant Week is, after all, a reminder that Flagler County is a community and destination that offers diverse dining experiences, beautiful scenery and plenty of reason to celebrate all things gastronomic.


In Publix Trial, Jury Must Now Weigh Plaintiff's History of Dishonesty Against Claim of Wrongful Termination: Robert Barry's case against Publix in his wrongful termination claim didn't lose as much ground today as it did in the first three days of trial in a Flagler County circuit court. But what points Barry's attorney Frederick Morello did score were on peripheral issues that may not amount to enough of a counterpunch–if one at all–in the trial's larger context. Closing arguments are expected Monday.
Party On: Flagler Beach Commission Approves Policy For Private Events on Pier, 4-0: Two portions of the pier may be rented out: the 875-square-foot T-portion at the end of the pier, popular for fishing and certain ceremonies, can be rented out for $75 an hour, for a maximum of three hours at a time, for up to six times a year. The whole pier may be rented out six times year for $115 an hour, with a three-hour minimum and an 18-hour maximum.
Palm Coast expects to move into new City Hall next month: Construction is 90 percent done on the new Town Center City Hall, the News Journal's Tony Hold reports. (Story paywall-protected.)
Flagler County Art League hosts exhibit "Memories in the Making": The exhibit, which opened Sept. 12, features 50 paintings produced by Alzheimer patients. "I am very confused and unsure where the journey is taking me, but the road is taking me there," one painter said about his painting, "Road to Nowhere," in a remark quoted in the Observer story.


The one-day-trial of convicted sex offender Ismael Rios is expected to start today before Circuit Judge J. David Walsh in Courtroom 401, one of three trials scheduled. The former theater instructor for a community theater group is accused of raping a girl younger than 16. See the background story here.
The civil trial of Robert Barry v. Palm Coast is expected to conclude today, starting with closing arguments before the jury this morning before Circuit Judge Michael Orfinger, in Courtroom 301, at 9 a.m. Robert Barry, a six-year Publix employee fired from its Palm Coast Town Center store in 2010, is suing over a claim of wrongful termination, claiming he was fired after flagging a case of sexual harassment involving a colleague. Publix says he fabricated the sex harassment issue and lied on his job application. See the first day's story here and the second day's story here, and the third here and fourth here.
A foreclosure sale is scheduled for 11 a.m. in the cvil department lobby of the courthouse.


Note: Most proceedings below can be followed live on the Florida Channel.

The Veterans Florida Board of Directors meets to help encourage veterans and military families to move to the state and to promote veterans' hiring and education. (9 a.m.)
Tallahassee clemency and parole lawyer Reggie Garcia speaks to students and faculty at St. Petersburg College about criminal-justice, transition and re-entry issues. (11 a.m. St. Petersburg College, Downtown Campus, 244 Second Ave. North, St. Petersburg.)
–Compiled by the News Service of Florida and FlaglerLive


In Coming Days in Palm Coast and Flagler:
Click on the links for more details: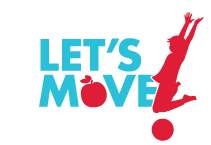 Trio of Flagler Schools honored by First Lady Michelle Obama: Bunnell, Rymfire and Wadsworth Elementary Schools have been honored by First Lady Michelle Obama for their commitment to keeping kids active while in school. The three schools join 522 other schools from across the country in being named "Let's Move! Active Schools" campuses. According to the Let's Move campaign, the National Award is the top physical activity and physical education distinction for K-12 schools. Schools must commit to integrate at least an hour of physical activity before, during and after the school day. A school must have met significant benchmarks in five areas: physical education; physical activity before and after school; physical activity during school; staff involvement; and family and community engagement. In presenting the awards, First Lady Michelle Obama said "these schools are raising the bar by creating Active School environments where students are happier, healthier and higher-performing. I am thrilled with their success through Let's Move! Active Schools-they're helping to create a new norm where physical activity is a fundamental aspect of a young person's success both in the classroom and in life."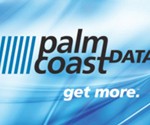 Palm Coast Data to Provide Fulfillment Services for the Launch of Nickelodeon Magazine: Palm Coast Data will deliver its industry-leading eCommerce, digital support and traditional fulfillment services for Nickelodeon Magazine. "Nickelodeon already reaches millions of children worldwide," says Sven Larsen, VP of Marketing for Papercutz. "We wanted to help them grow their audience and deliver exciting content to it. Palm Coast Data is capable of supporting this mission in print, on the web and digitally. We are excited to partner with an industry leader that understands our objectives and can help us meet them." "Palm Coast Data has a long history with successful magazine launches," says Rory Burke, President and Chief Executive Officer. "Our ability to deliver seamless digital and print fulfillment services will enable Nickelodeon Magazineto reach its audience across multiple platforms. We look forward to supporting Papercutz as it introduces Nickelodeon to its audience. Palm Coast Data begins services for the monthly magazine in the summer of 2015. For more information, visit www.palmcoastdata.com, or keep up to date with the company on Facebook at https://www.facebook.com/PalmCoastData.

Flagler College Forum opens with look at 'Washington in the Era of Political Madness': Flagler College's Forum on Government and Public Policy kicks off its season Sept. 15 with noted federal insider Stan Collender discussing what he calls "both the legislative and political craziness" of Washington, the government shutdowns that have resulted and threatened defaults on the U.S. debt. His lecture, titled "Washington in the Era of Political Madness," takes place at 7 p.m. in the Lewis Auditorium, 14 Granada St. Collender's presentation will be especially timely given that no appropriations bills will have been enacted by the time he speaks and the new fiscal year will start two weeks after his address. His lecture will also be well timed given the lack of progress on major issues such as the highway trust fund, Export-Import Bank and expiring tax provisions, not to mention the impending presidential and congressional election in 2016. Collender, the national director of financial communications at Qorvis MSLGROUP in Washington, D.C., is one of the foremost experts on the federal budget, federal spending and revenues, the national debt and the congressional budget process. He has appeared on television and radio, including all of the broadcast networks and multiple interviews on Marketplace and other National Public Radio programs. He has also been quoted by the Wall Street Journal, New York Times, Washington Post and Los Angeles Times and appeared repeatedly on foreign channels. In addition, he is the founder of "Capital Gains and Games," an economic blog that was named one of the top 25 in the United States by the Wall Street Journal in 2009. He is the author of The Guide to the Federal Budget and has been involved with the congressional budget process since 1974. In 1998, President Bill Clinton appointed him to the presidential commission that studied whether the U.S. should have a capital budget. He holds a master's degree in Public Policy from the University of California, Berkeley and a bachelor's degree from New York University. For more than 30 years, the Flagler College Forum on Government and Public Policy has invited nationally-recognized journalists and commentators to St. Augustine to discuss issues of importance in regional, state and federal government. All Forums take place in Lewis Auditorium, 14 Granada St., at 7 p.m. Forums are free and open to the public, but seating is on a first-come, first-served basis. If you are a person with a disability and need reasonable accommodations, please contact Lynn Francisco at 904-819-6460. Sign Language Interpreters are available upon request with a minimum of three days' notice. Call (904) 826-8572 or visit here.


Palm Coast Construction and Development Progress Reports:
The following is an update of ongoing construction and development projects in Palm Coast, through Sept. 11: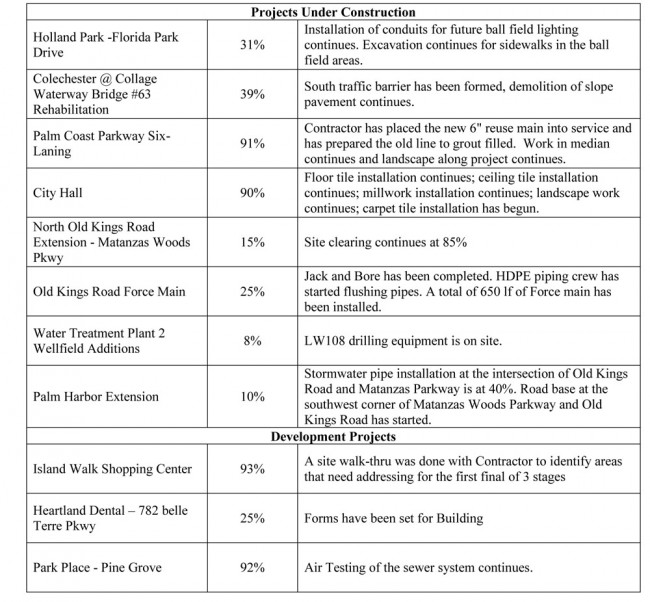 Palm Coast Residential and Commercial Permits Issued Last Week (Click on the chart for larger view):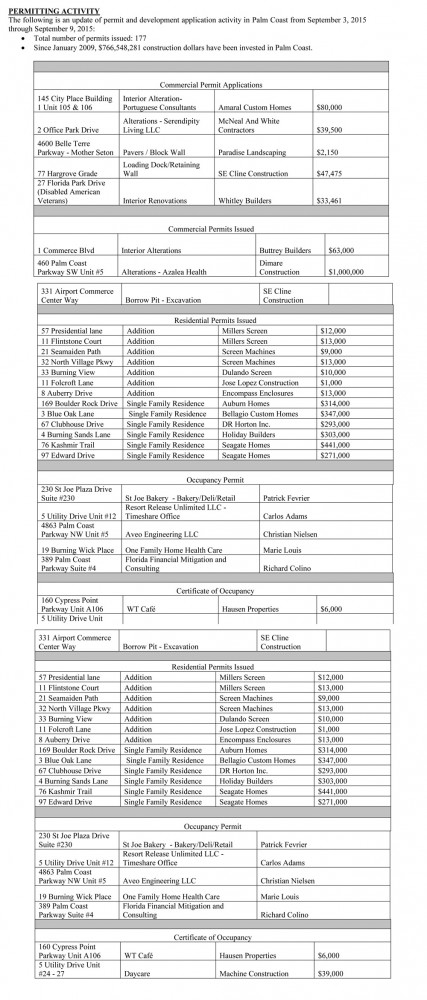 Road and Interstate Construction: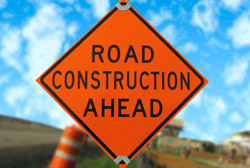 Palm Coast:
Flagler County Road 302 is Closed to all but local traffic as repaving began on June 7 and the roadway will be closed to all but local traffic. Others will be required to detour around County Road 302 using State Road 100. The roadway will be closed for 90 days, or until early September.
Palm Coast's Colechester Lane bridge to be closed July 7 through Sept. 4:  A detour will be established taking travelers over the Colorado Drive bridge instead. Signs will be posted directing motorists to the Colorado Drive bridge. The City of Palm Coast strives for safe construction zones. The City asks for the cooperation and patience of residents as this important bridge improvement project is completed. For more information, contact Palm Coast Customer Service at 386-986-2360.
Volusia: I-4 Widening from SR 44 to east of I-95, Monday and Friday, 7:00 a.m. – 5:00 p.m., Eastbound/Westbound shoulder closing. Sunday through Thursday, Eastbound and Westbound lane closures as needed from 8 p.m. to 6 a.m. Thursday, 9:00 p.m. – 5:30 a.m. EB road closure between Canal St./SR 44 and I-95 with detour at US 92 exit ramp.Motorists should be aware of traffic shifts near Canal St./SR 44.
County Road 304 Project Map and Description


Comment of the Day (From the Comment Section):
Knightwatch in "The Hell With Your Tired, Your Poor, Your Huddled Masses": "I'm alarmed at the direction that ultra-conservative Americans are pushing this country. We are losing the heart and "soul" of what made America special – – the compassion for those in need of help; the sense of a collective responsibility to do all that we can to help the sick, the hungry, the displaced and the desperate. We have so much excess wealth and capability in this country that we can easily lead the world in extending a welcoming hand to tens of thousands of these unfortunate refugees. Yet our conservative citizens only see the personal cost, the inconvenience, the disruption and most disturbingly, the perceived "existential" threat to their privileged white, bigoted, anglo-American lifestyle. I can only hope that, ultimately, good old American generosity and compassion will prevail." Reply to Knightwatch here.


Dvořák's "Silent Woods," with Yo Yo Ma: