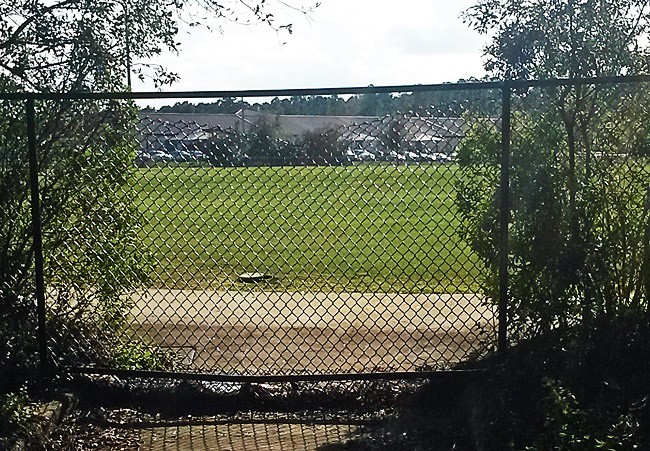 Ralph Carter Park is thriving. It's full of families, all sorts of sports teams, children, young adults. It's safe, it's well-kept, it's happily used by residents.
But the area around Ralph Carter Park is a problem again, at least according to a few older, whiter residents along Richardson Drive on the northeast rim of the park. They fear younger, generally darker-skinned neighborhood residents who cut through lots—several of them vacant—to access the park or to hang out in the more isolated edges of the park or its surrounding woods. Whether there is a problem, however, is in dispute: there's been no crime spike in the area, even if there's been a spike in calls to 911: most of the time, the calls are about legal behavior some residents just don't like, and there's been occasions when the calls have been bogus, alleging crimes that never took place. That has only heightened what appears to be a neighborhood feud between young and old focused on the Richardson Drive area. An undercurrent of racism is not helping matters.
It's the same older residents who brought their complaints to the Palm Coast City Council five years ago, calling younger people "undesirables" and demanding a fence to force them to use the entrance to the park on Rymfire drive. The city built the fence in 2011, a 1,300-foot structure that cost just under $20,000.  That calmed the complaints for a while. But the complaints have kicked up again as the fence has been kicked down in various places, prompting council members to look for yet another solution.
It's no coincidence that the move for some action was prompted by the council's two newest members: Steven Nobile and Heidi Shipley, who were not part of the year-long conversations in 2010 and 2011 that finally ended with the separation fence. They led the council into a full-blown re-discussion of the matter on Tuesday, even as City Manager Jim Landon repeatedly tried to caution against amplifying problems, or as Mayor Jon Netts tried to have the problem more precisely defined.
"You need to be certain that the problems that you are addressing are real problems," Netts said, recalling the story of a complaint that bicycles were stolen from a garage. Cops checked it out. It was a bogus complaint. There was also the complaint about someone walking down the street with a machine gun. It was a toy gun. Or the alert of a bomb that turned out to be a coffee cup. As Sheriff's Cmdr. Mark Carman, who heads the Palm Coast Precinct, put it, "calls get embellished."
---
An older, whiter set clashing with a younger, darker-skinned set that feels harassed for just hanging out.
---
"We're getting calls because people are walking down the street," Carman said, or because younger people are flipping older people off or calling them names in reflections of the simmering feud that has its provocateurs. They're not just the younger people. "Giving me the middle finger isn't against the law," Carman said.
"You have evidence of garage doors being kicked in, you have video of people being cursed at, older people being cursed at," Nobile said. "Here's what I'm afraid of in that area. It's going to escalate and somebody is going to get hurt and I don't want it to get there." But Nobile also spoke of a time around the park when, as he remembered it several years ago, "you were in trouble if you were unarmed and you went down there."
There never was such a time: even in 2010 and 2011, when it was less used, Ralph Carter Park was not a dangerous place, its proportion of crimes (as opposed to allegations of crimes) not notably different than other parts of the city.
"How many of you have talked to the young people that are supposedly a problem?" Landon asked council members. No one had. "Yeah. And what's their side of the story? I think we need to get their side of the story too. I keep trying to stress that they are our citizens also, and I really feel like this is a one-sided conversation." He suggested getting school resource officers to gather a few of these young people to hear their views.
"I will tell you this: they feel like they're being harassed," Carman said of the younger people.
On Tuesday, the council agreed to let the administration and the Sheriff's Office set up a block-party type "meet-and-greet" to bring younger and older residents together, which has not been done before. Failing that, Netts said he wants to see a budget line when the budget is discussed later this spring for a possible fence of the sort Nobile wants: the kind of taller fence that lines bridges above interstates, with overhangs. It'll be a lot more expensive than the one the city installed in 2011. And it may not solve the problem even then.
Landon tried to make the point to the council. His solution is not another fence. It's the elimination of the existing fence. "The cause of the problem is the fence," Landon said, "because the kids don't like the fence, and the seniors view the fence as what they aren't supposed to be climbing and they need to stop climbing that fence, and we need to stop, so then there comes the conflict."
The solution? ""If you want to really solve the problem, I would suggest you buy a lot, you open it wide open, you also create that access to the park," Landon said, and if there are continuing problems outside the park, "you focus on the bad guys."
Nobile and Shipley didn't want to hear of it. Even Council member Jason DeLoprenzo, =who had at one time favored removing the fence, was no longer convinced after speaking with residents (but not with younger people). He sees the problem as the in-and-out traffic into the more isolated part of the woods around the park, where possibly criminal activity is going on. There is no evidence of that activity other than hearsay. But local residents have convinced some council members that there's "drugs" going on in there. "I've had people selling drugs in my neighborhood. You know it, when something isn't going right," Nobile said.
"Is the issue that they're walking to the park and we don't like them walking to the park, or is the issue that they're going into the woods and someone is coming and going?" Landon asked Nobile.
"I think it's both," Nobile said.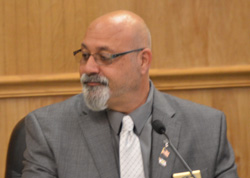 Judging from emails to Nobile (see below) the majority of complaints are about people cutting through the woods and yards and lots to get into or out of Ralph Carter Park—not to hang out in the woods. That's what bothered Landon—the mis-identification of the problem or its solutions, and the seemingly unfair targeting of younger people.
"They're citizens too," Landon. "They're walking down their street, down their ditch, climbing their fence, to get to their park, and their school, and we're trying to treat them like they're criminals, because the neighbors don't want them cutting through to get to the park. The fact of it is that those young people are not going a mile out of their way. And when you try to force them to do that, young people, in our experience, if you worked for the school district, etc., if they feel that you're being unfair to them and you mess with them, they're going to mess back."
"I'm not sure anybody can sit here and tell me, here's the solution to the problem," Netts said. "Mr. Nobile feels that a less accessible fence is a solution. I have no way of judging that. You don't think it is. Try it."
"We already did," Landon said.
"We didn't do one such as he described," Netts said. "If that doesn't work, well, we tried something. I don't know what the answer is."
At the end of the discussion, Landon edged closer to Nobile's view—not about the need for a fence, but about the need to diffuse whatever perceived tensions there are outside the park, in the neighborhood. "There's a problem in the neighborhood that needs to get resolved, and the fear is that it'll escalate that someone is going to get seriously—that's what I'm trying to stress," Landon said. "Ralph Carter Park is the old issue. That's not what's going on right now. What's going on right now is who is going to tick off somebody else enough that the other one is going to do something that's violent. That's what's going on right now, and trying to help avoid that confrontation sis really what it's all about."


R-Section Residents' emails to Council member Steven Nobile, complaining about younger people in the Ralph Carter Park neighborhood. Note: the campaign appears orchestrated, as certain phrases recur nearly identically in some emails:
Councilman Nobile,
As a resident in the "R" section of Palm Coast, we are very concerned regarding people going through the woods and private property to access Ralph Carter Park. On a walk a young kid with two younger buddies was seen attempting to push a black frame bike with red rims through the fence. In addition I have watched while a blonde haired pre-teen with two buddies walking thru the grass at swale leading to fence into park. I explained to them that it was a no trespass area and they should not be walking thru and they replied with profane language that I will not repeat.
Also, have you received email inquiring about Royal Palms Pkwy from D Gifford?? I so far have no reply.
Thank you for your prompt attention.
Joyce Gifford
Councilman Nobile;
Ever since Ralph Carter park was built, there have been numerous problems in our neighborhood. Our neighborhood watch spent many days and hours trying to get the City to resolve the problems. Finally, after much harangue, the city installed a fence, thought not the one we asked for. Once again the problems have returned, the fence has been knocked down. My wife and I are greatly concerned about the number of people coming and going through the woods to access the park. When we moved here this was a quiet and safe neighborhood, We no longer feel safe in our home and are reluctant to walk in our own neighborhood Anything you can do to help would be greatly appreciated.
Thank You;
John & Alice Umpenhour
Councilman Nobles:
I am a resident at 2 Richard Place and have been there for the past 15 years. I am truly disappointed on how my neighborhood has deteriorated. I am picking up garbage daily from my lot and empty lots as well. Someone is taking the liberty to drive a large tire vehicle through the lawns leaving the lawns dug up. I know that since the area has become a rental area we have seen more vandalism and lack of respect for other people's property than ever. I am sadden since we built our dream home in what was then a great neighborhood. I hope we can get some assistance from the City of Palm Coast, in holding people accountable for the vandalism and littering of our properties.
Sincerely yours,
Dr. Emily Cortes-Torrado
COUNCILMAN NOBILE,
AS A RESIDENT IN THE R SECTION OF PALM COAST, I AM VERY APPREHENSIVE ABOUT PEOPLE GOING THROUGH THE WOODS ON RICHARDSON DRIVE TO ACCESS RALPH CARTER PARK.
I HAVE ENCOUNTERED TEENAGERS CUTTING THROUGH AND TOLD THEM THAT WAS TRESPASSING AND THEY SHOULD GO AROUND. THEY LAUGHED AND CONTINUED ON.
YOU ATTENTION IN THIS MATTER IS GREATLY APPRECIATED.
THANK YOU
MR. & MRS. WAYNE WOLFE
I have been quiet about the problems we have been experiencing with young people using the ditch that runs adjacent to out home.
We have experienced numerable situations where the young people have tried to climb out of the ditch to use our lawn as a pathway instead of continuing thru in the ditch to Richelieu Lane. When any effort was made to stop them from entering private property my wife and I have at times had to listen to threats and streams of curses including "F#8k your white ass" and "go f*#k yerself you white bitch"…You have to agree, this ain't right. We as a neighborhood had gone through an ordeal to get the City to put up a secure fence so that the visitors to the park would use the front entrance on Rymfire, only to find out that the trespassers mentality was to tear down the fence. We would appreciate your help in this matter.
Vince Ficuciello
Good Evening Councilman Nobile,
I am a resident in the R section of Palm Coast, I am very apprehensive about people going through my yard on Richelieu Lane to gain access to Richardson Drive to go to Ralph Carter Park and to go to Rickenbacker Drive. It has happened more than once
Your attention in this matter is greatly appreciated.
Thank You,
Mrs. Maria Reyes
COUNCILMAN NOBILE, AS A RESIDENT IN THE R SECTION OF PALM COAST, I AM VERY APPREHENSIVE ABOUT PEOPLE GOING THROUGH THE WOODS ON RICHARDSON DRIVE TO ACCESS RALPH CARTER PARK. YOUR ATTENTION IN THIS MATTER IS GREATLY APPRECIATED. THANK YOU
MR,/MRS ROY H. LONG
COUNCILMAN NOBILE,
AS A RESIDENT IN THE R SECTION OF PALM COAST I AM VERY APPREHENSIVE ABOUT PEOPLE GOING THROUGH THE WOODS ON RICHARDSON DRIVE TO ACCESS RALPH CARTER PARK.
WE ARE ELDERLY CITIZENS AND FEEL VERY VULNERABLE WHEN PEOPLE MAKE IT A POINT TO USE OUR AREA BACKYARDS FOR THEIR SHORT CUTS. WE HAVE LIVED HERE SINCE 2004 AND HAVE GONE THROUGH THIS KIND OF A SITUATION IN THE PAST. WE HAVE FELT AT PEACE FOR A FEW YEARS AND NOW THE PROBLEMS SEEM TO BE STARTING AGAIN.
YOUR ATTENTION TO THIS MATTER IS GREATLY APPRECIATED.
THANK YOU,
WALTER (RAY) AND MARIAN (MIMI) HOFFINE
AS A RESIDENT IN THE R SECTION OF PALM COAST, I AM VERY APPREHENSIVE ABOUT PEOPLE GOING THROUGH THE WOODS ON RICHARDSON DR TO ACCESS RALPH CARTER PARK. . WE HAVE SEEN A NUMBER OF YOUNG PEOPLE THAT USE RICHARDSON DR AS A SHORT CUT TO THE PARK . THESE GROUPS OF YOUNG PEOPLE ARE NOT FROM THIS NEIGHBORHOOD. ALSO I HAVE FOUND SOME GARBAGE ON MY LAWN. IT DOES WORRY US BECAUSE WE DON'T KNOW WHAT TO EXPECT NEXT. THESE EVENTS MAKE US QUESTION THE SECURITY OF OUR NEIGHBORHOOD.
YOUR ATTENTION IN THIS MATTER IS GREATLY APPRECIATED.
THANK YOU,
MR AND MS KUCHARCZYK
Hello Mr. Nobile,
Harold Sankey here following up on previous e-mails about the troubles we are having here on Richardson Dr. The problems are escalating. Please we are in need of your help. Today I was sitting at the table having dinner at 5:50pm when I noticed 2 young adults walking along the fence line in the park looking at the back of my house, about 5 min. later they walked past the front of the house so I went outside to see were they would go. They went to a pickup truck that was parked 2 lots down from me and got in it and sat there for about 3 min and then left in a hurry. I could not get the tag # so I called the sheriffs office and they sent a deputy out Case #24845-15. There is something wrong with someone parking here and going through the trouble of going though the woods-jumping the fence to get to the park-and then come back a few minutes later jumping the fence to get back to truck. Even the deputy said this sounds suspicious, maybe drugs. The people cutting through here to get to the park is getting ridiculous. I see anywhere from 4 to 10 people a day cutting through the woods and that is just the ones I happen to see. We are getting tired of calling the sheriff every day. Other residents are also calling. Do we have to wait till someone gets injured or property damaged again? I hope and pray it does not get to this. Please check into this A.S.A.P. if you can. The last I had heard from you was on 2-11. Again thank you for your help and support in these issues. Harold Sankey