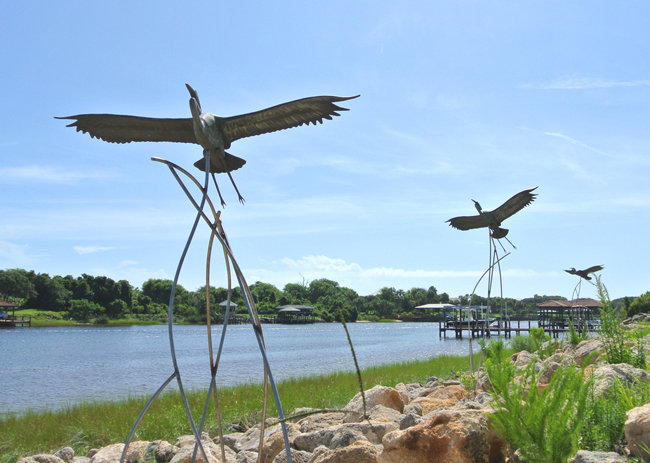 There are just two weeks remaining in the City of Palm Coast's Find Your Florida 2014 Photography Contest. All entries are due by May 31.
Photographs submitted for the contest will be used by the City for marketing, promotional and public relations purposes. In return, the city will award prizes to winners.
The theme of the contest is "Find Your Florida in Palm Coast." Winning photos will illustrate what makes Palm Coast special. Examples of what the City is looking for include: family fun at city events, sports activities, cultural clubs and organizations, scenes from the city's many parks and trails, reflections of residents' active lifestyle such as walking, running, bicycling, sports, swimming, fishing and boating; and nature scenes that highlight beautiful landscapes, wildlife and waterways. The City wants to share what's special about Palm Coast (and, let's be honest: do it without having to pay artists for the privilege beyond token prize fees.) Should a photograph include any recognizable people, the photographer must receive permission from those people (parent or guardian for people under 18 years old), preferably with a signed release.
First, second and third place will be awarded. Gift certificates to local businesses will be awarded in the following amounts: First Prize, $200; Second Prize, $100; and Third Prize, $50. Gift certificates will be offered to a variety of businesses, and winners will be able to select from the list. In addition, honorable mentions will be awarded as determined by the judges. Winning photographs will be displayed on the City's website and at city facilities. Winning photographers will be recognized at a meeting of the Palm Coast City Council.
All submissions must be digital. Photographers may submit up to 20 entries. It is free to enter. Entries must be submitted no later than midnight May 31, 2014.
Judges will base their decisions on the following qualities: focus, lighting composition, impact, creativity and storytelling. Judging will be conducted during the month of May 2014 by the City of Palm Coast Branding Team. Submissions will be identified by number for judging purposes. Winners will be notified by email or phone once judging is complete.
Photographs submitted for the contest must be taken in the City of Palm Coast. The photographs will be used by the city for marketing, promotional and public relations purposes such as publications, videos and websites to promote Palm Coast. All submissions will become the property of the City of Palm Coast.
For complete guidelines go here. The submission form is below.
For more information, contact Cindi Lane, Palm Coast communications & marketing manager, at 386/986-3708.


Download Palm Coast 2014 Photo Contest Entry Form