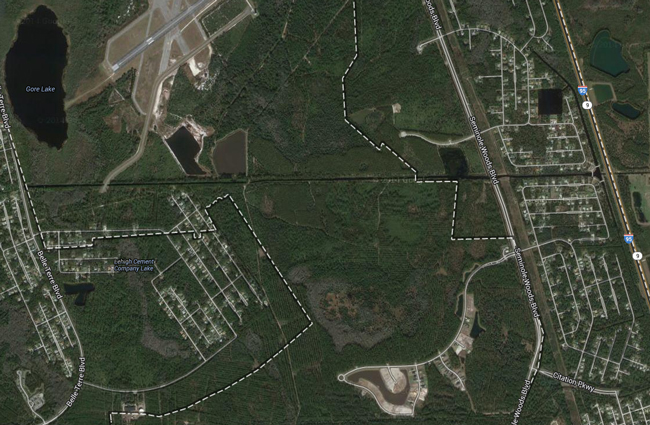 Grand Landings is a 749-home, 774-acre development in Seminole Woods, about two miles south of State Road 100 (and less than two miles from the Flagler County Airport), with an entrance west from Seminole Woods. It is one of the innumerable developments that fell prey to the housing bust before it could get going. About eight homes had been built there before Orlando-based Citation Boulevard Investments took over in 2012 with plans and hopes to return the project to health. With some three dozen permits pulled since and a dozen houses under construction, it is among the more active construction areas in the city, according to City Manager Jim Landon.
Earlier this week, the Palm Coast City Council unanimously approved a couple of land use designations for the development, essentially replacing county designations with city designations as Palm Coast continues to clean up its future land use and zoning maps subsequent to incorporation: in this case, the development was annexed into the city in 2007. The changes won't affect the development. But they reminded the council of the potential for commercial and residential growth in the city as some of that potential begins to yield to actual construction.
The county had designated the area of the development as low-density residential (where only one unit per acre may be built) and low-intensity commercial. Under the city's designation, the development will be split between 747 acres of residential uses and 26.4 acres of mixed-use, keeping the limit of one unit per acre in the residential zone. The mixed-use zone, however, allows for up to 15 units per acre, which could result in an increase of 390 units, for a total of over 1,100 units, should the developer choose to amend its development agreement and go that route. That would be a significant change from land uses under the county's designation. City officials, however, say it's very unlikely that the developers will opt for the higher numbers. The 26-acre mixed-use area parallels Seminole Woods Boulevard from a little north of Citation Parkway to just past Grand Landings Parkway. If it's developed only for commercial uses, it will be limited to 150,000 square feet of such developments.
The reason the development is unlikely to opt for the higher number of units is because it would then trigger what's called a Development of Regional Impact review. A DRI is triggered when a given development exceeds a certain size. That size, for Grand Landings, is 750 units, which is why it remains at 749 units for now. Once Flagler County's population passes the 100,000 mark (by some estimates, the county has already crossed that line), then the DRI threshold rises to 1,000 units. Ironically, should Grand Landings develop apace, it would be the very development whose population will push the county past the 100,000 mark, noted City Council member Jason DeLorenzo.
But those triggers raised concerns for council member David Ferguson.
"It appears that Flagler County is on the threshold of 100,000 population, and we're talking about 749 as if it's cast in stone," Ferguson said, suggesting that the number could be more fluid than that in the near future. "I don't think the development is anywhere close to those numbers at the present time anyway, so I'm kind of making a big deal out of a smaller issue."
The caution about a DRI trigger, Palm Coast Planner Jose Papa told the council, "was a note provided to us by the regional council to alert the city—just remember, if your population is 100,000, there is this DRI threshold that you're about to cross, or could cross, if you add additional units to this project, and if you do that, then you might be required to do a DRI review."
That's not likely to happen, Landon said, because DRI reviews are complex and expensive, requiring reviews by a slew of local, regional and state agencies, which developers prefer to avoid when they can. The chances of this development going through that process are "between slim and nil," Landon said. "It's a comment, but it really is not something that I think you're going to see occur."
Speaking briefly to the council, Jeff Douglas, one of the developers, said that Grand Landings is focusing on the 749 units for now, not beyond. Even so, Grand Landings is "years and years down the road" from 749, he said.
More than a decade ago when Grand Landings was first conceptualized, there were plans for some of its homes to be connected to the Flagler County Airport, with small planes taxying back to private properties and having the ability to fly out of the county airport. Those plans were scrapped shortly after the September 2001 attacks, when security concerns changed the configurations of small airports' interactions with their neighbors.
The city's actions on Tuesday evening drew no objections and no public reactions except one: a resident wondered whether, as Grand Landings grows, residents' complaints will also grow over noise from planes overhead as they land and take off. The main runway runs east-west, the project is south of the airport, Landon said. "The planes really don't fly over this development, coming and going," he said. "In our opinion you're actually going to have other homes in existing Palm Coast neighborhoods that are impacted more by the airport than this development will."
The developers of Grand Landings were also sincerely grateful for the new and long-awaited sidewalks going down Seminole Woods Boulevard.