Airport Auto Sales
State Road 100 & Midway Drive, Palm Coast, (386) 437-2403
Paid Advertising | May 5, 2013
 Boats – Cars – Trucks – Motorcycle Seats – Leather Interiors – Repairs Factory Originals
Vinyl Tops (Any and All) – Trim work – Airplanes / Auto Carpet – Headliners – Convertible Tops
WE NOW DO HOME FURNITURE WITH AN EXPERIENCED UPHOLSTERER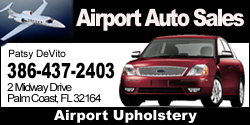 Mr. Patsy DeVito, owner
(386) 437-2403
Top dollar paid for clean vans and cars.
Lot hours:8:00 – 5:00 Mon. – Fri.;8:00 – 1:00 Sat.
Located across from the airport State Road 100 AT 2 Midway Drive in Flagler County.
 AIRPORT AUTO
Only the Best Used Automobiles!
Here at Airport Auto we stock previously owned vehicles that  have been carefully selected for our customers. We pride ourselves in stocking vehicles that can provide good service at a very good price.
We also provide  complete upholstery service and headliner replacement.
BUY SELL TRADE
Previously owned Autos, RV's, Boats. Come check ours out and let us make you an offer on yours.
We also do upholstery/canvas work on Autos, RV's, Boats, Airplanes and Furniture. Stop in and see us for your quote today.