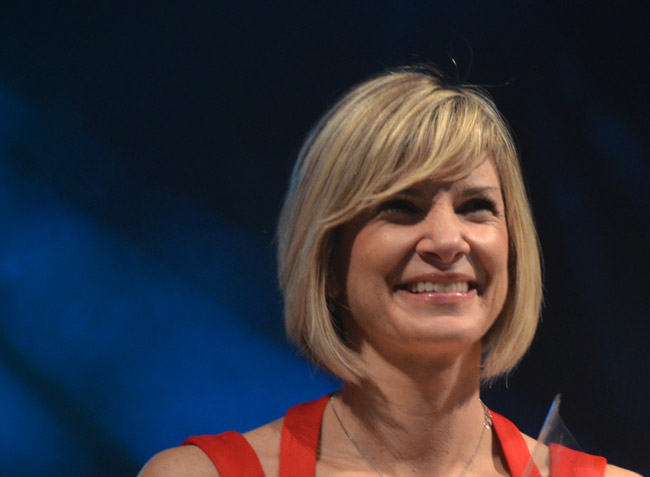 Colleen Newman, a first-grade teacher at Belle Terre Elementary and this year's Flagler County Teacher of the Year, was among six Florida teachers honored by the Florida Cabinet, which was met today Flagler College's Ponce de Leon Hall in St. Augustine.
Newman can now add to her year's honors (and there may yet be more) an official state resolution recognizing her as one of the state's top educators, one of its most innovative and effective, an the "heartfelt appreciation for the hard work and dedication" she has provided the students of Flagler County, with the signatures of the Florida Cabinet's four members–Gov. Rick Scott, Attorney General Pam Bondi, Chief Financial Offficer Jeff Atwater, and Agriculture Commissioner Adam Putnam. (See an image of the resolution below.)
Newman and the five other teachers were presented the Governor's Shine Award.
"Every day our teachers help Florida's students realize their potential, fulfill their dreams, and embark on challenging journeys toward college and successful careers," Scott said. "Florida's strong, effective teachers give students an advantage in today's competitive environment – and that's why my Florida Families First Budget rewards hard working teachers for their success. I am proud to present the Governor's Shine Award to teachers who go above and beyond to make a difference in education."
Newman, a teacher for nine years, was quoted as saying in a release from the governor's office: Newman is a first-grade teacher and has been teaching for nine years.  She states, "Teaching is not just my career, it has become who I am. I believe it is a teacher's job to inspire lifelong learners and that is what I look forward to doing each time I enter my classroom."
the five other teachers honored were:
Susan "Sue" Dobelstein, Clay County, Montclair Elementary School – A 27-year teaching veteran, Dobelstein teaches kindergarten and has been at Montclair Elementary for 25 years. "The adage that 'teaching touches lives forever' is very personal to me," said Dobelstien. "It is my honor and delight to come to school each day and positively influence the lives of young children."
Apryl Shackelford, Duval County, Northwestern Middle School – Shackelford is the lead reading teacher at Northwestern Middle. Shackelford quit high school, but managed to overcome her challenges and ended up earning both a bachelor's and a master's degree. Most of her work focuses on helping students struggling in reading. "I use my life story to encourage my students and it works," said Shackelford.
Shantel Ferrante, Nassau County, Callahan Elementary – Ferrante is a second-grade teacher with six years of teaching experience. Her leadership roles include serving as coordinator for Math Olympians and co-chair for the Einstein Club for Science after-school program. She has served in numerous professional learning communities including co-facilitator for Common Core Standards and Strategies for Mathematics: Geometry and What Great Teachers Do Differently. "My main focus is to bring real-world applications into the classroom to make learning relevant for my students."
Juan Torres-Martell, Putnam County, Ochwilla Elementary School – Torres-Martell has spent his 13-year teaching career at Ochwilla Elementary. He loves his job and looks forward to seeing his students and colleagues each day. "Just to be able to touch the lives of children is an honor and a privilege," he said. "I love these kids. I believe in them."
Jessica Geronimo, St. Johns County, St. Johns County Transition School – Geronimo has been teaching for four years and been with St. Johns County Transition School for two years where she is an autism spectrum disorder teacher. Geronimo believes, "Coherence between school, home and community is especially important for students with autism. Teaching them the skills to function independently not only helps them learn in school, but it helps them become contributing members of their families and society."