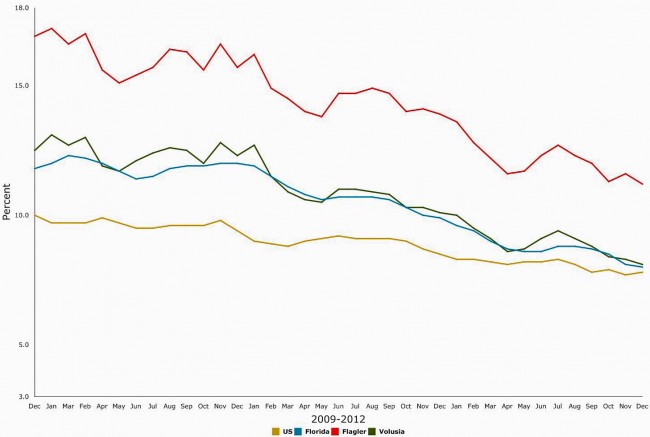 It has been four years and a month since unemployment in Flagler County was as low as it was in December: 11.2 percent. In November 2008, it was 11.3 percent, and going up fast. Florida's December unemployment rate of 8 percent, announced this morning, is also at a four-year low.
A significant caveat, however: Florida, as it has on a few occasions through the recovery, failed to add jobs. The state lost 15,300 jobs in December, an indication of the weakness of the recovery and the discouragement of workers seeking jobs. The unemployment rate nevertheless fell because fewer people are considered unemployed–and more people are dropping off the labor force entirely: Florida's limits on unemployment collection are among the shortest in the nation, and rules imposed on the unemployed to qualify for benefit are among the harshest.
The same caveat applies in Flagler: the unemployment rate fell in December, from November's revised rate of 11.6 percent. But 76 fewer people were employed, and the labor force shrank by 239. Flagler County's total population is around 97,000, but its labor force is only 33,400.
In another setback for Flagler's image, the county is again the title holder among Florida's 67 counties for worst unemployment rate. Hendry County, which had held the top spot for months, is in fourth place. Putnam County is second, with an unemployment rate of 10.1 percent. St. Lucie is third, with 10 percent. All other counties' rates are below 10 percent. Monroe has the best rate, at 4.5 percent. St. Johns's is among the best, at 6.2 percent.
Looking at Florida's jobs picture month-over-month, financial activities lost 3,900 jobs (almost 1 percent of the workforce in that sector), construction lost 3,500 jobs (1.1 percent), information lost 2,100, professional and business services lost 5,500 jobs (0.5 percent), education and health lost 2,100 (0.2 percent), and arts and entertainment lost 2,2900 (1.1 percent).
On the plus side, trade, transportation and utilities added 3,400 jobs (a 0.2 percent increase), led by 1,800 jobs in retail, and hotels and food services added 2,500 jobs. That's about it: all other sectors were flat.
Initial unemployment claims (which the state euphemistically refers to as "re-employment claims") were down by 4.6 percent from a year ago while continued claims were down from an average of 553,000 in December 2010 to 270,181 for the week ending January 12, a 51 percent decrease.
Gov. Rick Scott put a brave face on the latest numbers: "Florida's unemployment rate is down to eight percent, its lowest in four years," he said in a release. "Trends show that we are also experiencing growth in many different economic indicators that are key to job creation. Housing starts are on the rise, businesses and families continue to move to Florida and more jobs are being created. The changes we are making to improve our state's business climate are helping Florida families pursue the American dream."
The full report is below.


Florida's Unemployment Report, December 2012 (released Jan. 2013)