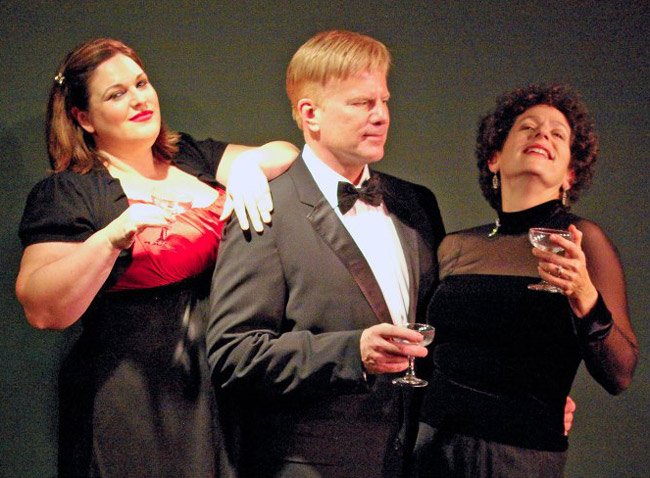 Note: for the easiest way to buy tickets online, go here.
Think of it as a cocktail party, with lyrics for booze and song after song parading like witty, happy guests on a stage so intimate it'll feel like each guest—each song—is yours to cherish: That's Stephen Sondheim, or more specifically, "Side by Side By Sondheim," a clever reinvention of the master of lyrical invention, in whose hands a Broadway musical is modern opera with all the complexity and none of the bore. His songs, even taken out of their original plays' contexts, stand alone as gems of composition. Shuffled back together as a revue, as they are in "Side By Side," they become a masterwork.
At City Repertory Theatre:
---
"Actually," by Anna Ziegler, directed by Beau Wade, starring Nikki Lynn and Brent Jordan, at City Repertory Theatre,  7:30 p.m. Thursday Dec. 12, Friday Dec. 13 and Saturday Dec. 14, plus 3 p.m. Sunday Dec. 15. Performances are at CRT's venue in City Market Place, 160 Cypress Point Parkway, Suite B207, Palm Coast. Tickets are $25 adults, $15 students. For more information or tickets, call the CRT box office at 386-585-9415 or book tickets easily here. 

Click On:
---
And it's all here, at Palm Coast's City Repertory Theatre, opening Friday (Jan. 18) and running for six performances over two weekends, under the direction of John Sbordone, who hasn't tired of reinventing local theater since launching his own at CRT last year.
"The Man has an extraordinarily nimble mind," Sbordone says. "The lyrics are clever; his perceptions of the world are relatively unique and urbane, as complex as you've ever heard, yet he manages to be a popular Broadway composer." Sondheim himself once said, that "the dumbing down of the country reflects itself on Broadway. The shows get dumber, and the public gets used to them." He's an antidote to all that.
"Just look at the longevity of his career," Sbordone says. "'West Side Story' came out in 1957. That's 50-60 years of being on top of his game in the best musical theater in the world."
The original revue, produced in 1976, draws its name from the song "Side by Side by Side" from the Broadway show "Company," first staged in 1970. The revue features songs from the entire Sondheim repertoire by way of three singers and a narrator whose songs include pieces from "A Funny Thing Happened On The Way To The Forum," "West Side Story" (composed by Leonard Bernstein), "Gypsy," "Follies," "A Little Night Music," and "Sweeney Todd," to name a few. (David Kernan, who was performing in "A Little Night Music" in London, conceived the show for British audiences in the 1970s.)
The show is intimate by design and location: City Repertory Theatre's home at Hollingsworth Gallery is more like a living room or cozy pub that happens to seat 50 to 70 people than a standard theater. Sbordone, hopes, for Sondheim's very reasons of wanting to be extra-communicative with audiences, that this venue will be the perfect place to showcase the still-living maestro's work.
There's another level of intimacy at work: Julia Davidson Truilo, one of the performers (she first starred at CRT last season in "The Effect of Gamma Rays on Man-in-the-Moon Marigolds), has a long history with Sondheim. As co-founder and managing director of the former Seaside Music Theater in Daytona Beach, she produced each of the individual shows visited by the review over 30 years. And, by the way, she worked directly with Sondheim and Jonathon Tunick, Sondheim's conductor, on the first New York revival of "A Little Night Music," her personal favorite.
Sondheim composed that one to win a bet, she says, that he wouldn't be able to write a show in a ¾ waltz time. "I always thought he'd be a great cryptologist if he weren't a composer," Truilo says. "He loved puzzles and pictograms and he'd always have these intellectual quirks he'd have fun inserting into his work. I hope I can bring a lot of what I learned to this production."
Sbordone has imagined the whole stage as "a very chic cocktail party that takes place across the whole room," Truilo says. The narration helps guide the audience along, acting as transitions between songs. "It's not as if we have to go run in to the back and put on a clown nose and come back out."
Another challenge within the small confines: "We don't want to blast the audience out," Truilo says, though she may jump into an audience member's lap or two. "It's almost like we're talking specifically to each audience member. It's not just a big wash in the dark."
Even the rehearsals had a measure of intimacy.  One night everyone showed up at Truilo's house to rehearse. Kelly Nelson, a CRT regular and the acting teacher at Flagler Palm Coast High School, plays one of the main roles. She and Truilo took over the keyboard. "John was kind of like sitting there and saying, 'well, I don't have anything to do,'" Nelson said.
"This group of performers makes my job very easy. All Diane and I have to do is sort of ensure they don't trip over each other," Sbordone says. (Diane Ellertsen, co-founder of the company, is the show's choreographer.)
That said, Nelson added, "John reminds us that we're not just singing pretty up there. If we're singing songs that were meant as monologues, he makes sure we understand we're delivering with that emotion and thought process."
But of course there will be challenges, a word that often pops up when discussing the musical compositions of the octogenarian who's won an Academy Award, eight Tony Awards including the special Tony Award for Lifetime Achievement in the Theatre, multiple Grammies, a Pulitzer Prize and the Laurence Oliver Award.
"We've had to work extra hard to capture his harmonies," Sbordone says. "That's a lot of the reason many groups don't do him. He's extraordinarily intricate."
The production also features Earnest Murphy, who has enjoyed a lifetime career as a classical tenor, beginning as the first soloist selected for President Eisenhower's inaugural U.S. Army Band and was at one point a back-up singer for the Ed Sullivan Show and Frankie Lane. Murphy is the narrator. Then there's Lloyd Bowers, a civil litigation lawyer and a graduate of the University of Virginia undergraduate theater program. Bowers performed in a production of "Side by Side" while he was in college. That was before he took his parents' "sage advice," as he put it, to give up professional acting and go to law school. Outside of the courtroom, he says, this will be his first return to live theater in 35 years.
"Fortunately, I'm not dealing with computers here where the technology has completely changed and you have to learn how to do everything completely over again," Bowers says. He's aware of the incredible Sondheim feat before him—"this isn't like 'Do Re Me' here; it's not the type of music you usually sing in the shower. It's incredibly challenging."
Fully aware of this, he began practicing his singing over a year ago, "to shake the cobwebs out." Right now his biggest struggle is getting his "feet brain coordination" going again. "Diane is very patient with me," he says. He even has some of his old actor friends, who were once shocked by his change of career trajectories, flying in to see him perform. "My only regret is my parents aren't still around to see this."
The original "Side by Side" was conceived in part to help a small theater, so its staging at City Repertory has that much more meaning. CRT started less than two years ago, after Sbordone resigned his director's spot at the Flagler Playhouse.  Sbordone's directed over 300 shows. In the year-and-a-half that City Repertory Theater has been around, he says, he's been consistently told how satisfied he's left his audience. With that, this will be the best work they've done, he says.
"It may not be the most emotional, but it is the highest quality," as Sbordone has put on shows as powerful and daring as "The Laramie Project"—the story surrounding the murder of Mathew Sheppard, a University of Wyoming student who was killed because he was gay.
It's no easy task to reach Sondheim-level heights. Sbordone fully expects all of his performers to rise to the occasion. "What we have before us is the equivalent of the clean-up hitters coming up to bat at the bottom of the ninth inning. The bases are loaded."
"With 'Side by Side,' even in the limited space, you're going to see a Broadway production," Sbordone says. "For 15 bucks, you're not going to find a better piece of theater in the world."


"Side by Side By Sondheim" at City Repertory Theatre at Hollingsworth Gallery, Jan. 18 and 19 at 7:30 p.m., Jan. 20 at 2 p.m., and Jan. 24, 25 and 26 at 7:30 p.m. Tickets are $15. You can buy them online very easily here. Call 386.585.9415 for more information.