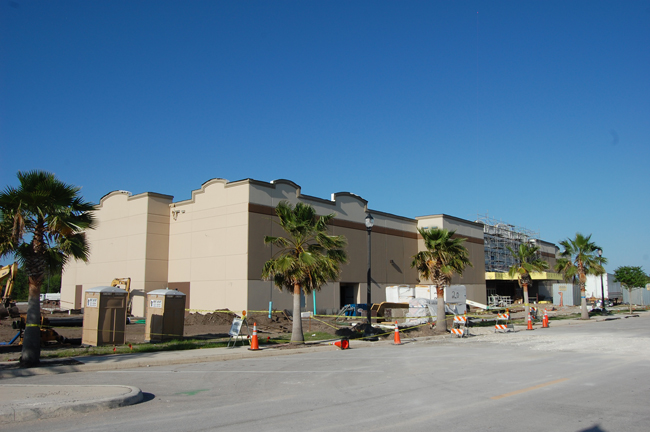 Here's the latest on major commercial construction, planned or under way, around Palm Coast:
The movie theater in Town Center: That's the one everyone wants to know about. According to DeLand-based, the tentative opening date for the 14-screen, stadium-seating multiplex on Central Road is set for Friday, June 25, 2010. No word yet on what movies will inaugurate the screens. For more details about construction history, go here.
Wal Mart on Old Kings Road and State Road 100: According to attorney Michael Chiumento Jr., the store should begin construction "toward the latter part of the year." It will then take nine months to build. If current plans hold, Wal Mart should open at that location by early next summer. Palm Coast is working on final details with Wal Mart regarding land swaps and conducting due diligence on the deal.
Dunkin Donuts and Pizza Hut in the Target shopping center: The two stores are under construction at the eastern edge of the shopping center on State Road 100. They should be completed and open for business this summer.
Red Lobster and Olive Garden: Next to the Dunkin Donuts-Pizza Hut combination in the Target shopping center, Red Lobster and Olive Garden are in a partnership to build a hybrid restaurant offering both franchises under the same roof. Construction has been delayed, but according to Palm Coast City Manager Jim Landon, "they have assured us it's going vertical soon."
ABC Fine Wine & Spirits: In other words, an ABC liquor store, is coming to Palm Coast–not a moment too soon. The store is under construction at the northeast corner of Palm Coast Parkway and Old Kings Road. City officials tried to dissuade ABC from building there, thinking a liquor store in such a prominent place, and within flag-waving distance of the Palm Coast city sign in that median, might not look too good for the city's image. A good drink will fix that misconception.
Buddy Taylor Middle School: The $13.2 million renovation of the 40-year-old building on belle Terre Blvd. is drawing to a close. The school will be ready for students and community events come the new school-year in August.
That clearing at the corner of Seminole Woods Blvd. and Route 100: That's the least interesting of the bunch. It's nothing more than a clearing and the building of a pond in preparation for eventual commercial development, though for now no one has any idea what might go up there. For more details on the clearing, such as they are, see here.
Old Kings Road: Just in case you're snowbirding back north or have been hibernating beneath a coquina shell, it's true, the south end of Old Kings Road from Town Center Blvd. to SR 100 is open again after a 15-month reconstruction. For details, see here.