FPC Commencement 2012
My Daughter, the Graduate
FlaglerLive | May 31, 2012
You didn't think I was going to cover this one in the impersonal third person, did you? This is my fifth time covering a graduation for either of our local high schools, probably the 20th or 25th in my career, but my first, ever, as the father of a graduate: my daughter Sadie is graduating Flagler Palm Coast High School this evening. She's among the 525. She is, I must admit, the only one that matters to me tonight.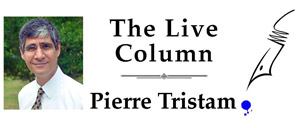 I could have passed off this assignment to someone else. I could have played the disinterested third person. I could have done what I've always done for years, with exceptions I could count on one hand: keep my daughter out of it for privacy or conflict's sake.
Not tonight. There really was no choice, and no need of one: I'm not describing an emotion foreign to anyone—least of all anyone who's known or is about to discover the exhilaration of having a graduating son or daughter or grandchild or niece or nephew or the many other equivalents of he-or-she-is-like-a-son-or-a-daughter-to-me—when I say unequivocally that on evenings like this, our hearts and our pride as parents pulse only for one. The din, the pomp, the circumstances, the equally inspiring and adorable and cheesy lines so often heard before: they either fall away or gild what in the end is already inscribed as an undying memory before it even takes place.
(Not to worry: there'll be plenty of photographs below, later, hardly a single one of which will feature Sadie.)
All around me at the moment the backstage fervors are in full swing: Carl Brazell's team of audio and video experts in the making (from Brazell's television production corps at FPC) are going through their sound and image checks, Amy Fulmer's singers just rehearsed a couple of numbers, including the national anthem, the honor guard went through its paces, the sound of duct tape unsmacking from its roll is still louder than the crowd, which was just let in—the crowd, not yet drunk on joy and tears, but soon. It's still about 40 minutes from showtime.
In back of the Ocean Center, in the immense rehearsal room, the graduates have donned their gowns, taken warm-up seats arranged in the precise order in which they'll be seated once they're out on the Ocean Center floor, fixed up their last. A surprisingly few are obsessing over their cell phones, at least in comparison with last year. Last call goes out for ties, clips, cards for the official photographer. The school board members are milling about—let's get their names out of the way: Chairwoman Sue Dickinson (who actually has a special connection to us: she watched Sadie grow up for several years back when our houses were adjacent in the Woodlands; Sue was very, very relieved when we moved), Andy Dance, Colleen Conklin, John Fischer and Trevor Tucker, who, of course, needed help from the women with his gown.
Walking back into the arena, a surprise: Bill Delbrugge, the former school superintendent, I here, in from nutty Cairo—not to get away from the elections there, but because his son Matthew is among the graduates. At 7 p.m., the faculty walked in, and a little after that, the place erupted: the graduates began to stream in to the whoops from above, and the loops of "Pomp and Circumstance" (it's a very big class: it took 16 minutes to be seated). Then it was Boyd Fulmer, Alysaa Gilbert and Nicole Koch giving us a wonderful rendition of the national anthem (place Boyd anywhere and stars unfurl). My arteries are pulled in every direction, the reporter's hat invariably playing devil to the father's.
Nicole Vinci gave the welcome ("We have all, finally, found our place," she said of the previous four years, a telling prelude to the next 40), describing those years as "308 weeks, 72 months of total schooling," to end up here. Not Daytona Beach, to be sure, but the Graduating Class of 2012.
The honor of giving the commencement address went to Allyson Smith—naturally, an International Baccalaureate student, the school's gift to globalism—who mixed nostalgia with reminders of a particularly distinctive class.
"Many of you sitting out in the audience tonight," Allyson said, "may have never met the people you are sitting next to, and there's a good chance that after graduation you may never see them again. But that doesn't mean that we can't all enjoy this moment together—our last memory as a class before we go our separate ways."
She went on: "My father once told me that our high school years are the best times of our lives, and that they will be gone before we know it. I did not believe him when I walked into FPC four years ago, but I do now. The days that have gone by seemed like mere seconds– the months just a few minutes– and the years not much longer. It is hard to believe that our class, that started school in August of 1999, is graduating. We are the class of lasts—the last class to have been in school in the 90's, the last class to have had a daily bulldog break, the last class to enjoy the freedom of a school system without uniforms [the students erupted at that one], and finally if you are into gloom and doom or the Mayans—we are the last class to graduate before the world comes to an end."
It was then FPC Principal Jacob Oliva's turn—the principal whose ears and patience we tested a few times in the last couple of years, and not because of mockingbirds, either: adolescence puts all parents (and adolescents themselves, really) through a hell worthy of its own circle, but the flames have that fortunate quality of leaving no scalding mark. "Behind every successful student is a loving caregiver who helped carry you to this moment," Oliva told the assembly, music to our ears. "Make sure you tell them how much you appreciate them." It's all right if it takes a few years or a couple of decades.
"Your childhood heroes," Oliva continued, "taught you a valuable lesson along the way. While Buzz Lightyear was teaching you to be a visionary leader with a mindset of infinity and beyond, Woody was teaching you how to re-organize and reach for the sky. Who knew that your virtual pet would lead into a generation of avatars, social networking and globalization." He listed the class' accomplishments: No less than 27 seniors graduating cum laude, 48 magna cum laude, 46 summa cum laude (or was that 36?), 23 seniors in the 1300 SAT club, 250 AP exams taken, 270 IB exams taken, nine seniors who have already graduated with their associates of arts degree from Daytona State College, 126 seniors earning a combined $128,000 in scholarships, not counting bright Futures (that would bring the amount to half a million dollars, six Superior solos for the school's choir (Amy Fulmer's work), eight Superior ensembles in state competition, seven seniors participating in the all-state choir, similar successes for the band, and so on.
Funny how I've wanted to walk up to some of these faculty members all evening and hug the hell out of them: Jacob Oliva, the principal, Kevin McCarthy, one of the 750 assistant principals at the school but the only one who turned out to be my emergency lifeline, Phil DeAugustino, whose son was the star of FPC's commencement two years ago, and that incomparable duo that gives FPC its academic honors: Roger Tangney, who directs the IB program, and Jim Pignatiello, the chemistry professor more famously known as Mr. Pig, who should have a movie named after him called Mr. Pig's Opus. I'm not forgetting you Diane Tomko, but at least you're usually recognized, deservedly so, with the five-times-a-day regularity of the Muslim call to prayer. Cheryl (my wife, who was in the upper reaches of the Ocean Center's bleachers while I covered things from below) and I have been harassing these people for the better part of the past two years as we labored to tonight's finish line: what teachers and administrators take from parents is not easily describable, and so rarely mentioned at occasions like this. The wonder is that they manage to make it through without becoming drug addicts or serial killers (with us parents as their frequently deserving victims).
So this, too, is what an evening like this is about: gratitude and wonder not only for our children, but for those who helped make them who they are, and who, on balance, get more grief than recognition for their tribulations (there is no other word), especially in a state like this where education is daily crucified on too many crosses to mention. That faculty here tonight: they're the ones who bear those crosses.
Then came the moment. The handing of the diplomas. The 525 names: an eternity, for someone whose family name is drags toward the ends of that alphabetical coal trail. An eternity that passes in a blink, kin to those barely few more blinks that add up to the last 18 years. And there she was.
What's the word: verklempt? It doesn't begin to describe it. Allow me that moment.