From Poets.org: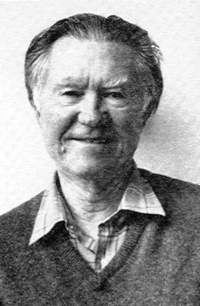 William Stafford was born in Hutchinson, Kansas, in 1914. He received a B.A. and an M.A. from the University of Kansas at Lawrence and, in 1954, a Ph.D. from the University of Iowa. During the Second World War, Stafford was a conscientious objector and worked in the civilian public service camps-an experience he recorded in the prose memoir Down My Heart (1947). He married Dorothy Hope Frantz in 1944; they had four children.
In 1948 Stafford moved to Oregon to teach at Lewis and Clark College. Though he traveled and read his work widely, he taught at Lewis and Clark until his retirement in 1980. His first major collection of poems, Traveling Through the Dark, was published when Stafford was forty-eight. It won the National Book Award in 1963. He went on to publish more than sixty-five volumes of poetry and prose. Among his many honors and awards were a Shelley Memorial Award, a Guggenheim Fellowship, and a Western States Lifetime Achievement Award in Poetry. In 1970, he was the Consultant in Poetry to the Library of Congress (a position currently known as the Poet Laureate).
Stafford's poems are often deceptively simple. Like Robert Frost's, however, they reveal a distinctive and complex vision upon closer examination. James Dickey, writing in his book Babel to Byzantium, notes that Stafford's "natural mode of speech is a gentle, mystical, half-mocking and highly personal daydreaming about the western United States." Among his best-known books are The Rescued Year (1966), Stories That Could Be True: New and Collected Poems (1977), Writing the Australian Crawl: Views on the Writer's Vocation (1978), and An Oregon Message (1987). William Stafford died at his home in Lake Oswego, Oregon.


Traveling through the Dark
Traveling through the dark I found a deer
dead on the edge of the Wilson River road.
It is usually best to roll them into the canyon:
that road is narrow; to swerve might make more dead.
By glow of the tail-light I stumbled back of the car
and stood by the heap, a doe, a recent killing;
she had stiffened already, almost cold.
I dragged her off; she was large in the belly.
My fingers touching her side brought me the reason—
her side was warm; her fawn lay there waiting,
alive, still, never to be born.
Beside that mountain road I hesitated.
The car aimed ahead its lowered parking lights;
under the hood purred the steady engine.
I stood in the glare of the warm exhaust turning red;
around our group I could hear the wilderness listen.
I thought hard for us all—my only swerving—,
then pushed her over the edge into the river.