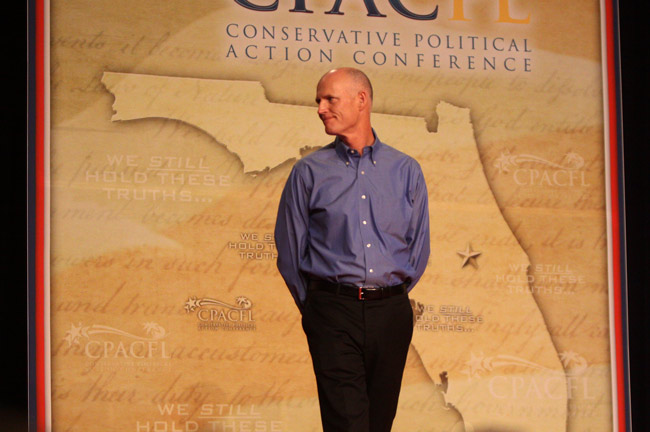 Gov. Rick Scott signed a series of measures designed to trim business taxes and slash regulations Wednesday, as Republicans promised the initiatives would help promote job creation in a state where unemployment remains stubbornly high.
"Passage of these important bills is a huge victory for the future of Florida's economy," Scott said before signing the package.
Among the bills signed by the governor was a measure delaying payment of the state unemployment system's debt, helping to keep those taxes low (HB 7027); a bill increasing the exemption for the corporate income tax and making it easier to qualify for a manufacturing exemption (HB 7087); legislation making it easier to eliminate regulations (HB 7029); and an effort to crack down on regional workforce boards that Scott says were wasting money.
While supporters insisted that the legislation signed Wednesday will help provide a better business climate, they were quick to say that a variety of factors were at work in the economy, and it would be difficult to accurately figure out how many jobs the measures might create.
"The whole goal of this jobs package is to send a message to small businesses, to job creators that it's safe to get back in the water again," said Mark Wilson, president and CEO of the Florida Chamber of Commerce.
The change to the corporate tax exemption, which will now rise to $50,000 from $25,000, contributes to Scott's goal of eliminating the tax entirely. But it is a different mechanism than the gradual rate cut Scott touted during his 2010 campaign, and is a slower process than Scott anticipated.
Scott said he remained optimistic the state could eliminate the tax by 2018, his goal.
"It's got to accelerate a little bit," he said. "Yeah, I think we'll get there."
He pointed to the pace of the economic recovery, and the effect that has on state revenues, as one reason the reduction was taking longer.
"I'm looking forward to the year that we have a projected surplus," Scott said.
But critics say Scott and the Legislature are taking the wrong approach. Instead, they argue, the state should invest in education, health care, housing and transportation — other elements that businesses consider when trying to decide where to locate.
"While Florida keeps every year coming up short with funding for those areas, continuing to give tax breaks and general revenue dollars to businesses on the promise that they will create jobs is problematic," said Karen Woodall of the Florida Center for Fiscal and Economic Policy. "The state is digging itself into a hole that it's going to be difficult to recover from."
–Brandon Larrabee, News Service of Florida