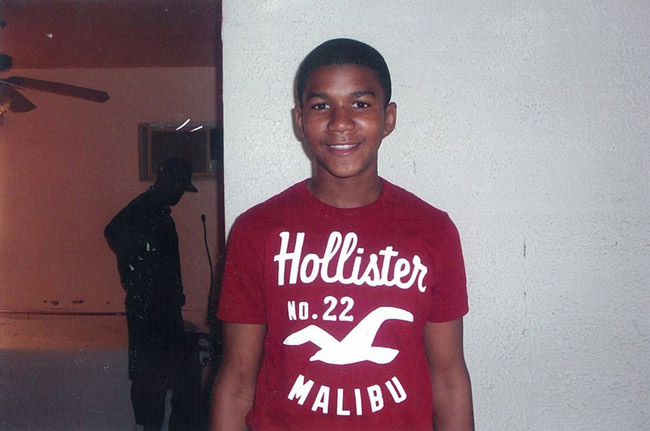 As officials from the U.S. Justice Department were to meet today with the family of Trayvon Martin, the 17-year-old black youth who was unarmed when he was shot by a neighborhood watch volunteer in Sanford last month, Sanford Police Chief Bill Lee Jr. announced this afternoon he would resign "temporarily."
"My role as the leader of this agency has become a distraction from the investigation," Lee said in a statement. "It is apparent that my involvement in this matter is overshadowing the process. Therefore, I have come to the decision that I must temporarily relieve myself from the position as police chief for the city of Sanford." On Wednesday, the Sanford City Commission held a 3-2 vote of no confidence in Lee, who's been on the job 10 months. The vote is the first step in what could lead to Lee's ouster, though the commission can't itself do the firing. Only the city manager, Norton Bonaparte Jr., hires and fires city staff.
"I do this in the hopes of restoring some semblance of calm to a city which has been in turmoil for several weeks," Lee continued in his statement, released to the press and carried by the Orlando Sentinel.
Trayvon's shooter, George Zimmerman, said he was acting in self defense when he killed the 17 year old, even though Trayvon was running away from Zimmerman. Only a can of iced tea and a bag of Skittles were found on Trayvon. Zimmerman has not been charged.
The absence of charges and the manner of Trayvon's shooting have raised a national firestorm, drawing attention to Florida's 2005 Stand Your Ground law, signed by then-Gov. Jeb Bush, which gives individuals the right to shoot an assailant without retreating, whether it would be reasonable to do so or not, and whether individuals feeling threatened are in their home, in their car, on the street, in a bar or in many other settings, provided it's a matter of self-defense.
---
Zimmerman's 911 Call[media id=274 width=250 height=250]
The Department of Justice opened an investigation of the shooting on Monday. The State Attorney in Seminole County is convening a grand jury that might bring charges against Zimmerman, overriding the Sanford police's refusal to bring charges.
U.S. Rep. Corrine Brown, whose district includes part of Seminole County and Sanford, said this week she has more faith in the Justice Department than Florida authorities to investigate the case.
On Wednesday, black Florida lawmakers called on Gov. Rick Scott to appoint a special prosecutor to oversee the investigation of Trayvon's death.
Martin's family has maintained all along that Zimmerman should be charged, and state Sen. Gary Siplin, D-Orlando, agreed, saying that if Martin had been white and Zimmerman black, Zimmerman would have been arrested by now.
Siplin said Seminole County State Attorney Norm Wolfinger, who said this week that a grand jury will review evidence in the case, should step aside because he regularly deals with the local sheriff.
"We're not contesting the veracity of the current prosecutor, but…he has a relationship with the sheriff's department, the police department and the city of Sanford, and we think he should step down," Siplin said.
Siplin also announced a senatorial fact-finding mission to Sanford. He said he will be joined by two other black senators, Sen. Oscar Braynon, D-Miami Gardens, whose district includes the home of Martin's mother, and Sen. Chris Smith of Fort Lauderdale, who will be the Senate Democratic leader next year, along with three white Republicans: Sens. Joe Negron of Stuart, Lizbeth Benacquisto of Fort Myers and Ronda Storms of Valrico. The group will examine the status of African Americans in Sanford within the next month, Siplin said.
---
Neighbor's 911 Call as Trayvon Screams and Is Shot[media id=273 width=250 height=250]
Siplin, who is leaving the Senate in November because of term limits, alleged that in Sanford, whites and blacks are not treated equally by law enforcement.
"The police [have] a history of stopping black folks and taking their fingerprints, or searching their cars without permission. You either let them take your fingerprints, or they threaten to take you to jail," said Siplin.
The Seminole County State Attorney's Office and the Sanford Police Department did not immediately return calls for comment.
Braynon said he believed the Stand Your Ground law had "empowered people to become vigilantes."
Although Florida has been at the forefront of many gun-friendly laws passed to accommodate National Rifle Association lobbying despite opposition, especially from law enforcement, some 21 states have versions of the Stand Your Ground law.
Earlier this month in Flagler Beach, 67-year-old Paul Miller shot his neighbor, Dana Mulhall, five times, four times as Mulhall was running away, even though Mulhall was unarmed and standing in his own yard, on the other side of a fence separating the two neighbors. Mulhall had complained to Miller about Miller's barking dogs. Miller had gone into his house to retrieve the gun during a lull and returned outside to sit on his porch. When Mulhall reappeared and the argument resumed, Miller shot Mulhall. Miller was charged with second-degree murder and is in the Flagler County jail.
Meanwhile, Rep. Perry Thurston, D-Plantation, sent a letter to House Speaker Dean Cannon, requesting that a select committee be formed to review the self defense law.
"While no action of any governmental entity can restore the life of Trayvon Martin, I believe it is imperative that the Florida Legislature take this matter seriously and action be taken to prevent future tragedies of this kind," Thurston wrote.
Zimmerman, 28, is a criminal justice major who patrols streets as a crime-watch volunteer. He'd called 911 some 46 times in 14 months to report suspicious persons. He called in about Trayvon, calling him suspicious, too. "These ass holes, they always get away," Zimmerman, who is Hispanic, told the dispatcher. The 911 dispatcher told him to not get out of his car because police were on their way. Zimmerman was already out of his car and began arguing with Trayvon. Sanford police said there was no evidence contradicting Zimmerman's account. Trayvon's parents, and screaming heard in a 911 call from a resident who heard the shooting, cast doubt on Zimmerman's account.
Scott was asked about the law at a press conference Tuesday. "Any time we see something like that we have to review and make sure we're not giving people the opportunity to use the law unfairly," he said. "You want to do everything you can to make sure this doesn't happen again."
–FlaglerLive and the News Service of Florida