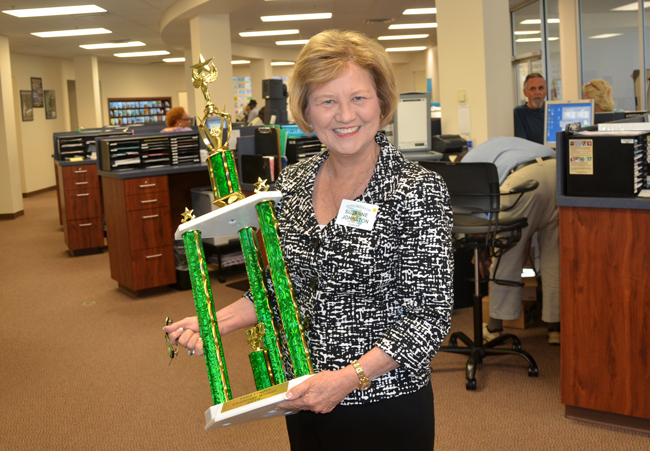 Flagler County Tax Collector Suzanne Johnston's goal this year is to raise $6,000 for Feed Flagler, the community Thanksgiving celebrations and food drive for the needy set for Nov. 23, when some 4,000 free meals will be served at 11 locations across the county. That's double the amount Johnston raised last year.
Flagler County Sheriff Don Fleming is pledging $5,000 to the effort (from crime prevention dollars, assuming the county commission approved).
Several companies and individuals are raising money and conducting food drives (see the details below). FlaglerLive is also raising money for Feed Flagler, but we're not doing very well so far: $335 is nothing to be proud of. Our goal is $1,500.
Our previous Feed Flagler Story:
Don't Let This Woman Win Again
Let's be honest. Suzanne Johnston deserved to win last year's Feed Flagler challenge. She raised $3,400, more than any other company or individual. Her tally was fully 22 percent of the $15,220 total raised for the annual Thanksgiving community dinner and food drive countywide. We at FlaglerLive were a distant second–and Johnston herself jumped in with a donation to get us over the $1,000 mark.
But it's time to get serious. Not for the trophy. We'll be happy to leave her that. But just to beat her. And so the challenge is on for this, the third annual Team Feed Flagler. Actually, who are we kidding? Suzanne is unbeatable. And we hear Sheriff Don Fleming is in on the action too this year. He doesn't just have tip jars at every counter, like Suzanne does. He has guns. But we're raising our goal to $1,500 this year. Come on now. We're chipping in the first $200. Start clicking the button above.
A little quick history: Feed Flagler began three years ago at County Commissioner Milissa Holland's initiative, and with the cooking hands of Hammock Dunes Resort staff, led by the ever-modest Marc Ray. The recession was the initial inspiration. But it's become far more than a feeding-the-poor sort of thing. It's about feeding Flagler's communal sense. Feed Flagler won't end hunger, it won't end homelessness or poverty, but it does plenty to ensure that those issues are not ignored, and for that day preceding Thanksgiving, they're center stage.
"The positive thing about last year, we had so much community support," Holland said. "The point that hit all of us that participated was that we did run out of food, and there was such a growing need for those taking advantage of the free groceries. It put a face on hunger in Flagler County. That's certainly not what we want to be known for, but the reality right now is there are so many families struggling to get by."
This year's event, on Nov. 23, will be almost double the size of last year's. Instead of 2,000 free Thanksgiving meals, there will be 4,000 meals. Instead of 10 locations around the county, there'll be 11, again with live entertainment at each (the Flagler Auditorium's Lisa McDevitt is coordinating that part). Each location will have the addition of so-called Giggles Tables –tables hosted by teen volunteers for younger children to do crafts, color, face-paint, and give their parents a breather while they're enjoying their meals. Instead of one cooking location–Buddy Taylor Middle School's kitchen–there will be two, with the addition of Bunnell Elementary's kitchen, which will make the distribution of food across the county, and replenishment when food runs out, much easier.
And instead of preparing and giving out 400 boxes of free food to families who need it most–a week's worth of groceries in each box–the plan is to prepare and give out 1,000 boxes.
That's why the non-perishable food donations are so important, and why the county is welcoming as many teams as possible who'll participate in food drives. Last year's winner was Chicks With Cans (led by Sandra Mullen and Cindy Dalecki).
Patrick Johnson of the Flagler County Health Department also secured a grant that will provide for 400 free flu shots divided between the various locations.

Incidentally, have you clicked the button yet?

Non-perishable food donations can be dropped off before November 11 at the Government Services Building in Bunnell. at Palm Coast City Hall at City Market Place, at the Flagler Beach City Hall, the Flagler County Chamber of Commerce, the Palm Coast Community Center, the Beverly Beach Town Hall and manned fire stations.
Volunteers are also needed, so please call 386/597.2950. For information visit the county's website or call 386.313.4001
The 11 locations where Thanksgiving meals will be served from 3 to 6 p.m. on Wednesday, Nov. 23 are as follows:
Bunnell Elementary School, 305 N. Palmetto, Bunnell.
Hidden Trails Community Center, 6108 Mahogany Blvd. in Bunnell, hosted by Grace Tabernacle Ministries.
Pellicer Community Center, 1380 County Road 2007 in Bunnell, hosted by Westside Baptist Church.
Espanola Community Center, 3055 County Road 13 in Bunnell, hosted by St. Paul Missionary Baptist Church.
First United Methodist Church, 205 Pine Street in Bunnell, co-hosted by God's Family Church and the Church of Jesus Christ of Latter Day Saints.
Buddy Taylor Middle School, 4500 Belle Terre Parkway in Palm Coast, hosted by the school district.
St. James Missionary Baptist Church, 609 State Street (U.S.1), Bunnell.
Hammock First Baptist Church, 5382 Oceanshore Blvd. (State Road A1A), in the Hammock.
Mt. Calvary Baptist Church, 75 Pine Lakes Parkway South in Palm Coast.
Wickline Center, 800 S. Daytona Avenue in Flagler Beach.
First AME Church of Palm Coast, 91 Old Kings Road North, Palm Coast.
And click the button.