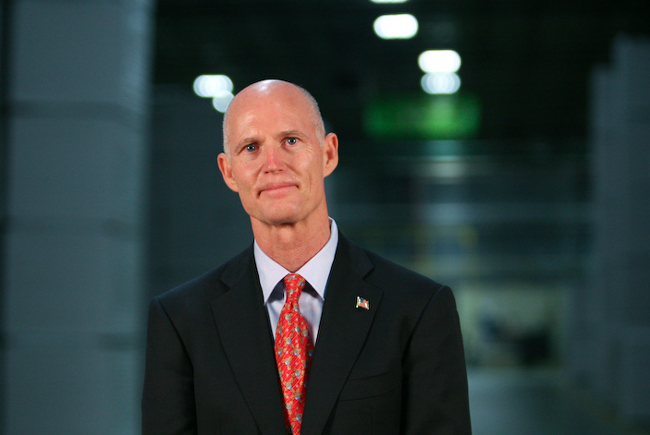 In a stinging rebuke of Gov. Rick Scott's interpretation of his powers, the Florida Supreme Court today, in a 5-2 ruling, declared the governor's attempt to blunt and circumvent state agency rule-making invalid, saying that "the Governor has overstepped his constitutional authority and violated the separation of powers."
Scott was defeated by Rosalie Whiley, a blind, poor, black woman on food stamps who challenged an executive order Scott issued immediately after taking office, suspending state agencies' regulatory powers. Scott wanted authority to review all rules and essentially exert veto power over those he deemed anti-business, against his jobs agenda or unappealing to his deregulatory instincts. State agencies, however, are delegated by the Legislature to make rules. Scott's executive order supplanted legislative authority, the court said.
One of the rules Scott suspended had a direct effect on Whiley. The rule would have made it easier to re-apply for food stamps and not depend on others to do the application for her, or to reveal personal information to third parties helping her, as she had to until then, because of her blindness. The new rule would have allowed her to fill out the application online, as many other states provide for their recipients. The rule was also a requirement to keep qualifying for federal dollars, because Florida's system was out of step with federal law.
On Jan. 4, Scott issued Executive Order 11-01, creating the Office of Fiscal Accountability and Regulatory Reform. All state agencies were ordered to stop issuing rules. They were also order to submit drafts of their proposed rules to the governor's accountability office for approval—or rejection. The state agencies were also required to appoint "accountability" officers of their own, and to review all their rules. In April, Scott issued another executive order that slightly softened the wording (the terms "suspending" and "suspend" were removed) and created the notion that the new office in the executive branch was merely a continuation of existing functions. The Supreme Court, in unusually strong language directed at the governor, called the second executive order "nothing more than a sleight of hand."
Whiley filed suit on March 28, challenging the first executive order as a violation of the separation of powers. The court agreed.
Scott does not intend to close the office of accountability nor keep it from doing the work he's assigned it. In practice, that office will be competing with rule-making agencies, but won't have the authority to veto those agencies' work.
"Rulemaking is a derivative of lawmaking," the court said. Which means that, as courts have ruled previously, Accordingly, when an agency promulgates a rule having the force of law, it acts in place of the legislature–not the governor. "Moreover, the Legislature has delegated specific responsibilities to agency heads, such as the authority to determine whether to go forward with proposing, amending, repealing, or adopting rules." Thus, rule-making is a legislative function.
Scott himself was, unsurprisingly, critical of the ruling. "It doesn't make any sense to me," he told the News Service of Florida shortly after the ruling. "I don't think it follows the constitution and it's a disappointment.
"Think about it," Scott continued. "Secretaries of these agencies … they work for me at will, and I'm not supposed to supervise them? That doesn't make any sense."
Justices Barbara Pariente, R. Fred Lewis, Peggy Quince, Jorge Labarga and James Perry voted in the majority. Chief Justice Charles Canady and Justice Ricky Polston dissented.
Polston drew acidic criticism in a footnote: "It is most unfortunate that the dissenting opinion of Justice Polston fails to comprehend the fact that parts of an executive order may be valid while other aspects are invalid," the note reads. "An invalid section of an executive order cannot survive constitutional scrutiny by riding on the coattails of the valid portions. Even if sections of the Governor's executive order may be valid, the provisions that are contrary to constitutional requirements simply cannot escape without analysis."
But Canady was no less caustic in his dissent, calling the majority's decision "ill-conceived interference with the constitutional authority and responsibility of Florida's Governor" and repeatedly heaping scorn on the majority's reasoning. "Neither the petitioner nor the majority identify any provision of law containing an express restriction on the Governor's power to supervise and control the exercise of discretion by subordinate officers with respect to rulemaking," Canady wrote. "The majority's inference of such a restriction flies in the face of the constitutional provisions which vest 'supreme executive power' in the Governor and authorize the Governor to appoint executive department heads who 'serve at his pleasure.'"



Whiley v. Rick Scott: The Florida Supreme Court Case Declaring Scott's Deregulation Scheme Invalid –