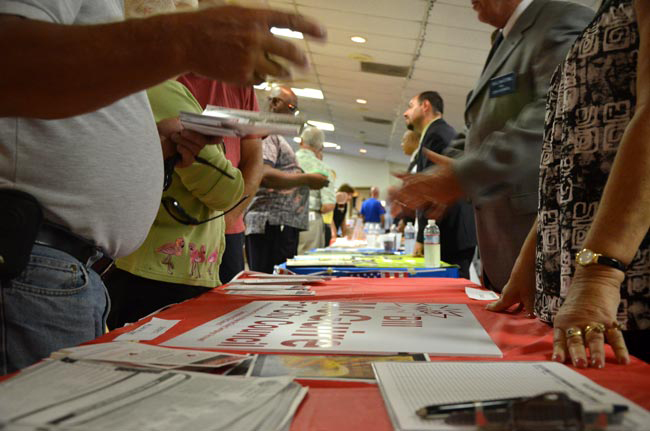 Politicians hoping to win or hold office know that they'd have a much harder time doing so if they don't attend tea party forums, answer tea party questions, curry favor with tea party officials, especially when tea parties themselves have taken to fielding candidates and threatening to throw out politicians who don't vote their way.
The Flagler County Tea Party is no different. Like it or not, it's a force to be reckoned with, especially in a county where the two other parties are each fractured by brawling and jealousies and competing clubs. Tea party events draw big crowds. Republican and Democratic party events draw yawns. And independents or those unaffiliated with any party are still the fastest growing group of voters. They represent 25 percent of the registered electorate in Flagler County, up from 20 percent in 2008 and 10 percent in 1998.
And so prospective voters crowded around two rows of tables lined opposite each other at the Knights of Columbus's main hall in Palm Coast Tuesday evening, anywhere from 150 to 400 people—depending on who was counting–, many of them wearing Flagler County Tea Party shirts, most of them looking to know for themselves what candidates for Palm Coast's mayoral and city council elections stood for. It was less than a third the crowd that filled out the tea party's last candidate evening, last year. But that election featured many more races, and Palm Coast's off-year council elections are notoriously low turn-out affairs—which favor those who turn out the most: older, conservative voters with an antipathy for taxes. In other words, tea party voters.
"Here's what we hoped to accomplish," Tom Lawrence, chairman of the Flagler County Tea Party Group, said when the evening was done. "We hoped to get a good turnout. We think we got a reasonably good turnout. We were delighted that all the candidates accepted, and I think the one guy that didn't accept has dropped out of the race, the young guy. So what we were trying to do is put the voters together with the candidates in an environment where they can have one on one questions. This isn't going to be a three-minute stump speech followed by three canned questions. It's going to be, I walk up and I talk to you, I ask every question on my mind and I get your input. Then I walk across the hall to your opponent and I talk to him, and maybe it rings some bells and I come back and I ask you again, so by the end of the evening I would have had a chance to really probe into your thinking and get an honest appreciation of where you're coming from, better than I could have gotten from a forum."
The crowds around individual tables told a story: Jon Netts, incumbent mayor and the city's longest-serving politician, was never at a loss for inquirers—or words of his own. In a different place and time, Netts might have rivaled Anthony Trollope for word production. He was also positioned first, as you entered the hall, catching that first wave. Next to him was Holsey Moorman, the incumbent council candidate running from District 2 against challenger Bill McGuire, further down the row. McGuire identifies himself with the tea party. Organizers had placed Jason DeLorenzo between Moorman and McGuire. DeLorenzo is running for Ditsrict 3, an open seat vacated by Mary DiStefano, who is term-limited. Each had a steady stream visitors.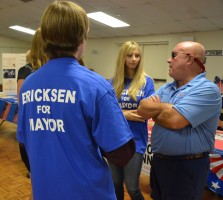 Across the hall, tables were set up for Dennis Cross, the candidate who said he felt like a yo-yo—from not knowing from one week to the next whether he was a qualified candidate, then not knowing when, in September or November, he would get to run. Cross is running against DeLorenzo. He would like to identify himself with the tea party, but there's a bit of controversy around that: the Flagler County Tea Party chairman, Tom Lawrence, is supporting DeLorenzo, a Democrat. Moorman, too, is a Democrat, though candidates prefer to say that the race is non-partisan. The other candidates are all Republicans.
Cross, like Charlie Ericksen at the neighboring table, chose not to stand behind their tables like other candidates, but to mingle in the center of the hall and hold their conversations there. Ericksen said he had contact with 125 people with whom he hadn't previously spoken. "I did not sit down," Ericksen said, "as I think it offensive for residents to come up to elected officials who are either seated, awaiting people, or unwilling to stand up and talk." Ericksen projects a laid back, unassuming demeanor that masks a skill for sharply cutting remarks when he wants to make them: the statement was a dig at both his opponents, Netts and Joe Cunnane, both of whom sat throughout the evening. Several young people with blue Charlie Ericksen shirts walked around like biped billboards. They were members of Teens in Flight, on whose board Ericksen serves, and whose president, Jack Howell, is an Ericksen supporter.
If Netts was busy, Cunnane, a perennial candidate for mayor, was not. His table was the second-loneliest of the evening despite a large bowl of Hershey kisses. It wasn't as lonely as the table next to his: that of Ray Minami, the recent Matanzas High School graduate who briefly entertained a run for mayor. He was a no-show.
The sort of questions candidates were asked during the evening is a gauge of what that particular group (and particularly influential group) of voters is concerned with. Two issues were mentioned by every single candidate as eliciting recurring questions: the proposed city hall, and taxes. Every candidate was asked whether he supported a new city hall. To one degree or another, every candidate said no, at least not in the way that the project was proposed earlier this year—as a $10 million, cash project. But they each had varying degrees of qualifiers, saying they'd welcome a referendum on the project, and consider a city hall to be in the city's future.
But taxes topped the list. "Taxes and spending was the absolute number question people had," DeLorenzo said. "The interesting part about that is that other than for the incumbents, this election won't have anything to do with that because the initial millage rate is going to be set Aug. 6."
None of the candidates said that people made a distinction between raising the tax rate as opposed to raising people's tax bills—to different things: the rate could go up and still generate less revenue, and lower tax bills for residents, because property valuations have fallen so far. But most voters don't see it that way. To them, if the tax rate goes up, it's a tax increase regardless.
"Don't raise our taxes," Moorman kept hearing all evening, "but also, don't cut our fire and emergency response, don't eliminate that, maintain our roads, we like the beautiful landscaping, we like the paved roads, we like the service we're getting. But don't raise our taxes. So how do you do that, how do you maintain what they have without paying for it? It's not free, so somewhere along the line you have to reduce services or pay a little more to maintain the services we currently have."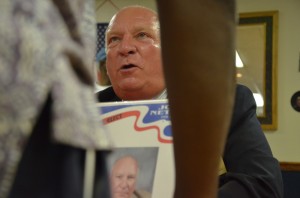 Netts said he spoke to about 20 to 30 people wearing tea party shirts, half of whom told him he had their support. That would be like a team going on the road and winning half its games: not a bad percentage, if home turf produces a higher result.  "What was interesting, as I look back on it," Netts said, "the bulk of the questions were about taxes, tax rates and government spending and not a lot of questions about economic development and what government is doing to rectify the situation, which is kind of interesting."
Ericksen, one of the newcomers to political races, was asked the questions about city hall and taxes, but also about his work experience, whether he would sell the city's golf course—a big money-loser since the city acquired it—whether he would consider consolidation of fire departments (a question posed several candidates) and, in what appeared to have been a prepared line of questioning that other candidates also heard, repeated questions about City Manager Jim Landon's contract and his pay (the manager made $183,000 last year; his total compensation package was $218,000.  Ericksen considers Landon overpaid. Netts has always defended the contract.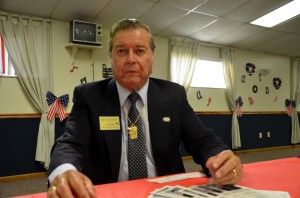 Other questions included inquiries about the city's "neighborhood stabilization program," where the city takes over distressed properties, rehabilitates them and sells them to qualified buyers as a way to reduce the backlog of foreclosed properties. Cross said various people spoke to him disapprovingly about the program. He himself has no objections to it except its rental component: he doesn't want to the government acting as landlord.
The evening lasted about two hours before people left or remnants shuffled over to the bar for a drink in the adjoining hall.
"I went around, got a consensus of all participants, and all of them told me that they were all treated respectfully, with no animosities shown or no vulgarity shown, and it was a very, very good meeting," Vince Ligouri, a tea party member, said. "Whether they were tea party or not I couldn't distinguish unless they were wearing a t-shirt. But that was my job, to go around and make sure that nobody was disrespectful and nobody jammed anybody with anything."
No other candidate evening is likely to draw the same crowd, except perhaps the evening organized by the local chamber, Realtors and homebuilders on Aug. 24. That will combine a social hour, when people can mingle with candidates, with a more formal questions-and-answer period.