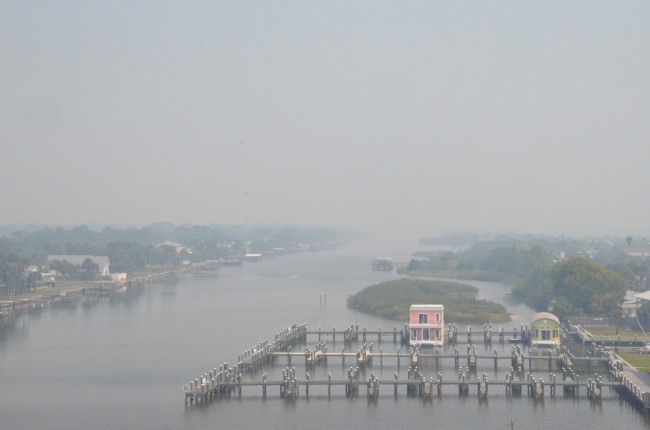 Last Updated: 12:51 p.m.
The number of active wildfires in Flagler County has grown to 22, including seven new ones in the last two days, while the Espanola fire, the largest by far, continues to devour more acreage. It crossed the 4,000-acre threshold Monday afternoon, and heat, wind and dry weather ahead has fire officials on guard for sudden runs of the fire–as happened on Monday, when the fire charred 250 acres of a pocket inside the fire lines that had until then been spared.
Volusia County, whose fire crews had been helping Flagler, pulled out to battle a sudden, devastating blaze that demolished at least three homes and more than three dozen other structures while charring 1,000 acres east of Osteen on Monday. The Division fo Forestry sent some of its crews and resources normally based at its district headquarters in Flagler down to the Volusia fire, which is also pulling in other resources from elsewhere. What that means for Flagler is that it's entering the sort of situation that heightens the situation's dangers: as more fire pop up elsewhere in the state, or even in the county, resources are stretched thinner and thinner.
The governor's state of emergency declaration, however, is designed to help. And should a federal emergency declaration follow, that would free up federal resources as well. It's unclear whether the governor is requesting a federal designation. Scott will be briefed on the fires at Flagler County's Emergency Operations Center–his first trip to a fire zone–this afternoon at 4. He may take a tour of one of the fires, likely the White Eagle fire.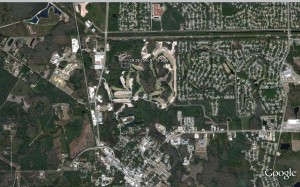 The seven new fires were triggered by lightning strikes in the last two days. One of the new fires, though small–at 1 acre–is close to residential areas. It is northwest of the Grand Reserve golf course, north of Bunnell and southwest of Palm Coast. (See the adjacent satellite image for the location, marked out by its coordinates, to the right.) Firefighters have lines around the fire and are controlling it.
Another fire broke out near the relay tower on State Road 11, in the southern portion of the county. That fire is less than a third of an acre. A third fire broke out in the vast empty expanse west of the Espanola fire. That's the Road 72/76 fire. It's 2 acres.
The weather is definitely not cooperating with us," Flagler County Fire Chief Don Petito said this morning. "The humidity is down, temperature is up, winds are up, as you can see, feel it, and fires are definitely behaving erratically."
This morning, the 2-week-old White Eagle fire started to re-burn, which means fuel (leaves, pine needles, wood) caught fire on areas that had already burned. No new acreage was burned. But that fire is up to 134 acres, and still drawing considerable resources. The Palm Coast Fire Department is handling that one with help from the Division of Forestry and the county.
"Right now we're in a fluid situation. The plans change as we go due to the lightning strikes," Petito said. More fires are expected to be discovered today and tomorrow, since fires started by lightning strikes can take up to two days, sometimes more, to declare themselves.
The smoke from the fires has become a serious issue for residents on the east side of the county, many of whom were seen Tuesday morning walking or driving with masks on.
The Flagler County Health Department issued the following recommendations regarding smoke:
Use common sense. If it is smoky outside avoid prolonged outdoor activities. It is especially important to limit time spent outdoors for children and persons with existing medical conditions.
Stay indoors and run your air conditioner, if you have one. Keep the fresh air intake closed and the filter clean to prevent bringing additional smoke inside. For best results, run the air conditioning with recirculated air.
If you don't have an air conditioner, staying inside with the windows closed may be dangerous in extremely hot weather. In these cases, seek alternative shelter.
When smoke levels are high, try to avoid using anything that burns, such as wood fireplaces, gas logs, gas stoves – and even candles. Don't vacuum. That stirs up particles already inside your home. And don't smoke tobacco.
Follow your doctor's advice about taking your medicines and following your asthma management plan if you have asthma or other lung disease. Call your doctor if your symptoms worsen.
For additional information, contact the Flagler County Health Department at 386/437-7358.