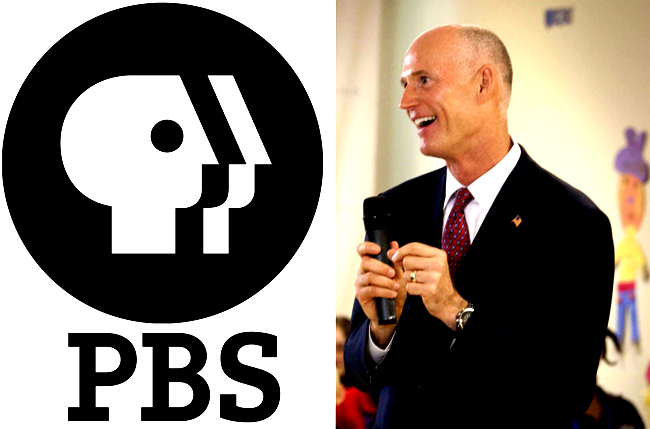 In an unexpected move last week, Gov. Rick Scott cut all state spending to public television and radio stations – an action that trimmed $4.8 million from the state's $69 billion budget.
Scott defended the public broadcasting cuts and others included in $615 million of budget vetoes he unveiled Thursday during a budget signing ceremony at a retirement community where he called the vetoes a rejection of special interests, a label that made public broadcasting officials bristle.
"It is particularly perplexing to us that we are lumped in this category of special interest groups," said Michael Boylan, the President and CEO of WJCT Public Broadcasting in Jacksonville. Boylan said he can't remember a time when a governor has vetoed all state funding for public television and radio stations.
At least one Republican lawmaker criticized the decision.
"I believe public broadcasting does provide a service for individuals in the state of Florida," said Sen. David Simmons, R-Maitland, who helped write the portion of the budget that funded public broadcasting. "Apparently, the governor has completely eliminated the funding for public broadcasting and he and I have a difference of opinion."
The veto means that each one of Florida's 13 public radio stations, including WMFE in Orlando (90.7 FM) and WJCT in Jacksonville (89.9 FM), both of which can be heard in Flagler County, is losing $61,715, and every one of the state's public television stations is losing $307,447. Public broadcasting in Florida was already strapped, particularly the television stations. Orlando's WMFE in April announced that it was selling its television station to concentrate exclusively on its radio programming.
Since 2007, direct support for WMFE-TV had decreased 68 percent from corporate donations and 40 percent from individuals. Its on-air pledge drives, whose programs are driven by PBS, were down 34 percent, and the station came up more than $300,000 short of its Fiscal Year 2010 fundraising goal. In contrast, the radio station recently completed its spring fundraising program and reached its $230,000 goal ahead of schedule. WMFE-FM 90.7's audience, since the all-news format change in 2009, has experienced strong, consistent growth.
Nevertheless, the impact of the Scott veto on radio and television stations is "significant," Boylan said. While stations can survive without state funds, it will have an impact on stations that use this money for 10 percent or more of their budgets.
Nationally, Republicans in Congress have pushed for eliminating federal subsidies for National Public Radio, which received $5 million last year. A bill to ban federal NPR funding passed the House of Representatives in February but has not passed the Senate.
Public broadcasting television and radio stations had been bracing for a 30 percent cut in state funds that the House and Senate had already agreed to in the state budget. The 30 percent cut came on top of a 60 percent drop in funding over the last five years, Boylan said.
"It wasn't like we had been riding a huge wave, we have seen monumental cuts," Boylan said.
"The consequences will be seen and felt," Boylan said. "Many of our stations, for a number of years, have been cutting staff and cutting salaries." These stations will rely more heavily on pledge drives, corporate donations and grant funding to shore up their budgets next fiscal year.
Public radio and television stations fall under the education portion of the budget because they provide educational opportunities for children, such as programming during the day that day care centers and educators use.
Though he declined to speak specifically to the veto of public broadcasting dollars, Sen. Alan Hays, R-Umatilla, said Thursday Scott's vetoes were a product of a "sick" economy.
"We cannot spend money the way we have been in the past," Hays said. "He had some very tough decisions to make and he just made the decisions he felt were the wise choices."
–Lilly Rockwell, News Service of Florida, and FlaglerLive.