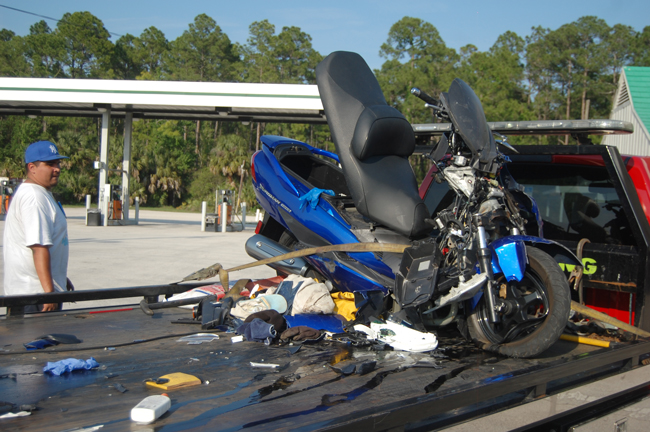 A 76-year-old Daytona Beach man traveling north on U.S. 1 was killed this afternoon when he collided with a Waste Pro maintenance truck that was pulling out of a service station in Korona.
The fatal wreck took place at 3:20 this afternoon. The victim was Gene D. Wilson. The driver of the Waste Pro truck was Charles W. Bowen of Palm Coast.
According to a Florida Highway Patrol sergeant at the scene, Wilson, who was wearing a helmet, was on the inside lane, traveling at around 60 to 65 miles per hour–within the posted speed limit on U.S. 1–when Bowen began pulling his Waste Pro truck out of the Hess service station at 6701 South US1, just south of the highway junction with Old Dixie Highway. Bowen, the sergeant said, must not have noticed the blue scooter traveling north.
The scooter, a 2006 Suzuki Bergman 400 Type S, hit the left front of the truck, a 2007 Chevrolet pick-up, ejecting the rider onto the hood of the truck. The front of the scooter was virtually demolished. The truck's left-front side was severely damaged. The highway patrol put the damage at $20,000.
Non-criminal charges are pending, according to the highway patrol, whose report states that Bowen "violated the right of way" of Wilson's scooter.
Traffic backed up somewhat as one of the two northbound lanes was closed until the medical examiner reached the scene after 5 p.m. and the victim was taken away.