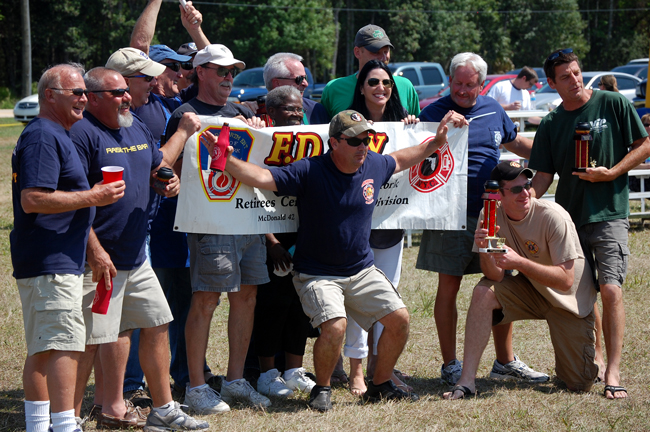 A few years ago a Flagler County firefighter was injured on the job and had to go on disability and file for worker's compensation. It takes time for that paperwork to go through–time enough to put a strain on a family that depended on a fireman's pay. To help out the family, the department's rank-and-file firemen held a chili cook-off to raise money. It has since become an annual tradition, setting aside an emergency fund for firemen injured in the line of duty.
Saturday, on the grounds of the Flagler County Airport, the firemen hosted the third annual cook-off, with live music, games for children, eight entrants and three judges who awarded first place to a team that calls itself Clover Leaf: Andrew and John Keppler, both of them lieutenants in the Flagler County Fire Department, and their uncle John Harrington, an electrician with KDS Electric. It's the second time in three years that the team takes the top prize.
"We had some sick partners last year or we'd have had a three-peat," Harrington said, modestly.
Second place went to FDNY–retirees from the New York City Fire Department who, Richard Bennett, the president of the Flagler County Professional Firefighters Association, said, "come to all of our events and participate. They're always very good to us."
Third place went to Don Petito, the Flagler County fire chief, and Chet Lagana, fleet manager for Flagler County government. The judges were Bunnell City Commissioner Daisy Henry , Flagler County Commissioner Milissa Holland, and Chief Deputy Rick Look of the Flagler County Sheriff's Office.
The event, organized by Denise Pressey, drew some 250 people. It included an extrication demonstration by the Flagler County Fire Department's Technical Rescue Team (TRT), just back from a daylong training session in a statewide emergency response exercise. Two smashed up cars were used in the demonstration, which entailed literally cutting through the frames. (The cars were donated by John's Towing in Bunnell.)
Other participants in the chili cook-off included the Palm Coast Fire Department and the St. Augustine Fire Department, Bunnell's State Street Diner and Jason Prather, son of the late Grady Prather, a local legend in sheriff's office ranks. Grady Prather, who died in 2009, was the longest-serving deputy in the history of the department. He just had an artificial reef named after him by the county commission.