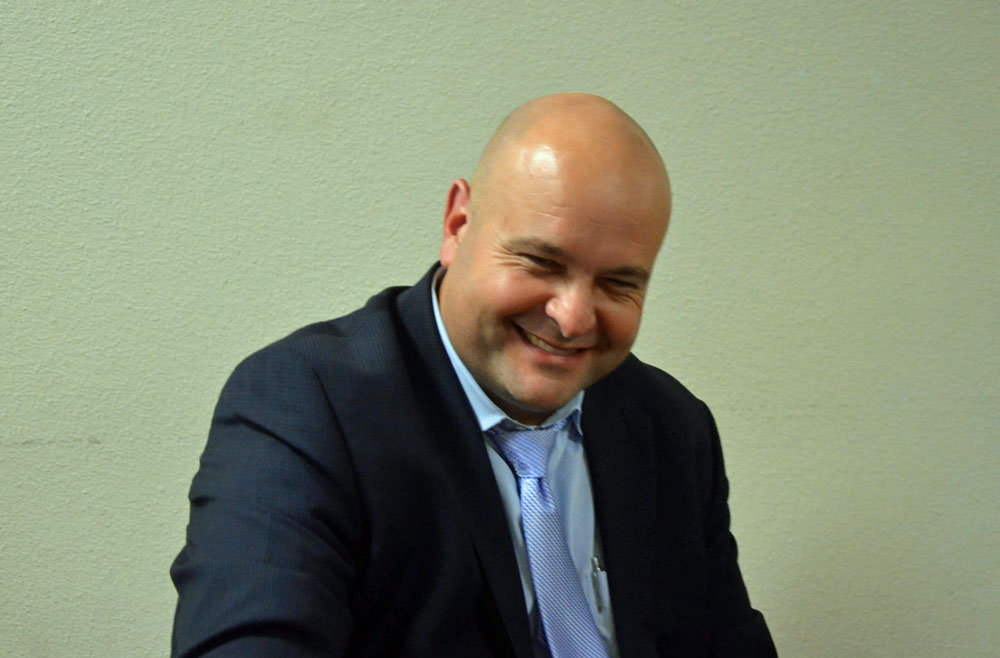 Joe Rizzo, executive director of the Flagler Education Foundation, former co-owner of Woody's BBQ and other restaurants, and an unflagging cheerleader of all things Flagler, died early this morning. He was 47. The cause of death has not been disclosed. Rizzo had long struggled with heart issues, undergoing numerous surgeries over the years.
"Flagler truly lost a best friend of Flagler in Joe's passing," Palm Coast Mayor David Alfin, the immediate past president of the foundation, a business partner of Rizzo's over the years and a man he called his best friend, said this morning. "He had a heart the size of the county and as a friend there were only two questions he would ever ask: when and where. If a friend needed something, those were the only two questions: when do I need to be there and where do I have to be, of course in an effort to help."




"I have had more meetings with Joe Rizzo than any other person in my entire life," Carla Cline, Rizzo's long-time friend, sometimes colleague and fellow-Flagler native, said. "I will dearly miss the moments of my crazy ideas and his calm resolve to making things happen. The community has lost a champion of the Flagler County School System, our friends have lost a person who would do whatever they can to help you in your time of need and his family has lost a hero. Knowing Joe has made me a better person and I will forever hold him close in my heart."
Rizzo's death is a shock for a district that had relied on his confidence and business successes, and that has suffered other notable losses of district leaders in their prime during the pandemic. Rizzo was a ubiquitous presence not just at Foundation events, but at school board meetings, civic gatherings and, often, at other local government meetings, where he kept a close ear to public affairs and put his engagement to profit for the Foundation.
"His passion for helping the entire Flagler County community, but especially the students and teachers of Flagler Schools," the Foundation said in a statement this morning, "seeped through his pores and was evident in everything he did. Joe not only dedicated his time at the Foundation to increase its assets and influence on students' lives, but he also taught and led a team that would stand by him to achieve his goals."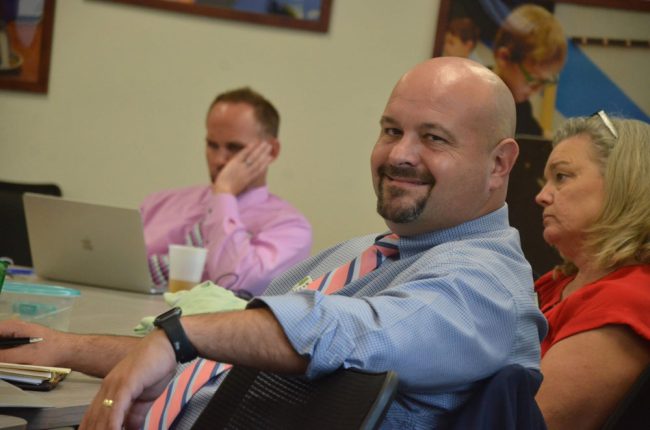 Rizzo, a Flagler County native and Flagler Beach resident, took over the Flagler Education Foundation–the school district's non-profit support arm–in 2017, rapidly increasing its revenue through public and corporate contributions. He'd been named president of the foundation in 2013 after joining the panel at then-Superintendent Bill Delbrugge's invitation several years earlier. Putting his trove of contacts and his affability to work, within a year he'd increased foundation revenue by 70 percent on the strength of an outpouring of local donations. By 2020, the organization reached the $1 million mark in fundraising.




Rizzo began making his mark in the county in 1998 when, along with Matt and Scott Crews and the late Josh Crews, opened Woody's BBQ at Flagler Plaza, quickly turning the restaurant into a sort of rolling town hall, where local officials and others gathered, dined, drank, and every Wednesday milled around the vintage car show, which is still ongoing. Rizzo then joined partners to open a restaurant at Bull Creek Camp, one in Flagler Beach (Island Grille), and, briefly, a pizza shop in Bunnell, in an association with Trevor Tucker, the school board member (and current chairman) and a long-time friend.
Rizzo divested himself of the restaurant's ownership when he took over the Foundation. One of his signal successes there was multiplying the Foundation's ability to underwrite the college education of students through the Take Stock in Children program, which numbered about 20 students when he took over, and now numbers 200. The increase was enabled directly by Rizzo's fundraising. He was also instrumental in underwriting the school district's flagship program, now extant in every one of the district's nine traditional campuses.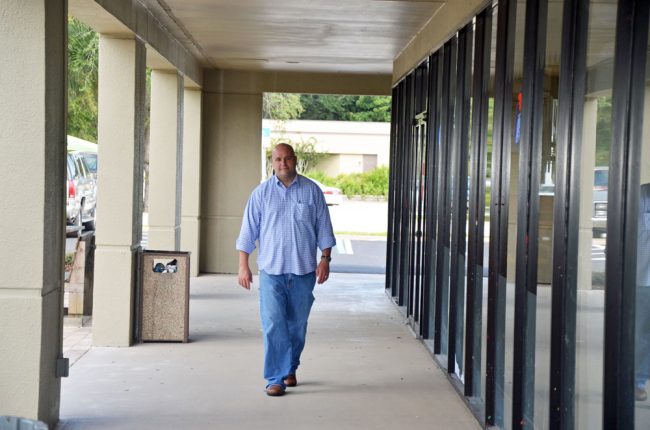 Just last Tuesday, he was leading the Foundation in its 18th annual Mardis Gras & Casino fund-raiser at Grand Haven Golf Club.
Rizzo was the son of a career law enforcement officer (in New York). His mother had been a sheriff's executive assistant in Flagler. He graduated from Flagler Palm Coast High School in 1994. Rizzo's son Joseph is serving in the Navy. His daughter Caroline is attending Mars Hill University–the same institution from where Rizzo had graduated, and where he met his wife–and his wife Teresa is employed with the state Department of Education. The foundation's current president, Jennifer Thornton, Alfin said, will convene a meeting to discuss succession plans. The executive director's position reports both to the Foundation board and to the district superintendent (the salary is shared by the two entities). It is actually the district that posts the position and hires the director, with the ratification of the Foundation board, the school board's attorney said this morning.
In mid-morning, Tucker issued a statement through a school district release: "I, as well as the other members of the School Board, am stunned by this news and lift up Teresa, Joseph, and Caroline in our prayers. Joe's legacy has a far-reaching impact. If there was an opportunity to support a program in Flagler Schools over the past two decades, Joe Rizzo had a hand in it. His work with Carla Cline in creating the Josh Crews Writing Project has given so many of our students a voice. Joe and the team he built within the Flagler County Education Foundation became a vital role in the success of our district. Personally, I am honored to have called him 'my friend'."
Josh Crews had been among Rizzo's closest friends, and was a bartender-intellectual at Woody's when he died in a car crash in November 2010. In his memory, Cline and Rizzo developed the annual Josh Writing project, drawing on Crews's own love of reading and writing. They involved area students in immersive writing that turned their work into booklets, and that the Foundation then showcased in an annual banquet-fundraiser.




"Joe was Flagler County," Superintendent Cathy Mittelstadt said in a statement, also voicing her grief for the family's loss. "His ability to speak with people, no matter their background or upbringing, his larger-than-life personality, and his passion for Flagler Schools. If you look up the word 'iconic,' Joe's picture would be smiling back at you. I had the opportunity to watch Joe hand out grant checks to our teachers. It was easy to see in those moments that his passion was in helping everyone associated with Flagler Schools. This is a huge blow not only for us within our district but for all of Flagler County."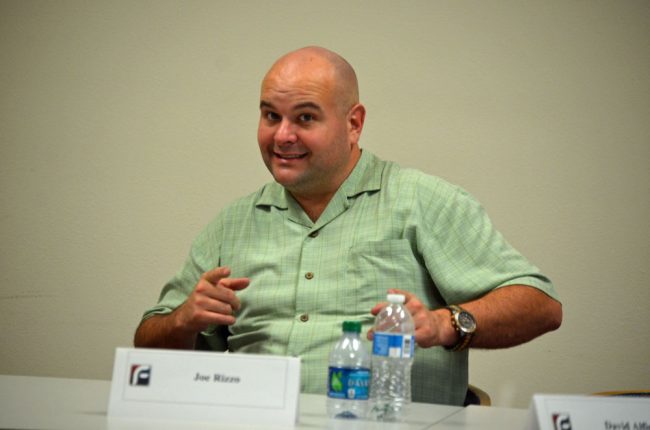 Mittlestadt's and Alfin's characterization of Rizzo as being Flagler County is not an exaggeration. His reach across the county, across sectors, across governments–an "unspeakable loss to multiple segments of the community," as Flagler Beach attorney and Planning Board member Scott Spradley put it–is hard to measure and not easily paralleled, especially in a county now far more populated by transplants than natives like him. With shock and awareness of his loss came the tributes.
"I didn't know walking into today's meeting I'd be smacked with the news of Joe's passing," County Commissioner Andy Dance, who served 12 years on the school board, said at the end of the commission meeting. "I really haven't lost a friend in quite a while. It's really hard to to put in words. Our sons wrestled together from elementary school all the way up through high school. So, you know, traveling with the family and all these events. Most recently just Tuesday night the Ed foundation Mardi Gras event at Grand Haven, kind of Joe's last official event, but every time I stopped in here at the [Government Services Building] I took a diversion to the second floor and just popped in to talk about the news of the day and different activities going on in the county, in the schools." Rizzo's Education Foundation office is on the second floor of the GSB, across from the property appraiser's office.
Each county commissioner spoke of the loss in turn, the news rippling across the community in sorrowful reactions.
"It would be an understatement to say that he was a fierce and tireless advocate for Education and was a master at fundraising for programs like Take Stock in Children and developing a partnership for a Healthcare simulator within our High School to name a few of his incredible achievements," former Palm Coast Mayor Milissa Holland said. "He met all challenges in his life with the same positive attitude and vigor. His family and community were amongst his top priorities and he spoke of both often with a sense of immense pride. What a void we will have moving forward as Joe was one of a kind and will be sorely missed. My heart breaks for his family today."
[This is a developing story]