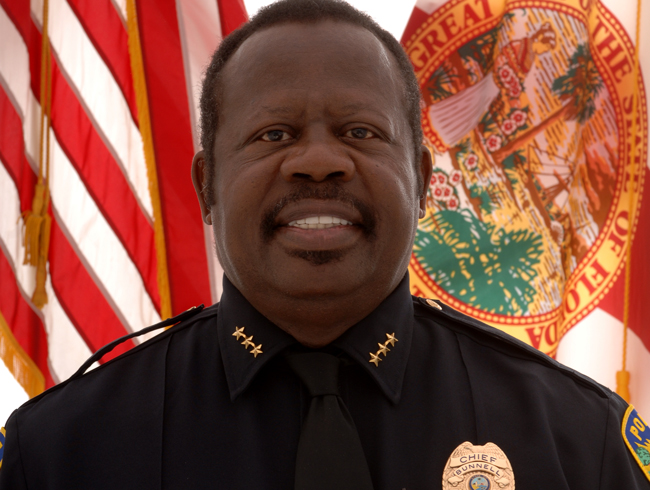 Ex-Bunnell police officers Lisa and John Murray, who are married, were arrested on June 16 on six felony charges–police misconduct for both, evidence tampering, crack possession and grand theft for John Murray.
The arrest was part of a wider investigation into disturbing irregularities within the Bunnell Police Department, including instances of systemic favoritism that benefited Bunnell Commissioner Jimmy Flynt's towing service, intimidation of drivers at traffic stops, and legalized extortion: the city had passed an ordinance enabling police to seize vehicles whose owners were charged with certain misdemeanors, in contravention of state law, which forbids seizing vehicles for less than felony charges. That issue was resolved last month when the city commission rescinded that ordinance and put in place a mechanism for vehicle owners to reclaim the $350 fee they were wrongfully charged (but not the hundreds of dollars they also had to pay ant of three towing services, including Flynt's, that profited from the scheme). The city is not making more than minimal efforts to inform vehicle owners that they may get their money back.
The State Attorney's investigation that unraveled the Bunnell Police Department's problems left many questions unanswered. Left dangling, for example, is the matter of favoritism toward Flynt, who not only benefited from towing vehicles outside the officially sanctioned towing rotation, but also had access to the city dump, where he disposed of tires on his own, without paying tire-disposal fees required by state law. He had been given a remote-control device to enter the city's dump at will–also an unresolved matter. All along, Bunnell Police Chief Arthur Jones and Bunnell City Manager Armando Martinez (who is the city's chief law enforcement officer) have said that they were unaware of the irregularities, the favoritism, or the evidence tampering that involved John Murray.
Even after Murray was arrested, some of the evidence that disappeared ion his watch mysteriously reappeared in his office. That issue has never been resolved, which means that someone inside the department other than Murray was unquestionably involved in evidence tampering–and may still be in that department.
State Attorney invesitigators raised the issue of John Murray's evidence tampering during an interview with Jones. But at every point, Jones made sure to steer the issue back to Murray:
"It begs the question," the investigator says. "If it was somebody else, and I'm Lt. Murray, and I've got evidence in my office, and I keep that locked, and in my desk drawer I see evidence envelopes that are cut open with evidence missing, the first thing I know to do as the evidence custodian is go tell my boss. Look what I've discovered, in my desk, in my locked office, here's a large amount of evidence that somebody's opened, unsealed and removed."
"Exactly," Jones says.
"So it wasn't like it was thrown away somewhere [garbled] or whatever. It was there in his workspace every day, under the desk, in the desk, in the drawers."
"Which is what I would have said to him, to cooperate. You know, there's no way he could not have known, that amount of evidence, and the condition of the evidence in that office, and nobody else could have been in that office with that type of evidence being already tampered with in some instances, or just laying around in his office in other instances, that he could not have known about, so yes, and if he knew about it, and he know as an administrator [sic.] what his next step should have been, but I can't see nobody else going in his office doing that so he had to be the one."
Watch the interview excerpt:
[media id=126 width=500 height=400]
In the following clip, Jones reacts with disbelief over the way two people were stopped and wrongfully charged:
[media id=125 width=500 height=400]
On Monday, the Murrays' attorney, Mike Lambert, successfully argued before Circuit Court Judge Kim Hammond that the six charges the two ex-cops face should be separated. Should they go to trial, Lambert said, they should be tried on each count separately. The state did not object, and the judge agreed, which means that the judicial system would foot the bill–and be required to invest the time–for six separate trials, recruiting six separate juries, to decide the Murrays' fate. Their cases are not likely to go that far: deals are in the works.
In the following clip, Dawn Davis, John Murray's ex-girlfriend, describes how he used to supply her with pain pills:
[media id=124 width=500 height=400]
The matter is nowhere near being resolved. Flynt and the Murrays have remained close since the end of the inquiry, and Flynt as a commissioner never addressed the issue, either to his colleagues or to the public. Flynt's business is teetering: Flagler County Sheriff Don Fleming bumped Flynt's company off the towing rotation (though the Florida Highway Patrol continues to use Flynt's services). And the many questions raised by the State Attorney's inquiry–including the mystery of the disappearing and reappearing evidence, the favoritism, the chronic laxity in accountability–have been left dangling.