Vote Brady for Mayor on August 18, 2020
My Position on issues in Palm Coast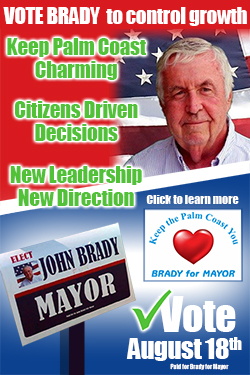 I am asking for your vote to become the next Mayor of Palm Coast.
My wife and I have lived in Palm Coast for 10 years. We moved here because we found Palm Coast to be a beautiful, charming, vibrant, diverse and growing community (and snowless!).  We have 8 children, 22 grandchildren and 3 great grandchildren.
While there are many issues on the national, state and even the county level, I want to focus on issues that affect the citizens of Palm Coast. My focus is to keep life beautiful and affordable in Palm Coast.
I believe the current city council lacks the leadership that Palm Coast needs. We build too much, borrow too much and spend too much. For too long, the current City government has chosen to spend money on wants and denied spending on needs. This has resulted in the City having a long term debt of 180 million.
We are all watching our money, cutting costs where we can and balancing our checkbooks.  Your Palm Coast government needs to do the same! Some of the issues in Palm Coast:
Eliminating making stupid decisions like turning 2 lanes of traffic into one lane at a cost of 4M. (Whiteview Parkway)
I have made my thoughts public in over 30 letters to the editors of local newspapers and FlaglerLive. My comments encourage more efficient and cost-effective solutions to issues that face our local government. The rationale behind this is that expensive solutions raise the cost of government. Increased cost of government means tax increases. Generally, tax increases adversely affects those that are unable to pay increased taxes. This includes senior citizens, young families and people on a fixed income. I will fight against any proposed tax increase.
Today, money is allocated through "interlocal" agreements. That means that city funds are transferred to pay for functions that should be the responsibility of another government entity. An example of this is the payment in excess of 3M to the County for additional sheriff coverage. The Mayor and City Council need to be fiscally responsible and only use city funds to cover city expenses
Palm Coast has a City golf course. Today it is operating at an annual estimated deficit of $150K. This is a huge drain on our funds. Together let's look for solutions, not just shrug our shoulders and say "Well, that's the way it's always been'. When making capital improvements there should be so consideration to Return on Investment (ROI)
Some of the current plans to build multi story condominiums in a local neighborhood would not be in keeping with the charm of Palm Coast. I will fight against multi story condominiums in existing single family communities.
When a builder wants to create a new multiple housing developments, there should be a requirement for sidewalks, street lights and a large slab of concrete  at key intersections that maybe used for a school bus stop waiting area. Another possible requirement would be to put a hot water accelerator on the hot water heater to avoid the extreme waste of water waiting for hot water to get to far bathrooms. This last requirement should be on all new housing starts.
No zoning or code changes should be made. Soil sample should be made prior and all harmful toxins ruled out prior to any building.
Some consideration should be given into building "solar farms" on the large vacant land areas in the city. Prime areas for a "solar farm" might be the vacant Matanzas golf course or the area west of US 1.
Ask yourself why you moved to Palm Coast?  We will all agree that Palm Coast is beautiful, offers a healthy lifestyle and is affordable to a large number of people. The priority must be to insure that our parks, paths, greenways and all recreation areas are maintained and available to all citizens and guests. We need to be cautious in allowing development only when there is little disruption of greenway and the natural wildlife that lives there.
I will encourage ethnic, art and music festivals to use various venues in the City
The City needs to focus on needs as opposed to wants when it comes to spending tax dollars
That in a nutshell is what I want to make sure happens in Palm Coast. As your Mayor, I will address these issues; establish improved communications with my constituents. One new way to start a dialogue is to host "Mayor's Wednesday", at local business places and spend time at their business.
Please vote Brady for Mayor on August 18, 2020
For more information
[email protected]
Cell 610-428-3139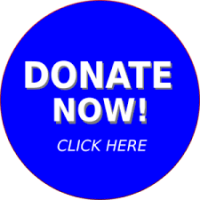 Learn more about John Brady:
I have filed to run for Mayor of Palm Coast. Therefore, I would like to tell you why and a little about myself.
I want to be Mayor because I want to see Palm Coast remain a beautiful, charming, vibrant, diverse and growing community. My desire is to have Palm Coast live up to its slogan, "Find Your Florida" even as Palm Coast continues to grow responsible.
Elected officials should represent the "will" of the citizens and be responsive to the citizens. One the many challenges I see, is changing the one-man rule as embodied in our Charter and personified in the City Manager.
Now, a brief bio of myself:
Born and raised in Jersey City (Hudson County) NJ
Attended St. Aloysius Elementary and High School
Graduated from St. Peters College
Lived in Bethlehem (Northampton County) PA
Moved to Palm Coast (Flagler County) FL in 2010
Married 52 years with 8 children, 22 grandchildren, and 3 great grandchildren
Career:
Employed by Commonwealth of Pennsylvania
Certified Master Trainer
Management Training by Kepner-Tregoe
Manager of Child Abuse Hot Line
Director of Benefit Delivery Systems
Employed by County of Lehigh
Crisis Counselor
Director of Mobile Crisis Unit
Employed by County of Northampton
Child Protective Service Supervisor
Community involvement:
Served on Community Action Boards in Pennsylvania
Serving on Focus on Flagler Youth Coalition Board
Member of Toastmasters
Member Flagler County DEC
Completed Palm Coast Citizens Academy
Completed Flagler County Citizens Academy
Completed Flagler County Sheriff's Citizen Academy
As my background indicates, I have a diverse and lengthy career in supervision and management not only at home but also in my work experience
Vote Brady for Mayor on August 18, 2020
For more information:
[email protected]
Cell 610-428-3139