You're welcome to send your Live Wire news tips or suggestions to [email protected].
Today's Live Wire: Quick Links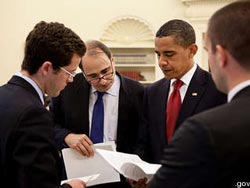 No surprise there: even with a majority to work with for the next two months, and a campaign pledge to keep, Obama is giving up on fiscal responsibility, in lock step with the GOP's champions of hypocrisy. From TPM: "The White House signaled last night that it will cave to the GOP and temporarily extend all of the Bush tax cuts. […] The Bush tax cuts will expire at the end of the year. GOP leaders want to extend all of them permanently, or at least for as long as possible. The White House's plan was to permanently extend the tax cuts for a family's first $250,000 of income ($200,000 for individuals), but to let taxes on income above that level revert to Clinton-era rates. To bridge that impasse, the White House signaled a willingness to deal with the two income categories separately: permanently extend the tax rates for the middle-income brackets, and temporarily extend them for household income above $250,000 (or individual income over $200,000). The GOP smelled danger, though, and balked. If the top rates are extended temporarily, and "decoupled" from the middle income rates, then Republicans have to fight, a year or two down the line, for tax cuts for the rich alone. So Republican leaders drew a line, and said they'd accept no compromise that didn't extend all rates for the same amount of time. This is where the White House has apparently decided to cry uncle."
McClatchy adds this perspective: "But the path to getting that fix approved is going to be bumpy, and there's fear that if the debate gets unusually ugly, the extension won't be approved at all this year. Failing to act means tax rates will jump next year and will return to pre-2001 and 2003 rates. Nonetheless, there's reason for optimism that the Dec. 31 deadline will be met." Odd that the news service characterizes a caving as "reason for optimism."
Odder still that this is all unfolding just as the federal deficit-cutting commission is releasing its recommendations, including higher taxes on capital gains and dividends, some lower marginal tax rates, and eliminations of all sorts of deductions, perks and middle-class welfare such as the mortgage rate interest deduction for the superrich (the whole deduction should go, but the commission is asking for its repeal only on amounts higher than $500,000).
See Also:



From Pew: "The public, voters and non-voters alike, has a subdued reaction to the Republican Party's midterm election victory. […] The latest national survey by the Pew Research Center for the People & the Press, conducted Nov. 4-7 among 1,255 adults, finds 48% saying they are happy that the Republican Party won control of the House while 34% are unhappy. Four years ago, 60% said they were happy the Democrats won full control of Congress, compared with just 24% who were unhappy. That mirrored the public's reaction in December 1994 to the GOP winning control of Congress for the first time in 40 years (57% happy vs. 31% unhappy). […] The public has a mixed reaction to the Republican policies and plans for the future: 41% approve, while nearly as many (37%) disapprove. Approval is somewhat greater among voters (45%) than among non-voters (35%). But on balance, both the general public and voters express less positive views of the GOP's policies than they did of the Democrats' proposals after the 2006 election. The public is skeptical that the GOP will be successful in getting its programs passed into law. About four-in-ten (43%) think they will be successful while 37% say they will be unsuccessful. Following the elections of 2006 and 1994, when the victorious parties gained majorities in both the House and Senate, far more people thought they would be successful in enacting their agenda (59% in 2006, 62% in 1994). There is little optimism that, in the wake of the election, relations between the two parties will improve. Just 22% expect relations between Republicans and Democrats to get better in the coming year, 28% say they will get worse, while 48% say they will stay about the same as they are now. Two years ago, after the presidential election, 37% of voters expected partisan relations to improve and just 18% thought they would get worse." The full report.
See Also:


The drive is on to raise thousands of dollars for Flagler County's food pantries and to pay for the Nov. 24 Thanksgiving meal for some 2,000 people in the second annual Feed Flagler celebration. The effort is also designed to stock families' and food pantries' shelves well beyond Thanksgiving, which is what makes this necessary and particularly worthy. There's also a challenge on: several companies and government agencies are competing to out-raise each other, in money and food donations.
Please do your part. We're doing ours. We started our own fund-raising through FlaglerLive, seeding it with an initial contribution and further contributions from Hollingsworth Gallery's JJ Graham, David Millonig in Pensacola, Nancy Nally in Palm Coast and Darrell Smith in Flagler Beach, and Palm Coast Bible Church's $100 on Monday. Tuesday's contributors: Inna Hardison and Anthony Mike Kales. Wednesday's contributors: Thank you Kendall Clark. Today's: Jim Guines, one of the more generous men in the county, getting us up to $400. Thank you Jim.
If you'd like to donate but would prefer to remain anonymous, just send us a note here and we'll leave your name out of it. Thank you all. Keep it coming.

Here, so far, is the list of monetary donors through the county's efforts:
Bug Guard Services, Inc.
First Coast Community Credit Union
Grace Tabernacle Ministries
Prosperity Bank
Temple Beth Shalom
University Women of Flagler, Inc.
Jean MacAllister
New Beginnings Church, Inc.
Cornelius & Ruth Van De Weert
P. Hassid
Flagler County's three Rotary groups
Tax Collector Suzanne Johnston
John's Auto Parts of Bunnell
Adella Latus
Michael and Patricia Danforth
FlaglerLive
Here are the members of Team Flagler's Food Drive Challenge, coordinated by the county's Joe Mayer and Christie Mayer (313-4094):
Flagler County Board of County Commissioners
Flagler County Tax Collector
Flagler County Property Appraiser
Flagler County Schools
Flagler County Health Department
Flagler County Clerk of Court
Flagler County Sheriff's Department
Flagler County Supervisor of Elections
City of Flagler Beach
City of Palm Coast
Chicks With Cans
Waste Pro
Hammock Dunes Club
Pop-a-Lock
See Also:


Real Diversity Means We're Not All the Same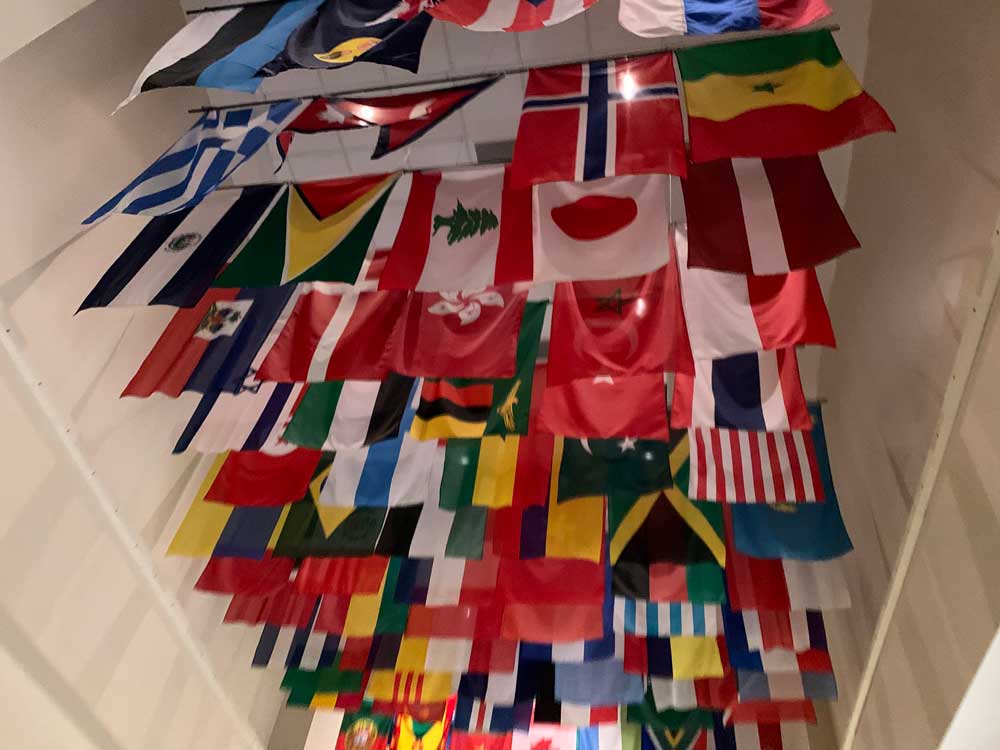 "The way Americans often squirm when terms like race and diversity are introduced suggests that even many best-intentioned approaches to these defining issues are all wrong." From Niller-McCune: "Well-intended laws, initiatives and other efforts to promote equality have provided opportunities for minority groups but have also resulted in members of such groups, whether poor, black, gay or non-English-speaking, routinely being labeled as not only different from the "norm," but also "at risk." That, in turn, is an extension of another prevailing negative notion, which is that minorities or underrepresented groups have — or even are — a problem or are somehow "in deficit," that is, missing something they need to thrive, rather than possessing a wealth of cultural, social and linguistic assets. […] While people tend to have good intentions, say the experts, parents, teachers and administrators have routinely fallen into the trap of setting unambitious goals for diversity education and inclusion. The bar is set at having two people of different race, ethnicity, sexual orientation, able-bodiedness, religion, etc., be able to be polite. […] Schools often incorporate multicultural materials of various kinds to forward the message of acceptance, but Bigler, at the University of Texas, has found most such materials to be "little more than depictions of a bunch of rainbow kids dancing around." A positive image? Perhaps. An informative and useful one? Not so much." The full article.
See Also:


So Long Serpico: Dino De Laurentiis, Prolific Film Producer, Dies at 91
From The Times: "Dino De Laurentiis, the high-flying Italian film producer and entrepreneur behind such movies as "Serpico," "Death Wish" and "Three Days of the Condor," died on Wednesday at his home in Beverly Hills, Calif. He was 91. […] Mr. De Laurentiis's career dated to prewar Italy, and he worked in a wide range of styles and genres. His long filmography has several important titles of the early Italian New Wave, including the international success "Bitter Rice" (1949), whose star, Silvana Mangano, became Mr. De Laurentiis's first wife; two important films by Federico Fellini ("La Strada," 1954, and "Nights of Cabiria," 1957); and the film that many critics regard as David Lynch's best work ("Blue Velvet," 1986). But Mr. De Laurentiis never turned his nose up at unabashed popular entertainments like Sergio Corbucci's "Goliath and the Vampires" (1961), Roger Vadim's "Barbarella" (1968) and Richard Fleischer's "Mandingo" (1975) — several of which hold up better today than some of Mr. De Laurentiis's more respectable productions."
Watch this from Serpico (1973):
See Also:


Looking Back at The Idea of a University
From the Chronicle of Higher Education: "John Henry Newman's 1852 collection of lectures and essays, The Idea of a University, goes to great length to defend the inclusion of theology in the curriculum of the then-new Dublin unversity. Newman, who had converted to Roman Catholicism from Anglicanism, was the driving force behind the university's founding and its first rector. For American universities, teaching theology was never an option, and thus many of Newman's efforts seem to evaporate instantly. Yet the way he advocates the inclusion of religious instruction contains ideas that are applicable to today's curricular debates.
"[…] Applying Newman's arguments to today's academe might go something like this: Universities today must specialize more than ever before. There is little reason that every research university needs to support its own German department or research unit in optometry. Rather, universities should cooperate to distribute research and teaching specializations across each state and across the nation. The increased flexibility required from graduate students will be repaid with better instruction and improved chances within the job market. Greater specialization will allow universities to aim for excellence in all of their units rather than having to support a large number of middling departments that merely round out the picture." Read the full essay.


No Realistic Black Characters on TV
A Newsweek column on the scarcity of blacks in TV shows: "It still can't just fit us in. Yes, we often appear as sidekicks or backup characters in an array of popular shows in prime time, but rarely do we carry a show as the star or let the viewers come home with us. One exception is Jada Pinkett Smith's turn as a no-nonsense nurse on the TNT show Hawthorne. Wonder why? It might have something to do with the fact that it's a show that she and her husband, Will Smith, created and executive produce. Otherwise, it appears that the powers that be in Tinseltown feel quite comfortable relegating us to reinforcing every negative stereotype known to humanity in low-grade, embarrassing reality shows like Flavor of Love and Basketball Wives. So exactly how does the television audience (black, white, or other) make the gigantic leap from those constant images of foolery to a show like Undercovers? It doesn't." The full column.


Can Sleep and Alcohol Coexist?
A good question on two grounds: holiday season, half of it being drinking season, is upon us. So is Palm Coast's new ABC store. With that in mind, the LATimes asked and answered the question the way a weatherman tells the weather: it'll rain if it rains, but it may be sunny if clouds clear: "Researchers headed by a team at the University of Missouri analyzed questionnaires from 1,699 adults whose average age was about 50. They found that sleep and alcohol problems were common. More than 22% of those surveyed reported hazardous drinking patterns while almost 48% reported fair or poor overall sleep quality and 7% reported a diagnosis of sleep apnea. However, further analysis failed to show any association between alcohol use and sleep problems. There was one exception: People who said they used alcohol to get to sleep had a much higher rate of hazardous drinking. It's not clear why the study contradicts other studies that show alcohol use disrupts sleep. Other studies, for example, have shown that drinking causes delayed insomnia — waking in the early-morning hours. And sleep studies conducted in sleep labs also suggest that alcohol is bad for sleep. The study was released Monday in the Annals of Family Medicine."
See Also:


Pakistan hopes to stonewall kidney sales