Dennis McDonald for Flagler County Commissioner, District 2
Paid Advertising | October 9, 2018
Political Advertising Paid for by Dennis McDonald for Flagler County Commission, District 2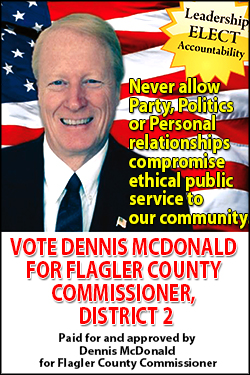 Candidate's Statement
Voice for the Taxpayers' Perspective…Not Special Interests Lifelong Taxpayer Advocate.
I will never allow Party, Politics or Personal relationships, compromising ethical public service to our community.
Positions :
Drastically reduce top county administration.
Halt this Board's eleven month failure to provide a solution to the now abandoned "new" Sheriff HQ, the largest man made disaster in Flagler County History !
Provide financial Common Sense for ALL county expenditures.
Use my 40 years business experience interfacing with state and local governments to ensure development in Flagler County enhances without draining Tax Dollars.
Core Services EMS/FIRE/SHERIFF stay focused maintaining support, funding for these services that maintain our quality of life.
Professional Experience : 40 year Business Owner & V.P. Operations, General Contracting & Property Management. Construction of Commercial and Multi-Family, PUC approved Water Companies, DEP approved Treatment Plant, Restaurants, DOT Expansions, Municipal Pumping Stations, High Rise Residential. Successfully worked with all levels of government from the private sector to successfully accomplish this full spectrum of projects. Our company was a major corporate donor for a new YMCA and Hospital. As V.P. I signed the checks and reconciled with our Treasurer.
My Core Beliefs : • The Florida Constitution must be fully known by all representatives who take the Oath to uphold it. • The U.S. Constitution and Bill of Rights = Our American Legal Foundation. • A limited Federal government with minimal Federal Intrusion in Flagler County. • Returning to and maintaining the existence of a sovereign Florida. Lifelong Taxpayer Advocate for Effective Spending and Outcomes • Private Property Rights are the Core of the American Culture.
About Dennis : Married to Janet for 44 years, blessed with three adult children who contribute uniquely as Contractor/Broker, Corporate 500 HR Manager and Doctor. My years as a young father involved me in school & community activities and initiatives, helping build a Montessori school, preserving our local school in a regional system, coaching sports from T-Ball to AAU level basketball, and supporting Janet's service as our town's member of the Regional School Board. Her service continues since 2014 as our district 2 school board member.Today, I am active helping her push FSA/Common Core out of the Florida schools. I am a lifelong auto enthusiast and collector. Promises Made Are Promises Kept.
Contact Information:
PO Box 1232
Flagler Beach, Fl – 32136
386-852-9016
Note: The candidate's photograph and statements are supplied by the candidate and are neither endorsed nor verified by FlaglerLive.