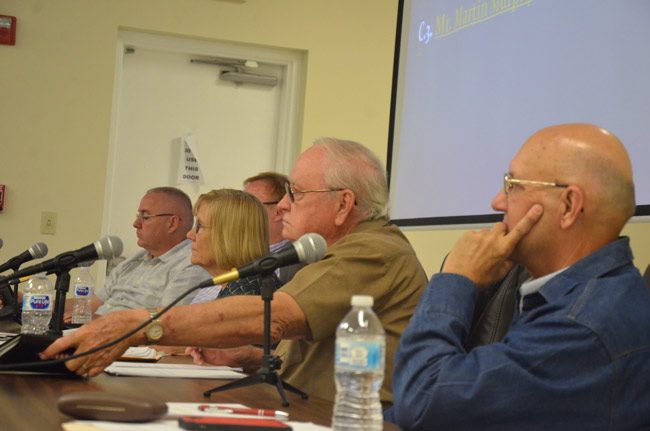 When the Bunnell City Commission short-listed its candidates for city manager, it had six names. Only four interviewed, the last two Monday evening.
Brian Watkins, the city manager in Milton for 10 years and the candidate who garnered the most votes for short-listing among Bunnell commissioners (three), dropped out just before Monday's interview. Last week, John Klimm of St. Simon Island, Ga., dropped out.
Lyndon Bonner, a former Bunnell city manager, interviewed Monday as did Marin Murphy, who's spent most of his career as a planner and town or county manager in New York State, and less than a year as an assistant city manager in New Port Richey, his only Florida experience.
Bonner has a checkered work history, particularly recently: Jackson County hired him as its city manager on March 5, only to fire him three weeks later over sexual harassment claims by his assistant, Kristie Cloud. Allegations included use of inappropriate language and themes. "An investigation of Cloud's expressed concerns was subsequently conducted by a law firm retained by the Florida Association of Counties Trust, the county's liability insurance company," the Jackson County Floridian reported. "That firm recommended some remedial action be taken in dealing with Bonner, saying he had acknowledged some and denied other of the statements Cloud attributed to him, and that other staffers had corroborated some of Cloud's report, but did not offer an opinion as to the appropriate level."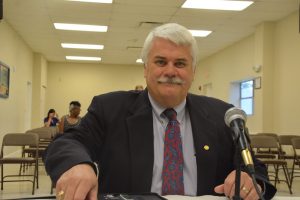 When he was Bunnell's city manager in 2003, the city's victims advocate filed a sexual harassment complaint against him. the Equal Employment Opportunity Commission investigated and dismissed the complaint, and the next year the commission eliminated the complainant's job.
Bonner's departure from Bunnell became a point of contention Monday. "I was in that meeting when you stormed out and left the last commission meeting," Commissioner John Rogers told Bonner.
"My business was done, there wasn't any storming, I appreciated the opportunity," he said. He said he'd previously given his notice.
"When you left, did you threaten litigation?" Rogers asked him.
"No," Bonner said, calling it "probably the best separation in my career."
"My mistake," Rogers said.
In fact, Rogers was right: Bonner had threatened litigation. At a May 3, 2006 meeting of the city commission, the day Bonner's contract expired, Bonner requested severance pay, prompting Sid Nowell, the city attorney at the time, to tell commissioners that he was not entitled to severance since his contract had expired.
"That's why we have courts," Bonner said, according to the News-Journal, arguing that his contract required a 90-day notice before it could be ended. The commission ended up hiring Bonner as a "consultant" for three months, in essence deflecting his threat to sue.
At the end of his interview Monday, Bonner verbally thanked the commission, got up, and walked out–the only one of the four interview candidates who did not end their interview by shaking hands with commissioners afterward. (He emailed them his thanks.)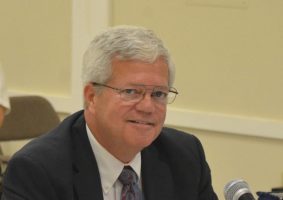 Before his brief stint in Jackson County, Bonner had served as Brooksville's interim manager for six months in 2017 and for 15 months as Henry County's manager in Georgia, getting fired there when three new commissioners were elected. He said on at least two occasions in his interview that he acknowledged being "in a three-way tie for last," a reference to the fact that only one member of the commission–Mayor Catherine Robinson–had short-listed him.
But he'd made a good impression on some of the commissioners, including Bill Baxley, who considers him one of his top two choices, along with Murphy. " Bonner and Murphy were in my opinion the best two interviews of the whole group, so by accident we saved the best for last," Baxley said.
Last Friday on WNZF Robinson had said if she was left unsatisfied by this first round of interviews she'd recommend another round with more candidates. But after Monday's two interviews (and before learning of Bonner's withdrawal), she said that would not be necessary. "We could have a viable candidate amongst the four that we have interviewed," Robinson said shortly after 9 p.m. Monday night, noting one caveat: background checks.
"I'm happy so far," Commissioner Elbert Tucker said.
To Rogers–who announced his vote for Jackson last week–Monday's interviews nuanced his approach. The choice to him is down to two now: Jackson and Murphy. "Both of them are quality candidates. We couldn't go wrong with either one," he said.
Murphy's resignation from his last job as city manager, in Oneonta, N.Y., distantly echoed that of Bonner's from Bunnell: the town government had pushed him out, but agreed officially to make the process seem more neutral, and he agreed not to sue in exchange for six months' severance pay.
In his interview Murphy seemed to several of the commissioners the least flashy and poised of the candidates, coming across as a professional planner largely in command of development and budgeting issues. Of the four candidates, Baxley noted, he was least likely to dance around answers and go off on on tangents, personal or otherwise, as all three other candidates had–some for minutes on end. When he described himself as having "good diplomacy as well as communications skills," his interview seemed to make the case.
He spoke of "branding" as an opportunity Bunnell was missing, its vast lands as an economic opportunity. Murphy's grasp of Florida's open-meetings law is tenuous though, as when he spoke of occasions when he'd ask commissioners for executive, or closed-door, sessions to discuss "sensitive" matters. In an interview with a reporter afterward, he said those issues might include disciplinary matters with employees. But the law does not permit such closed meetings.
Commissioner John Sowell was still hoping that Watkins would at least interview. "On paper, the most qualified candidates both withdrew their applications," Sowell said in a text. "I'm sure we can hire a good manager from the remaining applicants. At least three have the ability to be successful in the job providing their backgrounds survive detailed scrutiny. If we can't as a commission agree on a candidate, I am open to inviting at least two more applicants to at least be interviewed. I would like to see a second round of interviews and also hear comments from my colleagues (obviously in a public meeting). The Mayor and other Commissioners offer a wealth of knowledge and experience. I will not endorse any applicant at this time."
Each commissioner in turn, including Rogers, has spoken especially favorably of a consensus-driven process that has kept the commission working cohesively. Rogers said he spoke enthusiastically of Jackson but does not plan to be a dissenter on Jackson's account, if the rest of the commission prefers a different direction: he considers the commission's unity more important than an single commissioner's preference.
Commissioners were scheduled next to meet next on June 25 to discuss the next step, which may entail re-interviewing some of the candidates. But just as this story was about to publish, FlaglerLive learned that Baxley was calling for an emergency meeting on Friday to choose a new manager–even though Robinson is to be out of town that day. That would not preclude Robinson from participating and voting in the meeting through a video or phone connection, however. But shortly after he had proposed it, Baxley withdrew the pitch for a Friday meeting and stuck with Monday's scheduled meeting.


Commissioners' Short-List Choices For Bunnell City Manager
Click on each applicant's name to see the full application package. See all 18 application packages as provided by Bunnell administration in two files, here and here.