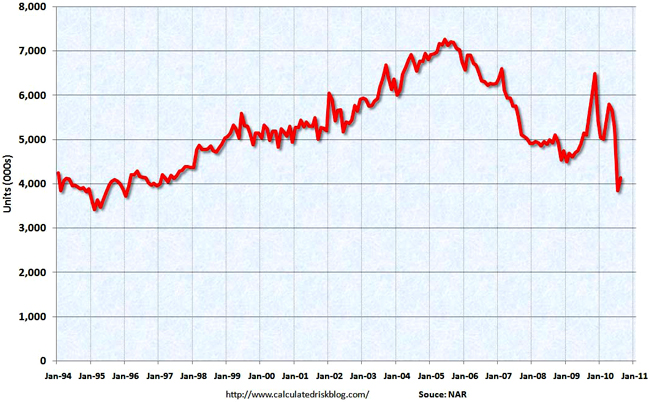 After falling 27.2 percent in July, existing home sales rose a modest 7.6 percent in August, and 5.2 percent in the South, with 4.13 million units sold, against 3.84 million units sold in July, according to the National Association of Realtors. But national sales are still 19 percent below the 5.1 million units sold in August 2009, and more than 40 percent below the sales level of mid-2005, at the peak of the housing bubble.
The drop in July followed the end of an $8,000 tax credit due first time home-buyers.
The national median price for existing homes was $178,600 in August, up 0.8 percent from a year ago, in a month when 30-year mortgage rates fell to a record low of 4.43 percent, down from 4.56 percent in July. In 2009, the rate was 5.19 percent.
In Flagler County, "real estate mirrors the national and statewide trend in showing modest increases in sales activity and stabilizing prices," says Matthew Wilson of CoQuina Real Estate in Flagler Beach. "Month over month residential sales showed a strong increase in volume to 119 units, a 14% increase. This increase was seen with no significant change in average sales price; $163,000. Current market activity, though stronger, remains heavily weighted by short sale and foreclosure transactions. These sales comprise well over half of the current volume."
Housing supply in the United States remains at near record highs: There were 3.98 million existing homes for sale at the end of August, the equivalent of an 11.6-month supply, down from a 12.5-month supply in July. For the first five years of the past decade, the supply hovered at between four and five months. The higher the supply, the likelier home prices will fall. While August's figures were slightly better than July's, the year-over-year figures show an increase in August of 1.5 percent.
"The year-over-year increase in inventory is especially bad news because the reported inventory is already historically very high (around 4 million), and the 11.6 months of supply in August is far above normal," writes Bill McBride of Calculated Risk. "Based on the MBA mortgage purchase applications index, it appears there will be little increase in sales over the next couple of months (sales will probably remain in the low-to-mid 4 million SAAR range). That means we will see double digit months-of-supply for some time – and that suggests house prices will continue to fall."
National housing prices are down a third from their peak in 2006 to 2007. After projecting a 5 percent drop, Moody's Analytics revised its projections last week and said home prices will likely fall another 8 percent before bottoming out in late 2011. That's bad news for places like Palm Coast, a market more saturated with foreclosed and available homes than the average market in the nation, suggesting that home prices locally will be steeper, and the bottom reached further out than 2011.
The Realtors association also reports first-time buyers accounting for 31 percent of home sales in August, down from 38 percent in July. Investors accounted for 21 percent of sales. Repeat buyers accounted for the rest.