American Immigration Attorneys, Bunnell, (386) 586-6978
Paid Advertising | November 20, 2017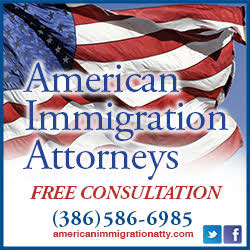 With more than 50 years of immigration experience, American Immigration Attorneys, PLLC are dedicated to providing our clients with updated information and solutions for all U.S Immigration Matters including Visas and Green Cards. We provide Immigration Services to investors, family-based, business, students, and professionals.
Our motto: "We Can Help!"
We provide our business clients and foreign investors with a support team. That includes Washofsky and Associates, EA, PA (Financial and Tax Consultants)
Business visas includes E-2: Treaty Investors, L-1 Intra-company Transferee, EB-5 Entrepreneur Visa, and the new International Entrepreneur Visa.
If you would like to set up a free consultation, visit here!
Call for a Free U.S. Visas Brochure (386) 586-6985
Immigration Problems? We Can Help!
Main Phone: 386-586-6985
Fax: 386-586-6978
Email: info@americanimmigrationatty.com
1410 E Moody Blvd. Bunnell,
Florida, United States 32110